Thanks to some new set photos, a brand new major location in WandaVision's Westview has been revealed.
It feels like Agatha: Coven of Chaos has been percolating behind closed doors for quite a while now. Thankfully, it's finally coming to reality, with production officially starting up.
The series will reunite audiences with Kathryn Hahn's Agatha Harkness and also introduce them to new faces, such as Joe Locke's (rumored) Wiccan.
It looks like when fans get reacquainted with Westview, not only will they be meeting new characters, but they'll be exploring new areas of town as well.
Westview Opens a New Mall
New images from Agatha: Coven of Chaos' filming hit the web, showcasing Kathryn Hahn's leading character and Joe Locke's rumored Wiccan, both sitting down at the food court in Westview's mall.
Thanks to Twitter user @lgbthahn, images of the fictional mall's map also started circulating online.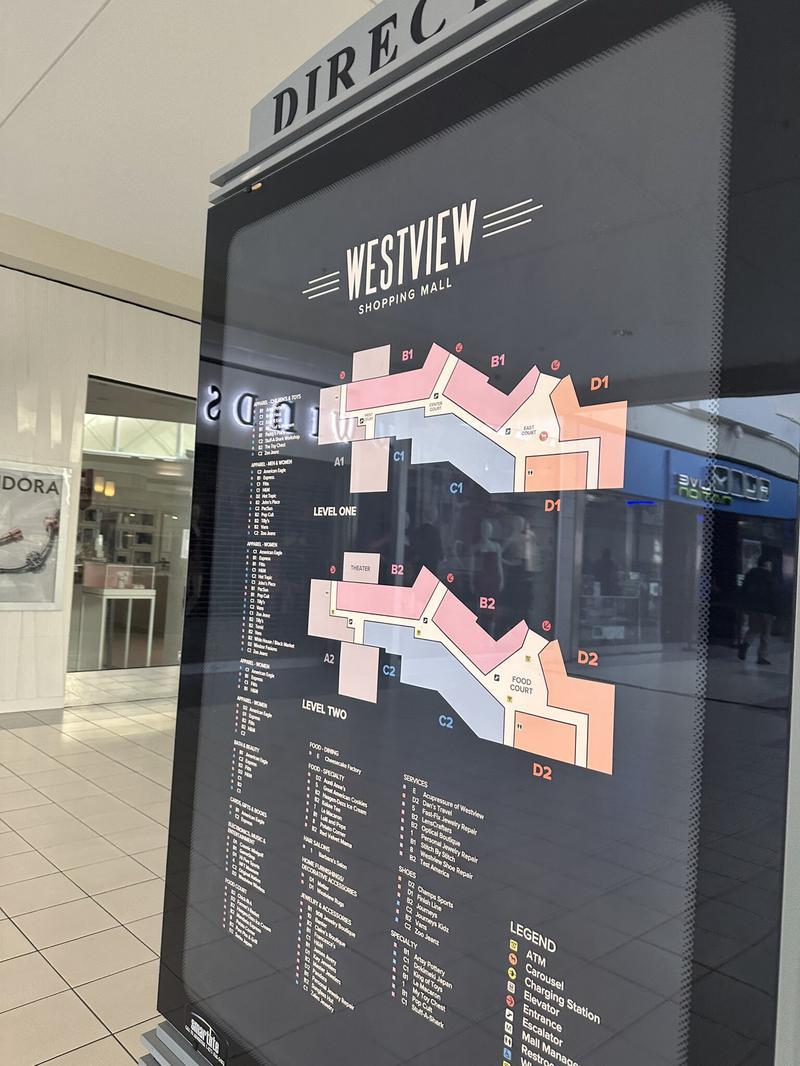 There doesn't seem to be anything notably unique about the layout besides the name of the mall being "WESTVIEW".
The account even managed to get a photo of a very unimpressed Kathryn Hahn as she, presumably, makes her way to the set.
Twitter user @elizbcth seemed completely shocked that the show would take viewers back to the WandaVision location, noting that "we're really going back to Westview to see more of it."
@WandasAttorney shared their excitement, specifically noting that they "prayed for times like this:"
"WE REALLY GOING BACK TO WESTVIEW I PRAYED FOR TIMES LIKE THIS."
Another user, @thescarletprint, took the opportunity to crack a joke about Wanda having a "business booming" in the newly revealed mall:
"The scene is set at Westview Mall…I know Wanda got business booming."
@kevjoesphjr warned himself that "I am not ready for the person I become when I get to see Westview again."
@bassettland was yet another user who "[couldn't] believe this is happening."
It is a tad strange to see such intense shock coming from fans, as it was always obvious that the show following Agatha Harkness, who was last seen imprisoned in Westview, would take place at least partially in the fictional town. Then there are the previous rumors about the show which enforced the idea of Westview being a central location.
So What's up With Westview's Mall?
When it comes to how Westview was originally portrayed in WandaVision, the show did make it seem like audiences had seen the whole town. Not only that, it never felt like the town was big enough to even house something like a shopping mall.
For most of its screentime, WandaVision showed off various residences across Westview. It did, however, have a nice little town square, and at least one company headquarters in Computational Services Inc.
There was also an Elementary School, Pool Club, Public Library, and more—however, there was no sign of a mall.
Perhaps the mall is a new development, having been built in the time after Wanda's influence ended. Maybe the town just really needed a pick-me-up, and a shopping mall was just the thing everyone needed.
But how important will the location be to the series? Well, with only those set photos to go by, it's next to impossible to tell.
Perhaps Agatha will pull a Stranger Things and make the town's brand new mall a big set piece later in the season.
Agatha: Coven of Chaos is set to premiere on Disney+ at some point next year.