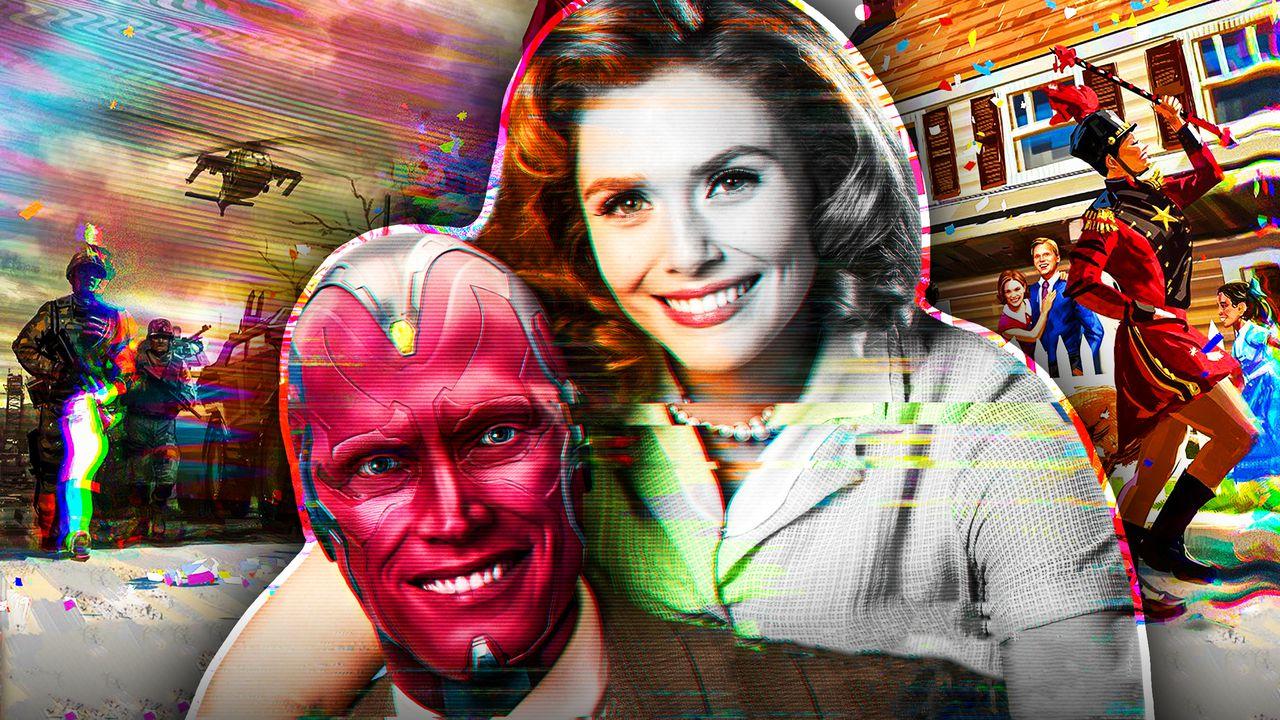 WandaVision might've already finished its run on the small screen side of the Marvel Cinematic Universe, but the show is still one of the main topics of discussion among MCU fans in the past months. 
Created by Jac Schaeffer, the Marvel series was pushed to the forefront due to its unique sitcom approach that transitioned Elizabeth Olsen's Wanda Maximoff and Paul Bettany's Vision into entirely different characters. Instead of saving the world from otherworldly threats, the pair transitioned into a married couple, living a pretty normal suburban life in Westview, New Jersey. 
This was mainly due to the amplified Hex powers of Wanda, turning everything in her path into a world that she desired. Westview became the subject of Wanda's magical abilities, with the town being transformed into an idealized sitcom world that was jampacked with references to several decades of television. 
Now, a fresh look at the powerful Hex has surfaced online, giving fans a different glimpse at Wanda's magical ability. 
NEW WANDAVISION CONCEPT ART REVEALED 
Marvel Studios Visual Development Supervisor Jackson Sze shared a never-before-seen keyframe from WandaVision, showcasing the concept of the Hex and how things transitioned and changed when stepping into Wanda's newly transformed world.
Wanda and Vision can be seen smiling behind their white picket fence, observing military soldiers and equipment from a gloomy outside world being transformed into an Americana parade upon entrance of the sunny Hex.
Sze shared how this keyframe was completed during "early pre-production" of the series:
"A WandaVision keyframe done in early pre-production. This was to illustrate the concept of the HEX, showing how things would transition and change when stepping into Wanda's world."
On a separate note, Marvel storyboard artist Jeremy Simser revealed a frame from the storyboard of WandaVision, showing off a different look at Julian Hillard's Billy Maximoff using his powers during the finale. 
The scene appeared a bit differently in the finalized cut of the series:
THE MYSTERIOUS HEX OF WANDA MAXIMOFF 
The emergence of the Hex solidified the fact that Elizabeth Olsen's Wanda Maximoff is one of the most powerful superheroes in the MCU. This latest concept art is a perfect reminder that the Marvel hero is capable of rewriting reality at her own will. 
WandaVision established the fact that anything and anyone that enters Westview will experience both temporary and permanent change. A good example is the Hex's effect on Teyonah Parris' Monica Rambeau. To recap, Wanda's Hex essentially gave superpowers to the SWORD agent, and this just goes to show how unpredictable the Hex is. 
It is expected that Wanda's Hex will be further expanded upon in Doctor Strange in the Multiverse of Madness, with Benedict Cumberbatch's Stephen Strange giving his own insights about the magical ordeal. The upcoming sequel should shed some light on the Hex, giving fans a whole new understanding of how dangerous and powerful Wanda will be in future projects.
Meanwhile, the storyboard showcasing Billy Maximoff's magic powers is an added bonus for WandaVision fans. It remains to be seen if Wanda and Vision's twins will return at some point, but rumors suggest that they will, especially after how the post-credits scene of the series teased their comeback. If they do, there's a chance that a different design of Billy's powers will be incorporated, thus cementing his transformation into a full-blown Marvel hero. 
All episodes of WandaVision are now streaming on Disney+.
LATEST NEWS
TRENDING