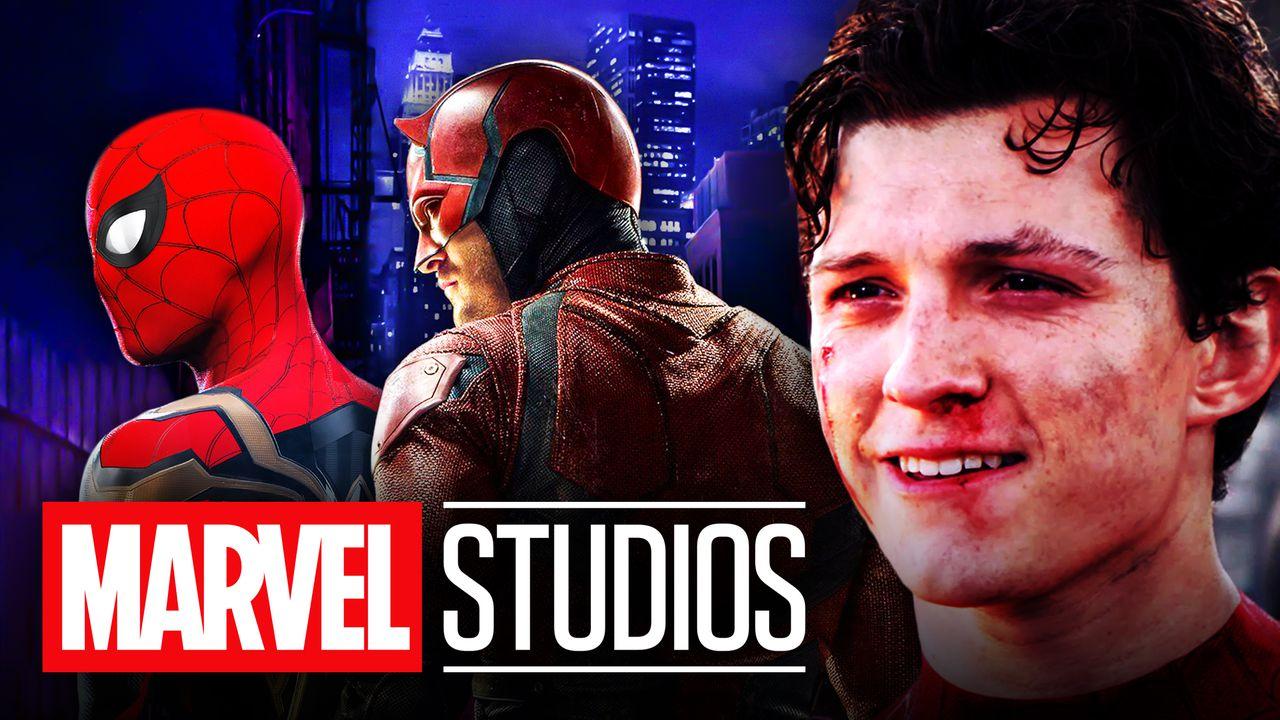 Marvel and Sony's Spider-Man: No Way Home has been a hot topic amongst the MCU fandom for the better part of two years, and it has remained so since its December 2021 debut. Part of what kept that conversation going so intensely was the rumors pointing to more than a dozen potentially game-changing cameos. From Charlie Cox's Daredevil to Tom Hardy's Venom, Tom Holland's third solo outing didn't slow down for a moment.
Less than 15 minutes into the runtime, Cox made his presence felt as he brought Daredevil into the MCU-proper. Even with only 70 seconds of screen time in total, none of it featuring Daredevil's superhero costume, the movie's "really good lawyer" instantly made the scene a fan-favorite moment in No Way Home.
Now that Matt Murdock has officially crossed over from the Netflix shows, the big question is when exactly Cox will make his return, especially considering his chemistry with Tom Holland's Spider-Man. Holland recently shared his own memories from the No Way Home set with Cox, even expressing hope that something like that happens again.
Tom Holland on Future Spidey/Daredevil Team-Up
Spider-Man: No Way Home star Tom Holland spoke with The Hollywood Reporter about his experience on set with Charlie Cox, who plays the MCU's Daredevil.
When asked about the day of shooting with Cox in Peter and May's apartment, Holland described it as "incredibly exciting" while admitting that he loved Cox's Daredevil show on Netflix. Complementing Cox in various ways, Holland admitted that their appearance together "obviously teased the future of what could be" in the MCU:
"Thank you for asking. No one has really asked about that. Working with Charlie was incredibly exciting. I was a big fan of the Daredevil series, and I think he's a fantastic actor. He's done a wonderful job with that character, and albeit it was a small cameo, it obviously teased the future of what could be."
Sharing his love and appreciation for Cox's dedication to the role, Holland expressed hope to "find a way for Spider-Man and Daredevil to team up again:"
"It was a real actors' piece, that scene. We blocked the scene, which was essentially us just sitting there, and we read the lines. It was great. It felt like an actors' workshop while working with people I really look up to, and Charlie was a lot of fun. It was really cool to see him snap back into a character that I am really a fan of and that he has a lot of love for, obviously. So it was pretty awesome, and I hope that one day we find a way for Spider-Man and Daredevil to team up again."
Where Will Daredevil Show Up Next?
Peter Parker has a number of iconic partnerships in the comics and movies, one of those being with Matt Murdock as their Spider-Man and Daredevil alter-egos. While Ben Affleck brought the Man Without Fear to life in his 2003 solo movie before Cox took the role in Marvel's Netflix show, no live-action project in history had ever used these two red-suited heroes together before.
Spider-Man: No Way Home rectified that fact in a big way, even with only one minute of the movie's 148-minute runtime featuring Cox as Matt Murdock. Both actors involved have shared how much fun it was to bring the first signs of this partnership to life, and even more exciting is the fact that it likely won't be the only time they meet up.
Rumors are pointing to Cox's next round as Daredevil coming in 2022's She-Hulk, which will showcase both Matt Murdock and Jennifer Walters as premiere superhero lawyers. With Spider-Man's future even less uncertain, fans will certainly be on the lookout to see if and when he joins forces with Charlie Cox's Devil of Hell's Kitchen.
The moment that Cox first shows up in the MCU movies wearing his Daredevil suit will be a monumental event in franchise history, especially if it comes next to the now anonymous web-slinger. While it may still be some time until that happens, it's something that Holland and everybody involved are looking forward to seeing.
Spider-Man: No Way Home is now playing in theaters worldwide.
---
Release Date
December 17, 2021
Platform
Theaters
Richard Nebens joined The Direct in March 2020, now serving as the site's Senior Writer and also working as an assistant editor and content creator. He started his journalism career as a hobby in 2019 and is passionate about sharing news and stories from the entertainment industry, especially comic book movies, comedy, and sci-fi. Richard looks to expand his knowledge about movies and TV every day, and he is eager to stay locked into the latest releases and breaking news at every opportunity.