The Batman's production hopes to get back on track soon in Liverpool, England, after the sidelining of lead actor, Robert Pattinson due to complications of Covid-19.
The trailer for the upcoming DC film was released last month during part one of DC FanDome, and while fans will have to subsist on it for now for actual footage of the film, that hasn't stopped other forms of marketing from making themselves known.
NEWS
Today, during Part II of DC FanDome, brand new promo art surfaced for The Batman featuring actor Robert Pattinson suited up as the Caped Crusader, via Twitter user, Mikhail Villarreal. You can check the pieces below:
First up is a fairly simple poster, with Pattinson's Batman brooding the left side while a brand new look at the film's logo takes up the center portion.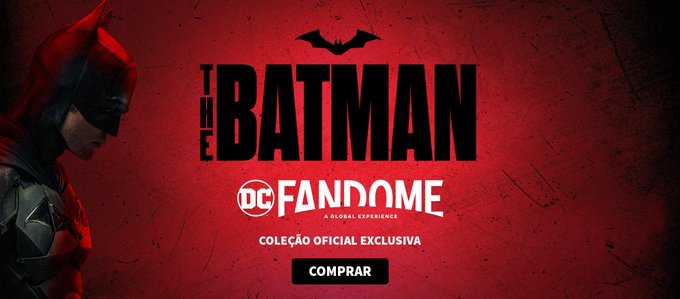 Next up is a banner version of the poster with the addition of the DC FanDome logo. 

Finally, we have a look at the Bat symbol in a bright red.
The red logo certainly is striking and adds a somewhat unique touch to the symbol, which is usually displayed in shades of black or silver in promotional materials.
Moreover, it's good to get a better lit look at at least a portion of Pattinson's Batsuit. The suit itself seems to be cobbled together to a degree, giving the impression that this version of Bruce Wayne is still early in his crime fighting career, which is something that has been confirmed by director, Matt Reeves.
Although, it's possible that this will not be the only Batsuit featured in the film, if certain sources are accurate.
With any luck, these images won't be the only piece of The Batman related news fans receive today during DC FanDome.