When it comes to the blue brand of comic book cinema, DC's Batman is having a moment. Not only did Matt Reeves' The Batman succeed at the box office with a confirmed sequel on the way, but 2023's The Flash is set to feature two additional Batmen. As for Superman, DC's other headliner hero, he too is making waves; but unlike Batman, it's due to his absence as opposed to his prevalence. 
The last big-screen Superman of the DCEU was Henry Cavill, who first appeared in 2013's Man of Steel. However, even though he was featured in Zack Snyder's Justice League in 2021, the actor's future as The Last Son of Krypton has been a question for months. 
While there was talk of a possible project revolving around Calvin Ellis, a black Kryptonian from an alternate timeline, Warner Bros. has remained silent on their plans - or lack thereof - for Cavill's version of the character.
But now, a new trailer for Ezra Miller's The Flash has raised new questions about Henry Cavill's return, thanks to the resurrection of a rather infamous Man of Steel villain. 
Man of Steel Villain Foreshadows Henry Cavill's Superman's Return?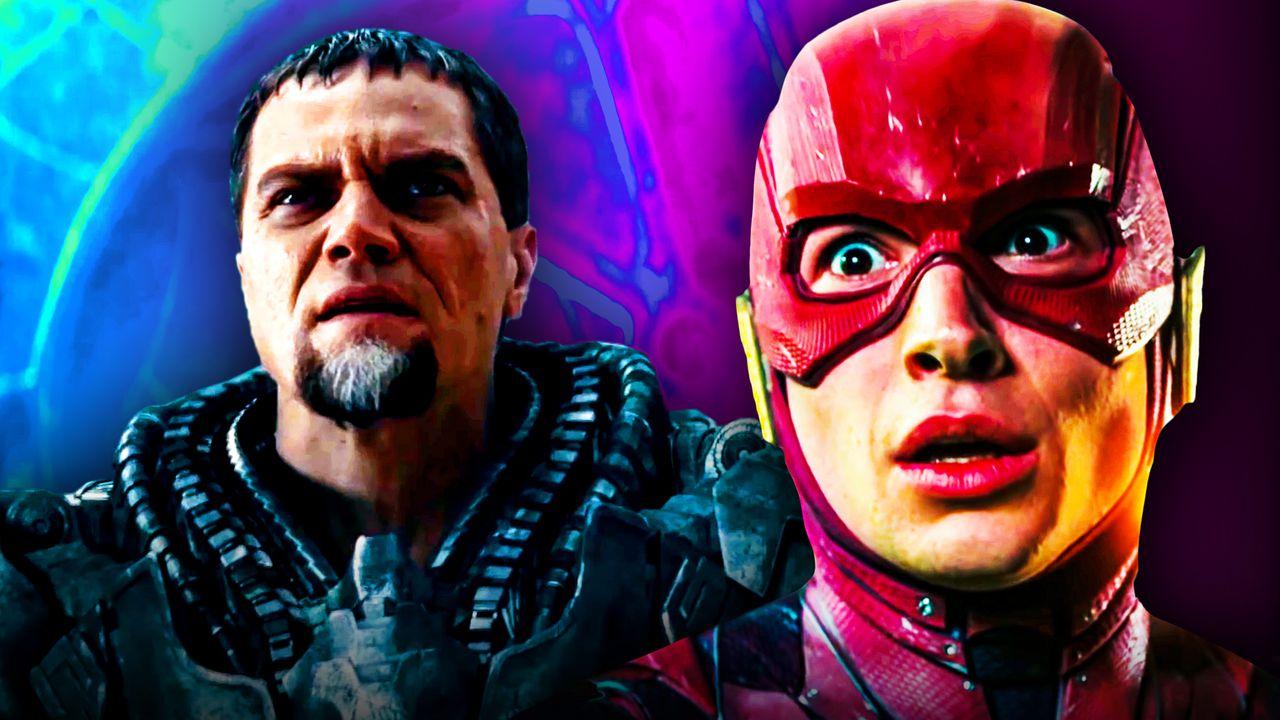 According to Scott Mendelson, The Flash teaser revealed CinemaCon 2022 actually included a glimpse of the Superman villain, General Zod. 
Mendelson's tweet reads as follows: 
"The The Flash tease features Michael Keaton in full Batman attire and brief glimpses of Supergirl and Zod."
Zod was last seen in Zack Snyder's Man of Steel where he was played by Michael Shannon and served as the primary antagonist to Henry Cavill's Superman. His death at the hands of the iconic hero was the source of considerable fan controversy. 
Since Shannon's Zod is back in The Flash, as is Ben Affleck's Batman, who appeared alongside Cavill in 2016's Batman v Superman: Dawn of Justice and both Justice League films, does the same go for Cavill's Superman? 
Superman Returns...Again?
Even though Henry Cavill is open to continuing his role as Superman, again, The Man of Steel has seemingly been an afterthought on the part of Warner Bros. Well, until recently, that is. 
Following the official merger of Warner Bros. and Discovery, CEO David Zaslav specifically pointed to Superman as one of the DC's "top shelf characters" who have been "left to languish" and "need to be revitalized."
Therefore, it seems safe to say that new Superman projects will be in development soon. But whether that includes Cavill remains to be seen. In the meantime, Warner Bros.'s preexisting DC slate has yet to be released; and the presence of Affleck's Batman, coupled with Zod, certainly presents the possibility of Cavill's Man of Steel to return. 
And, if so, it also raises the question of what their reunion would entail, and whether Zod's controversial death will be revisited in some form or fashion. 
However, an industry insider who previously saw a test screening for The Flash cast doubt on a Henry Cavill cameo online, claiming that the Superman "appears to be done." 
Still, there's still considerable time between now and The Flash's new 2023 release date for changes; but it's hard to say what the studio's plans for the film are in light of both the merger and Ezra Miller's recent legal problems. 
Also, since the film was set to introduce Sasha Calle as Supergirl, it's possible that the studio didn't want to take away from her debut by having her share the screen with a preexisting Kryptonian hero. 
Clearly, the future of Superman in The Flash and beyond remains in question. However, if Cavill is actually in the film, this may be revealed sooner than later, especially if the studio intends to focus on The Flash's ensemble of cameos as opposed to its problematic star. 
The Flash is slated to premiere in theaters on June 23, 2023. 
---