A new poster for Universal's Halloween Horror Nights Stranger Things house featured Eddie Munson's iconic moment from Season 4.
Among the Netflix series' new additions to its 2022 season was actor Joseph Quinn as Eddie Munson, Hawkins' resident metalhead and perennial high school senior.
Quinn's portrayal of the teenage outsider quickly became a highlight of the season; and one scene, in particular, stands as one of Stranger Things' most iconic to date. 
Stranger Things Poster Features Eddie Munson's Heroism
An official poster for Univeral's Halloween Horror Nights Stranger Things house, inspired by Season 4 of the series, highlighted Eddie Munson's sacrificial guitar solo from the season finale. 
While Vecna and Eleven are front and center, Joseph Quinn's Eddie can be seen right above the Creel House and against a backdrop of red lightning and Demobats. 
This moment is directly lifted from Chapter 9 titled "The Piggyback," where Eddie takes to the roof of his trailer in the Upside Down to play Metallica's "Master of Puppets."
Not only was the moment described by Dustin as "The most metal ever," but it perfectly contributed to Eddie's arc and why audiences connected with him. 
After earlier confessing to being a coward and always running away, Eddie willingly takes to the roof of his trailer, whispers "Chrissy, this is for you," and blasts Metallica as a distraction to protect Steve, Nancy, Robin, and the plan.  
When the Demobats descend, he manages to avoid them until realizing he needs to buy more time for the mission. 
After saving Dustin, he bravely takes on the bats himself.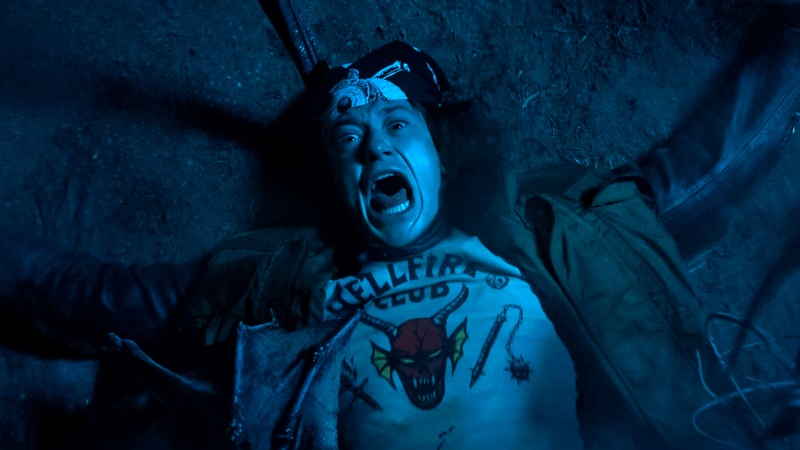 While he doesn't survive, he manages to have a final exchange with Dustin, saying, "I didn't run away this time, right?" and echoes how it's "finally my year:"
 "I think it's finally my year, Henderson. I think it's finally my year. I love you, man."
Even though Eddie Munson's Stranger Things run seemingly came to an end, as this Halloween Horror Nights poster notes, his character is expected to play a part in this seasonal event. 
According to a press release from Universal, attendees will encounter characters from the Netflix show, including "Eleven, Max, Eddie and more:"
"The 'Stranger Things' haunted house mirrors the mind-bending twists and supernatural terror of Season 4, immersing guests in a heart-pounding experience alongside valiant characters from the series, including Eleven, Max, Eddie and more."
Hawkins' Favorite Guitar Hero
Given the popularity of Eddie Munson - and his guitar-slaying act of heroism - fans are hoping for some sort of a Season 5 resurrection. 
However, at the moment, it's tough to say when audiences will see Season 5 at all. 
While filming for Season 5 was expected to begin in June, that all changed due to the writers' strike, followed by the Duffer Brothers confirming a pause in production. 
Not only has an agreement yet to be reached, but the recent actors' strike suggests it will be some time before both writers and actors return to Hawkins. 
In the meantime, fans of the series will have the chance to relive Season 4 at Halloween Horror Nights at both Universal Orlando and Universal Studios Hollywood. 
And, given Eddie's presence on the poster and what Universal claims, attendees will likely see a retelling of his Stranger Things sacrifice in person.  
Season 4 of Stranger Things is available to stream on Netflix; Halloween Horror Nights begins September 1 at Universal Orlando Resort and September 7 at Universal Studios Hollywood.