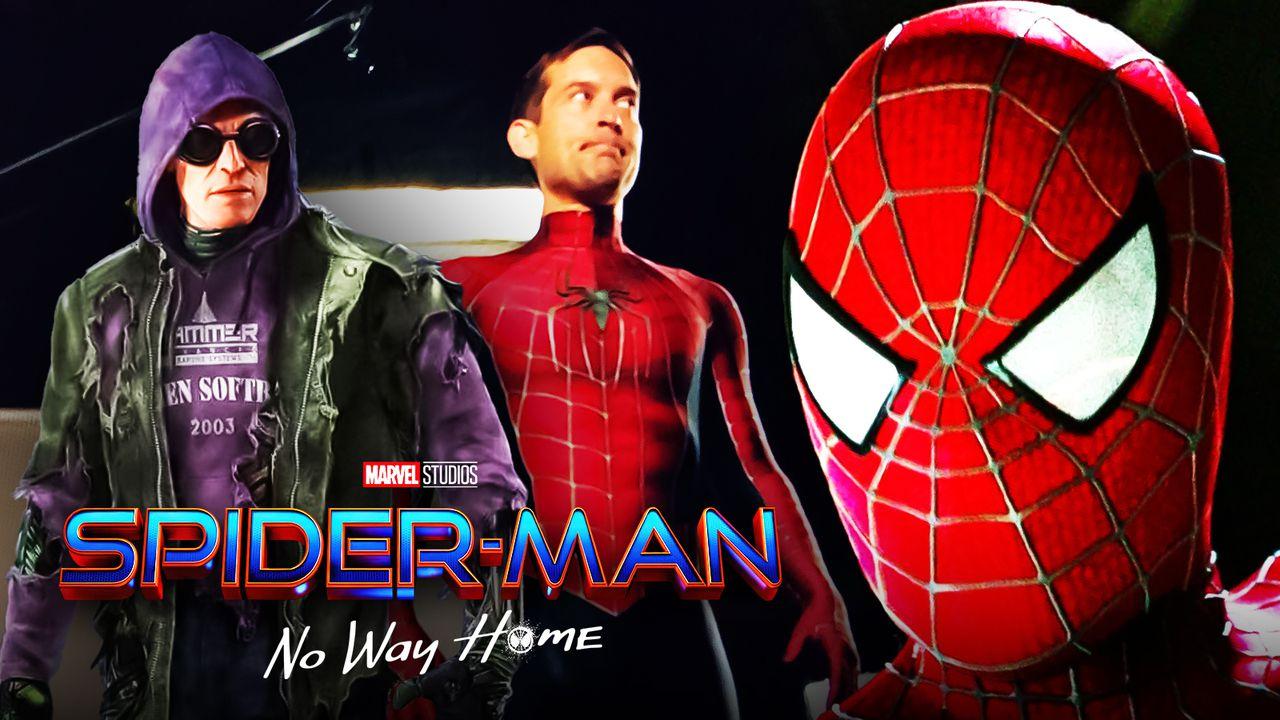 Despite being the longest live-action Peter Parker film to date, Spider-Man: No Way Home still left plenty of engaging material on the cutting room floor. The film's impressive ensemble boasted the likes of Academy Award nominees Andrew Garfield and Jamie Foxx, as well as over a dozen other A-List actors reprising their iconic comic book movie roles.
With just 148 minutes of screentime to divide between leading star Tom Holland and his seismic supporting cast, certain characters never made it past the concept art stage. Among those cut include Xochitil Gomez's America Chavez, who will make her Marvel Cinematic Universe debut in May's Doctor Strange in the Multiverse of Madness, and Jake Gyllenhaal's Mysterio, who stood opposite Holland's Spider-Man in 2019's Spider-Man: Far From Home. 
Those who were fortunate enough to make it to the screen still dealt with restrictions. The conclusion of the MCU's Spider-Man trilogy meant the primary focus had to be on Holland, meaning character development took precedence over fan service-driven interactions. That didn't stop dynamics between the likes of Tobey Maguire's Spider-Man and Alfred Molina's Doc Ock from being revisited, even if their interactions were brief.
That said, not every exchange between former friends made its way to No Way Home's final product.
Tobey Maguire and Willem Dafoe's Deleted Spider-Man Scene
Godspeed, Spider-Man.
A new featurette ahead of Spider-Man: No Way Home's digital release has surfaced, showcasing more behind-the-scenes glimpses at the making of 2021's highest-grossing movie. A major spotlight was put on Willem Dafoe's Norman Osborn, who waxed poetic about his Green Goblin suit's upgrade.
The maskless Goblin suit allowed Dafoe to emote much more than in his original 2002 Spider-Man get-up. While he primarily brought his psychotic Goblin face to interactions with Tom Holland's Peter Parker, one scene would have had Norman reuniting with Tobey Maguire's Spider-Man atop his glider.
Unlike Maguire's interaction with Alfred Molina's Doc Ock, this stand-off with Goblin would've been physical.
Any words shared between the two is up to fans' imagination, as no dialogue between the longtime foes can be heard in this featurette. 
You can watch these brief deleted shots starting at the 5:13 mark of the video below:
A Spider-Man Reunion Two Decades in the Making
There's never enough time to do everything in a Marvel movie, but this deleted confrontation sparks significant discussion.
The last time Tobey Maguire's Spider-Man and Willem Dafoe's Green Goblin shared the screen, the latter was exhaling his final breaths as he pleaded that Peter Parker "[didn't] tell Harry" about his alter ego. With Goblin back in the driver's seat of Norman Osborn's body in Spider-Man: No Way Home, there's no telling how much humanity is active in his vessel.
But what if "Harry" is a trigger word for Green Goblin?
Just like Captain America was left as a "16-year-old kid again in Brooklyn" at the very mention of "Bucky" in Captain America: Civil War, Green Goblin could have been momentarily transformed into Norman again at the name drop of his son. Considering this iteration of Goblin fully embraced the evil, giving him a brief comeback to compassion would have lessened Holland's temptation to bring him to justice in the film's climax.
Spider-Man: No Way Home arrives on digital media on March 22.