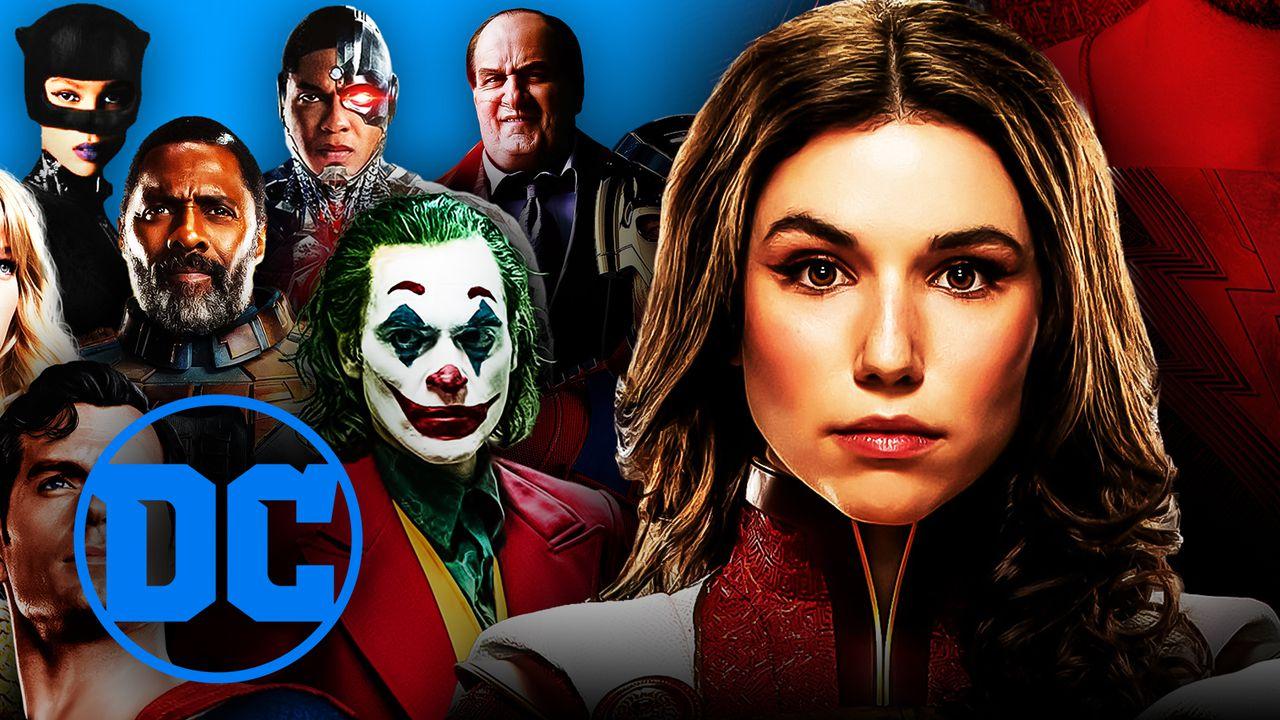 Ahead of Shazam! Fury of the Gods' release in theaters, star Grace Caroline Currey spoke to The Direct about her role and the movie's larger place in the DCU going into its big reboot.
Recently, DCU co-lead James Gunn announced part of the first Chapter of its new cinematic universe. The slate included new Superman and Batman movies and Booster Gold and Green Lantern shows, among several other projects.
As exciting as these plans sound, they did put into question 2023's slate of DC Comics films. Do the likes of Shazam or The Flash simply not matter? Will everything be completely reset?
Gunn has gone on record to clarify that last point, revealing how the new DCU won't completely reboot everything—it'll be selective in what it keeps and where it starts fresh.
But where does that leave Shazam and his family?
Shazam's Future in James Gunn's DCU
Shazam! Fury of the Gods' Grace Caroline Currey exclusively spoke to The Direct about her upcoming DC Comics film while also commenting on her potential future in the DCU.
When it came to the big upcoming reboot, the first thing Currey had to say is that "[she's] a fan," and she's "really curious and excited to see" how the new DCU will do:
"Gosh, so I'm a fan. I am a fan of the DC universe and a bit of a comic book nerd myself… But yeah, I'm really, really curious and excited to see what [DC Studios co-lead] James Gunn does and what stories he brings out. And I've worked with Peter [Safran] since I was 18, and he's just so lovely, and I think… he really elevated the horror film genre and I'm really curious to see what they do with DC."
Currey admitted that currently, "[she's] not in the conversations" about a return in the new DCU, but when and if DC Studios calls upon her, she's there:
"I think we're in incredible hands. I got excited about the slate, because I know James Gunn just brings so much to comic book lore and he's so well-versed. So yeah, I'm not in the conversations, of course. You know, I'm along for the ride. And when they say, 'Grace, it's time,' I'm there… I'm really, really curious. I'm really interested to see what comes up with this slate. And I think there's gonna be a whole new breath too to just the world and yeah, I'm really curious."
So if everything does get rebooted and the Shazam! continuity gets thrown out, who would the actress like to play?
Turns out, no matter the outcome, she's dead set on bringing any version of Lady Shazam to life:
"I'm such a nerd. So I, you know, of course, I daydream about playing any of the characters, right? Like they're all awesome. But, I gotta say, Mary… It's unusual how much I feel I was made to play her and how privileged I am that I got to play her, considering I feel the way I do about her. When I first auditioned and Shazam wasn't made yet, it was just announced that David [F. Sandberg] was going to be directing it, my brother was like Grace, 'You've got to audition for this. You are Mary.' And he pulled out his comics of Shazam and showed me pictures of her."
Even today, Currey shared how "it's kind of baffling" to think about where she is today, having gone and played Mary Bloomfield for two films now:
"... And we have a photo of me smiling next to one of the illustrations of Mary, because he was like, 'You gotta see this side by side. You're her. You're her. You worked with David and you worked with Peter. This would be incredible.' And it's kind of baffling to think that all the way from that day, my brother telling me about Mary, I'm here and I get to play her superhero for him."
When it was pointed out that Shazam! is basically in its own corner of DC lore, the actress ecstatically agreed, noting how that was one of her immediate thoughts after seeing Fury of the Gods:
"… I've seen the movie and let me tell you, it's the first thing that popped into my head as I was watching it. And I know the story. I was working on it, but still watching it, I felt like I was witnessing a new world to explore, and I just think we have a lot of worlds we've explored to their max. And it was kind of an unusual feeling to sit there and go, 'This is new. What?' Of course, we've got some superhero fatigue going on."
Despite the genre being so abundant, it's "what gets people to the theaters," so she's hoping to explore many more Shazam Family adventures:
"We've had so many superhero movies, and the superhero genre's what gets people to the theaters. But I felt like, and this is saying something, because I know this story, I have personal stake in this story. But I, as a fan, I love this movie. I love it so much. I want to see more of what adventure the Shazam family goes on. And we teased The Room of Many Doors in the first movie, and we're in the Rock of Eternity here and there, and there's so much to explore with the lore of the Rock of Eternity… and we explore a lot more of the Shazam world in this one."
But what would Currey say to those losing interest in Fury of the Gods and the rest of this year's DC Comics movies knowing that a reboot is right around the corner?
To put it simply, she "understand[s]" the hesitancy." But at the end of the day, Currey advised audiences to "have [their] own opinion" and to simply "give it a shot:"
"Well, I understand that… it can be a little bit of a silo online, especially when trailers are released... So, what I would say is: Have your own opinion. Give it a shot… There is a lot of change with the DC Universe happening… And change is scary. Period. I think whenever there's change, people jump to the worst-case scenario. But there's also the possibility that it could be the best-case scenario, and it could be really awesome and Shazam, the second one, you got to remember it's produced by Peter Safran, and he's now running DC."
She drove home her support for the movie by declaring the upcoming film "genuinely good [and fun]:"
"It's so funny how people are quick to kind of go, 'I'm out… I'm not excited about it.' But [Fury of the Gods is] genuinely good. It is genuinely good and genuinely fun. And I think also we need that, we need to go to the theaters."
At the end of the day, the actress made it clear that "the movie is gonna speak for itself:"
"The movie is gonna speak for itself when it comes out, and people do give it a chance and do see it. I think it's gonna be really refreshing and really fun, and I hope everyone wants to have fun. You know, I think… it's comic book movies and its wonder and delight. And we got to go back to that heart and that feeling of these movies."
Currey also made sure to point out the upcoming Shazamily Matters comic series, which features each of Shazam's adult cast writing their own stories for their respective characters:
"We've got 'Shazamily Matters'. That['s] coming out. I got to write a comic for that. That's pretty fun… each of the Shazam adult cast, we kind of wrote our own comic for our respective characters. And Faithe Herman, she did one. And my comic explores the doors a bit, which was kind of fun to dive into that. Yeah, it was really cool. My dad did the illustrating too. He inked the comics. So, it was really fun. That's coming in late February… we've got some kind of adventures in there that hopefully will kind of help set up the fans to be ready for this next movie."
How Having Peter Safran on Team Shazam Changes Everything
As Zachary Levi pointed out in an earlier interview, the fact that DCU co-lead Peter Safran produced the Shazam films undoubtedly bodes well for everyone involved in those films.
So, a good thing for Grace Caroline Currey, her superhero identity might be safe once the switch happens.
However, the same can't be said for Henry Cavill's Superman or Dwayne Johnson's Black Adam. Though, maybe now fans can one day see Billy Batson actually go up against his arch nemesis Teth-Adam.
It's important to note how Shazam has a built-in conundrum: Asher Angel, the actor behind Billy Batson, can only be a kid for so long. That alone should probably make one think twice about keeping Shazam!'s continuity.
No matter how it all goes, fans can still enjoy Shazam! Fury of the Gods when it hits theaters on Friday, March 17.