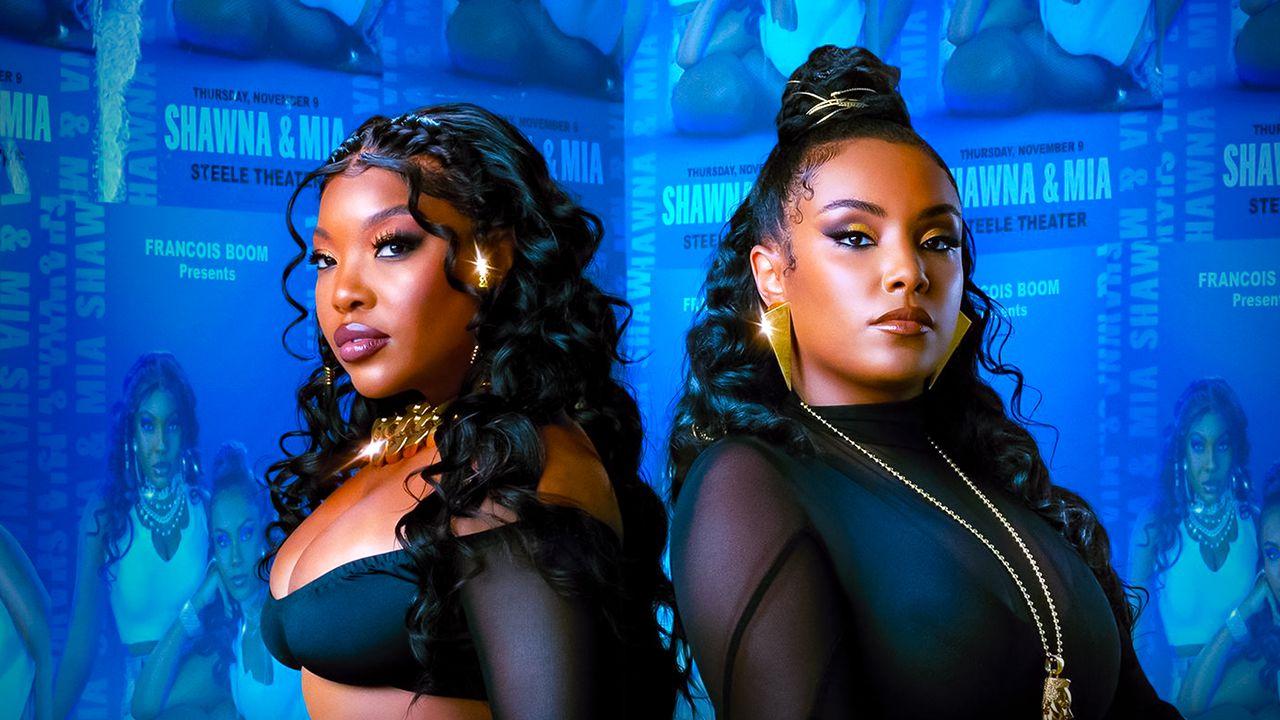 Up-and-coming stand-up comedian Aida Osman and American rapper KaMillion lead the cast of Rap Shit Season 2 on Max.
Created by Issa Rae for Max, Rap Sh!t (Rap Shit) revolves around the story of two Miami-based rappers who navigate their daily lives in trying to find success in the music industry. 
Rap Shit made its debut on Max on July 21, 2022 after its successful premiere at the American Black Film Festival on June 18, 2022. In September 2022, the show was renewed for Season 2, which premiered on November 9, 2023. 
Every Main Actor & Character in Rap Shit Season 2
Aida Osman - Shawna Clark
Aida Osman plays Shawna Clark, an aspiring rapper who formed a rap group with her best friend, Mia, after reuniting. 
Shawna and Mia were deemed inseparable in high school, but they drifted apart after Shawna moved to New York for college and Mia became pregnant. 
Shawna works at a hotel, but she secretly works on her rap career by posting videos online. 
At the beginning of Season 2, Shawna was under investigation for a fraud case tied to the hotel she was working at. It was also revealed that her family resents her due to her rap career. 
All of these surprise revelations happen right before Shawna goes on tour with Mia. 
Acting is not Osman's first love since she is a stand-up comedian and a writer with credits for projects like Big Mouth and Betty. Her other acting credits include Ramy and The Young Wife.
KaMillion - Mia Knight
Mia Knight (played by KaMillion) is Shawna's best friend who works with her as part of the rap group. Mia is also a social media influencer and has an OnlyFans page.
Mia's ups and downs as a single mother and rapper were chronicled in Season 1, complete with heartbreaks and new relationships. After a brief falling out with Shawna, Mia eventually reunited with her to start a tour in Season 2. 
KaMillion is a real-life rapper with acting credits in projects like Star, When Love Kills: The Felicia Baker Story, and After Effect.
RJ Cyler - Lamont
RJ Cyler's Lamont is Mia's ex-boyfriend and the father of their daughter, Melissa. 
Season 1 saw Mia and Lamont in an on-again/off-again relationship. However, things started looking up for the pair in Episode 7.
Despite that, it was revealed in the Season 1 finale that Mia is interested in another man: Ca$h Chaser the Goat. 
The Season 2 premiere showed that Mia and Lamont are still on good terms, with Lamont being tasked to be Melissa's guardian while her mom goes on tour with Shawna. 
Power Rangers fans may recognize Cyler for his portrayal of Billy (the Blue Ranger) in 2017's Power Rangers. The actor also appeared in Black Lightning, Swamp Thing, and Freedom's Path.
Jonica Booth - Chastity
Chastity is Shawna and Mia's passionate manager who knows the ins and outs of the music business. The character is portrayed on-screen by Jonica Booth. 
When Mia and Shawna had a falling out in Season 1, it was Chastity who helped them reunite to patch things up. As a result, they are now going on tour, with Chastity leading the charge as their manager. 
Booth has a few credits to her name, with the actress starring in projects like Mrs. Davis and Discovering Brooklynn.
Daniel Augustin - Maurice
Maurice (played by Daniel Augustin) is Shawna's hotel co-worker and one of her romantic interests. 
In Season 1, Shawna and Maurice were in cahoots the whole time as they were involved with credit card scams in the hotel they were working for. 
How I Met Your Father fans may recognize Augustin for playing Ian in Seasons 1 and 2 of the How I Met Your Mother spin-off series. Augustin also appeared in Robyn Hood, Dynasty, and David Makes Man.
Jaboukie Young-White - Francois Boom
Jaboukie Young-White plays Francois Boom, Shawna's friend who told her that she and Mia are not working hard enough to make a name for themselves in the music industry. 
After the tough love advice to Shawna, Francois eventually helped her and Mia kickstart their tour. 
Young-White is best known for his roles in Set It Up, Strange World, Rough Night, and Black Mirror.
Kat Cunning - Reina Reign
Reina Reign (played by Kat Cunning) is an artist who works with Shawna and Mia to shoot a music video for the "Tongue" remix in Season 2. 
Aside from being a real-life recording artist, Cunning is also known for her roles in The Mistress, Purple Hearts, and Trinkets.
Bobbi Baker - Mia's mom
Bobbi Baker portrays Mia's mom in Rap Shit Season 2. 
Given Mia's past work as a sex worker, it will be interesting to find out her reaction to her daughter's other life aside from being a rapper.
Baker previously appeared in Tell Me Your Secrets, David Makes Man, and House of Payne.
DomiNque Perry - Nelly
Nelly is one of Shawna's friends and is played on-screen by DomiNque Perry. 
The character appeared in the Season 1 finale after joining Shawna and Alesia in the video that badmouthed Mia and hinted that the group is breaking up. 
Perry is known for her roles in Bust Down, Get Hard, and Black Jesus.
Brittney Jefferson - Alesia
Brittney Jefferson plays Shawna's friend, Alesia. She also appeared alongside Nelly and Shawna in the video that seemingly announced the rap group's breakup in the Season 1 finale. 
Jefferson has credits in The New Republic, The Real in LA, and American Soul.
Devon Terrell - Cliff Lewis
Devon Terrell's Cliff Lewis is Shawna's long-distance boyfriend from Season 1. They tried to make it work, but Shawna's passion for rap and her illegal schemes with Maurice were more than enough for Cliff to leave.
Terrell previously starred in Barry, The Professor, and Ophelia.
Jacob Romero Gibson - Lord AK
Jacob Romero Gibson plays Lord AK, the main rapper who is on tour. In Season 2, it was revealed that Shawna and Mia will serve as opening acts for his concert.
One Piece fans may recognize Gibson for his recent portrayal of Usopp in Netflix's live-action adaptation of the anime. The actor is also known for his roles in Greenleaf and Grey's Anatomy.
Kyle Bary - Courtney Taylor
Kyle Bary joins the cast as Courtney Taylor in Rap Shit Season 2.
Bary is known for his past roles in Ginny & Georgia, Beauty, and The Wonder Years reboot.
Michael Beasley - Uncle Calvin
Uncle Calvin (played by Michael Beasley) is set to appear in Rap Shit Season 2.
Fans may recognize Beasley for his past roles in Eastbound & Down, Flight, Bloodline, and Escape at Dannemora.
Jean Elie - Stanley
Stanley is Maurice's friend who knows about him and Shawna's illegal credit card schemes at the hotel. The character is played by Jean Elie. 
At the end of Episode 1, Stanley told Maurice that he wouldn't hesitate to blame Shawna for the illegal deeds if pressed by the police.
Elie is known for his roles in Insecure, Colin in Black & White, and Send Help.
Patrick Cage II - Gat
Gat (played by Patrick Cage II) is Lord AK's friend who doused Shawna with champagne during the tour. 
The actor has credits in Westworld, All American, and CSI: Vegas. 
---
Rap Sh!t Season 2 is now streaming on Max.
---
Aeron is a news/features writer and Content Lead for The Direct who has been working for the site since March 2020. From writing about the inter-connectivity of the Marvel Cinematic Universe to having an extended knowledge about DC TV's Arrowverse, Aeron's expertise has since expanded into the realm of reality TV, K-drama, animated, and live-action shows from Netflix,  Disney+, Prime Video, MGM+, Peacock, Paramount+, and Max. When he isn't writing and watching all things MCU, Aeron is heavily invested with the NBA (go Celtics!) and occasionally watches thrilling matches in the WWE.