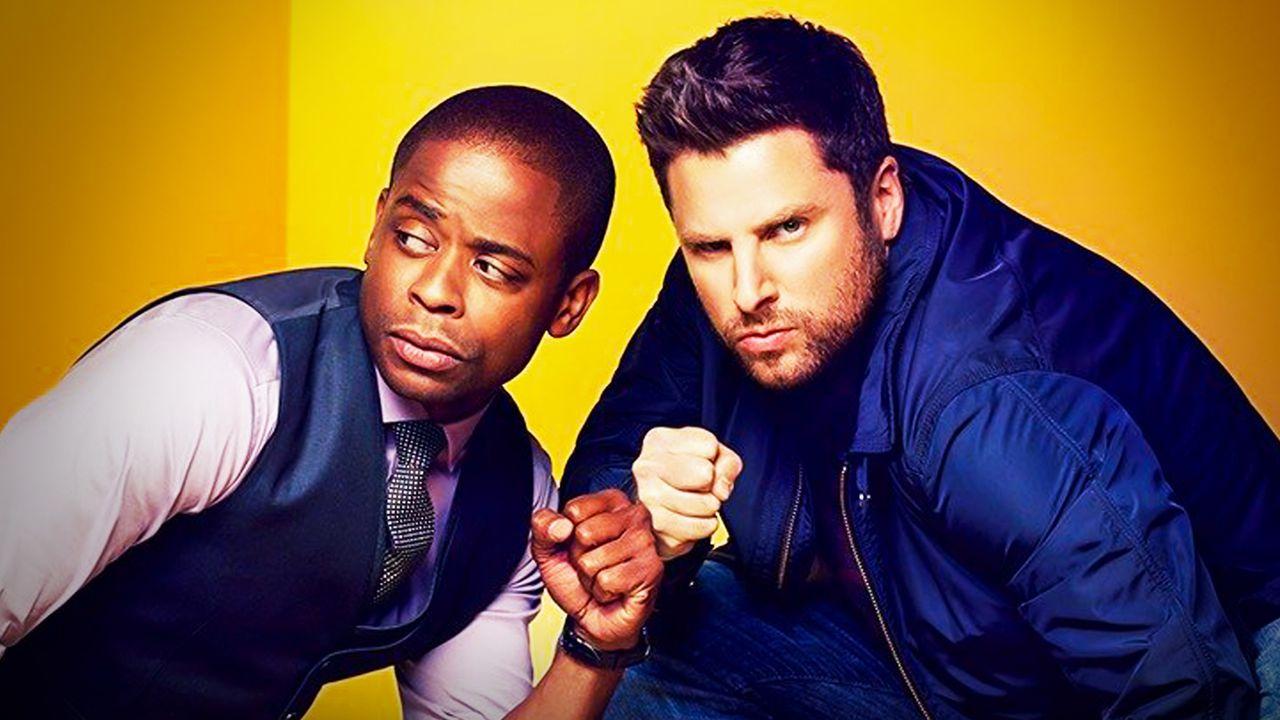 USA Network's Psych continues to live on long after its TV run, with information about the release and cast of the upcoming Psych 4 movie now coming into the spotlight.
Starting its highly-celebrated run on USA Network in 2006, Psych gave viewers eight seasons of wild antics, comedic genius, a love of pineapples, and all the '80s references that could fit into 120 episodes of comedic and dramatic fun.
The series centers on James Roday Rodriguez's Shawn Spencer, who fakes being psychic while running a private detective agency. He teams up with Dule Hill's Burton Guster, a hardworking pharmaceutical salesman, to solve crimes in tandem with the Santa Barbara Police Department.
After its eight-season run ended in 2014, the series went down the movie route with Psych: The Movie, Psych 2: Lassie Come Home, and Psych 3: This is Gus, with the rabid fanbase now waiting for updates on a fourth full-length film.
When Could Psych 4 Release?
Speaking with TVLine in May 2023, Psych star/executive producer James Roday Rodriguez noted that "there are flickers of light" for a fourth Psych movie going into development in the near future.
The film was tentatively scheduled to go into production in 2022, with Rodriguez noting that an announcement was all lined up. But the team "just couldn't pull it together in time" with so much of the cast and crew busy on other projects:
"The only reason that 'Psych 4' didn't happen last year was scheduling. It was all lined up, and we would've made an announcement, but then we just couldn't pull it together in time with everybody going off to do [other projects]. So, now we just kind of have to regroup, wait for Peacock to decide that they want to pay for it again, and hopefully we'll be good."
He then noted that "the script is done" and that he thinks it's "pretty fun."
These are the same sentiments that Rodriguez offered in February with TVLine, explaining that the "appetite is there on both sides" and that it was "just a matter of, you know, semantics and scheduling." He also confirmed then that a script was in the works, meaning it was only "a matter of when, not if" it happens:
"There's nobody that doesn't want it to happen. And there is a script, which is also an important element. So, I think it's just a matter of when, not if. Hopefully it will be sooner rather than later, just because you never want people to forget how much they love you. But a little bit of time is always good, too!"
For reference, after Psych's eight-season run ended in March 2014, USA Network confirmed development for Psych: The Movie in May 2017 before it debuted later that year on USA in December. That film even brought future superhero movie star Zachary Levi on board as one of its main villains, the Thin White Duke, along with wrestler Charlotte Flair and The Boys' Nathan Mitchell.
Then, Psych 2: Lassie Come Home aired as a Peacock exclusive in July 2020 before Psych 3: This is Gus arrived on the streaming network in November 2021.
Although the script is almost done, the Psych team has been incredibly busy over the last few years. Rodriguez himself is finishing up his final season of work on ABC's A Million Little Things, while Hill plays a leading role as Bill Williams on ABC's The Wonder Years reboot.
Hill could realistically be available for filming later this summer depending on if/when The Wonder Years is renewed for Season 3, and Rodriguez's schedule is now fairly open with A Million Little Things ending in May.
Depending on when the rest of the cast is available, the rest all depends on if the script's development is affected by the ongoing writer's strike.
Optimistically, should that not be an issue, filming could realistically take place before the end of 2023, potentially setting Psych 4 up for a premiere on Peacock sometime in 2024 or 2025. However, an official release timeframe has yet to be announced.
Psych Stars Call for Psych 4
On top of a passionate fan cry for Psych 4 to go into development, the show's stars have expressed their optimism that the movie will be made. Some comments even go as far as advocating for it to happen.
Burton Guster actor Dule Hill discussed the chances of Psych 4 happening in a chat with the A.V. Club in late June 2023, calling those chances "very strong" and hinting that it may only be a matter of time until it comes to be:
"I think the chances of us getting a 'Psych 4' movie are very strong. I think if the fans want it, then it is my belief that Peacock will come together and make it happen. I know there has been talk about it, nothing has been official yet, but I would just tell the fans to wait for it…"
Right around that same time, Carlton Lassiter star Timothy Omundson put out a call to Psych fans on his Twitter page, urging viewers to express their own desire to see Psych 4 greenlit by the Peacock streaming network:
"Hey 'Psych' lovers, with the 4th of July coming up, now is the perfect time to tell Peacock that you would watch the hell out of a 4th PSYCH MOVIE

RT And let's  GET THIS  MADE"
During the 2023 Grammy Awards in February, Karen Vick actress Kirsten Nelson celebrated that Psych 4 was trending on Twitter. From her own account, she offered her own promotion for the potential movie:
"No biggie. Just logging on to see who's crushing the Grammys and whhhaaaaaaatttttt?!?! Look at the Psycho's sucking it! Ok. Let's twist this. Peacock, your move."
Juliet O'Hara star Maggie Lawson later retweeted that message from her own account.
Additionally, Lawson and Omundson joined forces in November 2021 to start a Psych rewatch podcast called The Psychologists Are In, where the duo looks back through the entire series while discussing their experience with guest stars and actors from the show.
The team even has ideas for what could happen in a fourth Psych movie, as detailed in an interview with TVLine from November 2021 after Psych 3 debuted.
Hill looks forward to seeing how the team reacts to "having this new child in the world" after Gus' baby was born, feeling sure that the newborn is "going to be right there in the thick of it:"
"I would really like to see how all of our characters respond to being Uncle Shawn, Uncle Lassie, Aunty Jules — seeing how are they all reacting to having this new child in the world. You know this child is going to be right there in the thick of it. Somebody has to be watching the baby."
Rodriguez touched on whether the Psych movies would take the Fast and Furious route and head to space, noting that his own family has been focused on "grounding all three of the movies in character development" with so much happening between the series and the movies:
"We've been very mindful of grounding all three of the movies in character development, because I think that's important once you transition from series to movies and there are years in between."
After eight seasons of TV and three movies, Rodriguez sees the opportunity to "do a bit of a departure," which happened on a number of occasions on USA Network.
He recalled how, a couple of times per season, they would "take a swing that was kind of 'out there,'" teasing that an upcoming movie could do something similar and "be one that stands alone on an island:"
"Once or twice a season we would take a swing that was kind of 'out there,' and it would either land or not land — but when you're doing 16 [episodes], it wasn't as big of a deal. But I do think if you line up all these movies together at the end of the day, however many we end up doing, there should probably be one that stands alone on an island as our 'Halloween III,' where you're like, 'That one was weird.' I feel like we're getting close to doing that one."
Hill even has a hilarious idea for a title, throwing A Million Little Shawns out there after Rodriguez's five-season run as a leading actor on ABC's A Million Little Things:
"In my [social media] comments, someone said the title of the next movie should be 'A Million Little Shawns.' I was like, 'That's pretty brilliant.' This one is called 'This Is Gus,' so next we do 'A Million Little Shawns.'"
Psych 4's Expected Cast
As the Psych cast expanded and evolved since the show first premiered in 2006, the core team of actors should all be expected to return for a potential Psych 4 if/when it's confirmed to shoot.
Below is a short list of the main actors that will almost certainly be involved in the movie along with their roles.
James Roday Rodriguez - Shawn Spencer
Using his highly-acute observational skills to fake being a psychic, Shawn Spencer started the Psych private detective agency in 2006. He worked for years with the Santa Barbara (SBPD) and San Francisco (SFPD) police departments to solve crimes all across California and the world.
As the leading character in this series, and with Rodriguez being a writer and executive producer on the show, Shawn will unquestionably be back in action as he and his family take on their next crime-solving adventure.
Dule Hill - Burton Guster
Known for his expertise as a pharmaceutical salesman and his countless laugh-out-loud nicknames, Burton "Gus" Guster is the brains behind Psych and plays an important role as Shawn's best friend.
After the two move their operations to San Francisco, Gus finds his own new day job while still helping Shawn solve crimes, all while building a family of his own and expanding his own horizons.
Timothy Omundson - Carlton Lassiter
Spending nearly 20 years as the SBPD's head detective, Carlton "Lassie" Lassiter is named the department's chief in Season 8, with Timothy Omundson's character operating in the same role during all three subsequent movies.
Incredibly, Omundson had remained a key part of the cast even after suffering a stroke shortly before the first movie was shot, with Psych 2 bringing that event into the story itself as Lassie played a pivotal part in the last two movies.
Maggie Lawson - Juliet O'Hara
Working her way up from SBPD junior detective to head detective of the SFPD, Juliet "Jules" O'Hara also eventually became Shawn's love interest and rock from Season 5 on.
The two were married at the end of the first movie as Jules continued to sharpen her police skills, with the entire first movie centered on her as she adapted to her new home in San Francisco.
Kirsten Nelson - Karen Vick
As the chief of both the SBPD and the SFPD, Kirsten Nelson's Karen Vick found a way to keep Shawn and Gus' antics above ground while attempting to do her job in protecting her cities at every turn.
Understanding Shawn's ability to help people, she keeps his secret as she catches murderers and villains every week. She even passes up a promotion to police commissioner in the movies in order to keep her core people safe.
Corbin Bernsen - Henry Spencer
Shawn Spencer's father, Henry, was revealed early on as the reason the leading character is so skilled observationally, with Henry trying to impart (sometimes force) his skills as a former police detective on his son.
Their relationship fluctuated over the years, although they eventually became close once again with Henry still helping out Shawn and Gus on their cases in the movies.
Other Potential Supporting Characters
Over the years, Psych brought some incredibly high-profile guest stars on board, some of which fans are dying to see come back in the movies.
Chief amongst these is Cary Elwes (Pierre Despereaux), who will be seen next in Mission: Impossible - Dead Reckoning Part 1, as fans wonder where the Interpol agent/art thief is after revealing his true identity to Shawn and Gus in Season 8.
Also on that list is Peacemaker star John Cena, who joined the Psych universe in Season 4 as Juliet's brother - a U.S. Army soldier who also had a more secretive position as a Black Ops agent for the Department of Defense. He was last seen barging into Shawn and Gus' San Francisco office asking for their help on a mission and forcing Shawn to miss his honeymoon, which was only mentioned for a moment in Psych 2.
There's also been no sign of a few of the important players in Cybill Shephard's Madeline Spencer (Shawn's mom) or either of Gus' parents (last played by Phylicia Rashad and Keith David), all of whom could bring plenty of fun antics to Psych 4.
But considering the star power that came only in cameos from the first two movies, including names like The Karate Kid's Ralph Macchio, Man of Steel's Richard Schiff, and Tears for Fears singer Curt Smith as himself, Psych 4 could bring any number of huge names in for roles this time around.
What Could Happen in Psych 4?
Looking at the direction of the first three movies, the biggest question for Psych 4 is which of the main team will be the central focus of the next story
The first movie highlighted Juliet's mission to uncover a mysterious organization trying to take her out while the sequel centered entirely on Lassie, with Shawn and Gus searching for the police chief's assailant as Timothy Omundson's real-life stroke was brought into the story.
Psych 3 then went full Burton Guster as Dule Hill's co-leading hero pushed to plan out the best wedding for himself and his fiance, Selene (played by Hill's real-life wife Jazmyn Simon), all before Selene gave birth to their first child.
With almost half the cast getting their shine in the first trio of movies already, there are still a few names that could take the headlining spot for Psych 4.
One of the most likely options would be Henry Spencer, which could be a way to bring Cybill Shephard's Madeline into play. Perhaps the long-retired detective has to face an old demon from his past and goes to Shawn and Gus more willingly than ever before for their help in his own challenge.
There's also Kirsten Nelson's Chief Vick to consider, especially taking into account that Psych 3 put her into a difficult situation with her husband and daughter after diving so deep into her job for so many years.
Outside of them, there's always Kurt Fuller's wild and wacky coroner, Woody Strode, who's found himself in some wild side plots in the last three movies such as impersonating another mental facility doctor in Psych 2 to assist Shawn and Gus.
And while Shawn and Gus will unquestionably be at the center of whatever adventure is told next as they push forward in San Francisco, the supporting cast is sure to get their due shine throughout the plot.
Will More Psych Movies Get Made?
If the creative team and actors have their say in the matter, there won't be an end to Psych movies for the foreseeable future.
In the previous interview with TVLine, show creator Steve Franks made it clear that he and the team know what they want for a fourth movie, also noting that they're ready to go as far as a possible Psych 6:
"We certainly know what we want to do in [a fourth film], and we know what we want to kind of do in [a fifth film], and then knock on wood, can we do [a sixth film]? Of course, they haven't greenlit any of these. but when they call, we're ready."
Often comparing their story to the Fast Saga from Universal Pictures, a six-movie run has generally been the consensus for how long the Psych franchise will continue, which certainly appears feasible after such an impressive tenure on TV already. 
These could go into production and be released anytime in the next few years, possibly giving Psych a 20-year or longer run on the small screen as the cast and crew hope to get three more movies out of this beloved saga.
Looking at Psych's past movies, Peacock has every reason to move forward with more stories as the first three films earned no less than an 89% in their audience meter rating and/or Tomatometer score on Rotten Tomatoes.
At this point, the group is still waiting for Psych 4 to officially get the green light, but there appears to be no lack of enthusiasm from both the production team or the fans wanting it to become a reality.
All eight seasons of Psych, along with the first three movies, are available to stream with a Peacock subscription.