The cast of Netflix's Painkiller series is filled with veteran stars and up-and-coming actors headlined by Matthew Broderick. 
Created by Micah Fitzerman-Blue and Noah Harpster, the six-episode limited series revolves around the fictionalized story of how Purdue Pharma's OxyContin campaign in the United States ultimately became a healthcare crisis. 
Painkiller made its debut on Netflix on Thursday, August 10.
Every Actor & Character in Painkiller
1.) Uzo Aduba - Edie Flowers
Uzo Aduba portrays Edie Flowers in Painkiller, a lawyer working for the United States attorney's office in Roanoke who spearheads the investigation of a new drug named OxyContin. 
Painkiller executive producer and director Pete Berg described Flowers as the series' anchor, noting that the character is the viewer's "guide" as she tries to unpack how the epidemic started:
"She's our guide as we unpack the complexities of what Purdue did and how the opioid epidemic started and then spread." 
Aduba is best known for her roles in Orange is the New Black, Candy Jar, and Really Love.
2.) Matthew Broderick - Richard Sackler
Matthew Broderick plays Richard Sackler, a senior executive at Purdue Pharma who becomes chairman and president of the company after its founder and his nephew, Arthur, passes away. 
In both the series and real life, it was Richard's idea to replace MS Contin with OxyContin to serve as the company's profit engine. 
Broderick is a famous actor who had roles in Ferris Bueller's Day Off, Godzilla, Inspector Gadget, and The Cable Guy. 
3.) Sam Anderson - Raymond Sackler
Sam Anderson portrays Raymond Sackler in Painkiller, one of the owners of Purdue Pharma. 
In October 2017, The New Yorker published an article that implied Sackler was morally responsible for the opioid epidemic in the United States.
Anderson is best known for his roles in Perfect Strangers, Growing Pains, and Angel and for portraying Bernard Nadler on Lost.
4.) Clark Gregg - Arthur Sackler
Clark Gregg is Arthur Sackler in the limited series, Purdue Pharma's founder who appears throughout the series as an apparition after his death to guide and teach Richard how to handle the family legacy. 
Gregg is best known for his role as Agent Phil Coulson in the Marvel Cinematic Universe, appearing in several Phase 1 movies and reprising his role on the small screen in Agents of SHIELD for seven seasons. 
The actor's other credits include 500 Days of Summer, How I Met Your Father, and Will & Grace.
5.) Taylor Kitsch - Glen Kryger
Taylor Kitsch plays Glen Kryger, a business owner who will do anything for his family. However, after an injury at work forces him to the sidelines, a doctor prescribes him OxyContin. 
The series explores how OxyContin ultimately changed his life. 
Kitsch's acting credits include True Detective, The Terminal List, John Carter, and X-Men Origins: Wolverine.
6.) Carolina Bartczak - Lily Kryger
Carolina Bartczak portrays Lily Kryger, Glen's supportive wife who is pushed to her limits after OxyContin's harmful effects on her husband. 
Bartczak is known for her roles in X-Men: Apocalypse, Moonfall, Be Mine, and Covert Affairs. 
7.) Tyler Ritter - John Brownlee
Tyler Ritter is United States Attorney John Brownlee in Painkiller, Edie Flowers' boss who is aware of her investigation against Purdue Pharma. 
Brownlee helps Flowers spearhead a legal battle to find the truth about the "miracle drug" named OxyContin. 
Ritter is known for his roles in Merry Happy Whatever, Agents of SHIELD, Arrow, Modern Family, and Grey's Anatomy. 
8.) John Ales - Dr. Gregory Fitzgibbons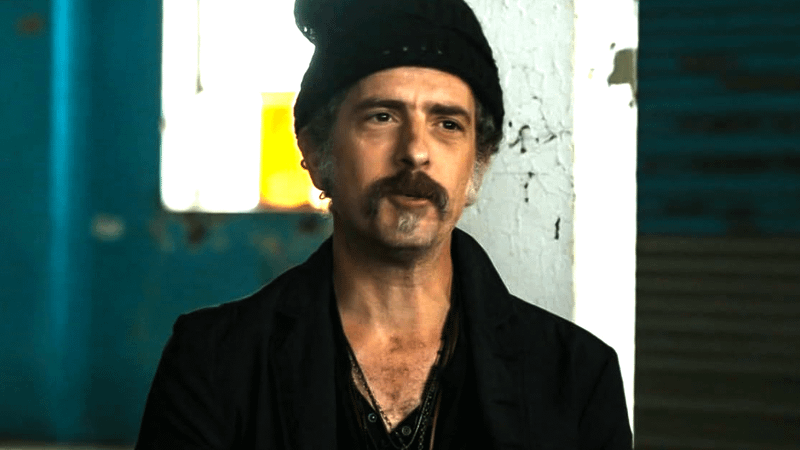 John Ales plays Gregory Fitzgibbons, a doctor who refuses to prescribe OxyContin to his patients despite Purdue's promise of increased profits. The character is aware of the medicine's harmful effects.
Although Fitzgibbons is not based on a real person, some have assumed that the character is inspired by the real people who were against OxyContin. 
Ales' past credits include The Nutty Professor, Who Are You People, and Life of the Party. 
9.) Ron Lea - Bill Havens
Ron Lea plays Bill Havens, one of the lawyers who spoke to Edie Flowers during the show's debut episode to talk about the ongoing opioid crisis amid the legal battle against Purdue Pharma. 
Lea is best known for his roles in Clearcut, Fixer Upper Mysteries, and Goodnight for Justice. 
10.) Ana Cruz Kayne - Brianna Ortiz
Ana Cruz Kayne portrays Brianna Ortiz, the other lawyer who appeared alongside Bill Havens in Painkiller's first episode to talk about the ongoing opioid crisis with Edie Flowers. 
Kayne recently appeared in Barbie as one of the Barbies. The actress' other credits include Little Women, Another Earth, and Depraved. 
11.) West Duchovny - Shannon Schaeffer
West Duchovny plays Shannon Schaeffer in Painkiller, a former athlete who becomes a new recruit to the Purdue sales team and persuades doctors to prescribe OxyContin. 
Duchovny's filmography includes projects like Saint X, The X-Files, Vegas High, and The Report. 
12.) Jack Mulhern - Tyler Kryger
Jack Mulhern is Tyler Kryger, Glen's stepson who struggles with guilt due to the fact that the accident that forced his step-dad to the sidelines is partly his fault. 
Mulhern is known for his roles in The Society, Mare of Easttown, Unconformity, and Odd Man Rush. 
13.) Dina Shihabi - Britt Huttford 
Dina Shihabi plays Britt Huttford, a veteran sales representative from Purdue who serves as Shannon's mentor in Painkiller. 
Shihabi has a stellar acting resume which includes projects such as Tom Clancy's Jack Ryan, Daredevil, Altered Carbon, and Catching Dust.
14.) John Rothman - Mortimer Sackler
John Rothman plays Mortimer Sackler, one of the co-owners of Purdue Pharma and Richard's uncle. 
Rothman is an actor known for his roles in The Devil Wears Prada, Ghostbusters, Taxi, Picture Perfect, and Enchanted. 
15.) John Murphy - Michael Friedman
John Murphy portrays Michael Friedman in Painkiller, Purdue's chief executive who was charged after lying to Congress about the first time he and other executives heard about OxyContin's harmful effects.
Murphy is known for his roles in Supergirl, DC's Legends of Tomorrow, and The Good Doctor. 
16.) Noah Harpster - Dr. Curtis Wright
Noah Harpster plays Curtis Wright, the doctor from the FDA who approved OxyContin. 
Although he gave the go-ahead for the said drug, negotiations between him and Richard Sackler went on for more than 20 months due to various debates about its effects.
Harpster's credits include The Motel Life, Dirty Love, and Maleficent: Mistress of Evil. 
17.) Brian Markinson - Howard Udell
Brian Markinson plays Howard Udell, one of the three Purdue Pharma executives who pleaded guilty to misdemeanor misbranding of the drug known as OxyContin. 
Markinson is known for his roles in 12 Rounds: Reloaded, High Noon, and Ring of Fire. 
18.) David Tompa - Conference Room Lawyer
David Tompa plays a conference room lawyer in Painkiller. 
Tompa's other credits include Scary Stories to Tell in the Dark, Isabelle, and American Woman. 
19.) Johnny Sneed - Dr. Tim Cooper
In Painkiller, Johnny Sneed's Tim Cooper is a doctor who was persuaded by Shannon to increase the dosage of OxyContin to his patients. Despite Shannon's attempt, Tim did not agree with her request.
Sneed is known for his roles in Operating Instructions, Sleepover, and American Nightmare.
20.) Matt Baram - Dr. Robert Kaiko
Matt Baram portrays Dr. Robert Kaiko, a Purdue employee who is in charge of OxyContin's development. 
Baram's past acting credits include Supergirl, Black Mirror, and For The People.
21.) Cody Porter - Dr. Paul Goldenheim
Cody Porter is Painkiller's Doctor Paul Goldenheim, Purdue's medical director amid the opioid crisis. 
Porter's other credits include The Academy and The Moustache.
22.) Darrin Baker - Dr. Hartman
Darrin Barker plays Doctor Hartman, the medical expert who prescribed OxyContin to Glen Kryger.
Barker is known for his roles in The Man from Toronto and My Spy.
23.) Jamaal Grant - Shawn Flowers
Jamaal Grant portrays Shawn Flowers, Edie's brother who is in prison during the events of the series. 
Grant's acting credits include The Manny, Christmas by the Book, and Super Mighty Makers.
24.) Trenna Keating - Deborah Marlowe
Painkiller's Trenna Keating plays Deborah Marlowe, the secretary of Purdue's general counsel. 
According to The Cinemaholic, Marlowe is based on the company's real-life secretary, but the show used an alias for her since she wished to remain anonymous.
Keating is known for her roles in The Mysterious Benedict Society, A Dog Named Christmas, and Defiance.
25.) Megan Vincent - Carol Brewster
Megan Vincent plays Carol Brewster, Jess' mother whose daughter died due to OxyContin.
Vincent is known for American Gods, Possessor, and The Kennedys.
26.) Laura Afelskie - Jess Brewster
Laura Afelskie portrays Jess Brewster, a character who died due to OxyContin. 
In the series, Howard Udell addressed Jess' death and announced in a press conference that there was no way of knowing that the drug specifically caused her death.
Afelskie's other credits include Black Widow Killer and Secret Santa.
---
All episodes of Painkiller are now streaming on Netflix.