Obi-Wan Kenobi is only a week away, and fans are getting restless. Many have been waiting nearly two decades to see Ewan McGregor return to his role as the former Jedi Knight who trained the infamous Darth Vader. As exciting as his return is, given the recent trend across pop culture, many have started to wonder what crossovers may await them within the six-episode series. One of those properties people hope to see show up is the popular game Star Wars Jedi: Fallen Order.
The game follows former Jedi Padawan Cal Kestis as he is forced out of hiding and goes on the run from the Inquisitors on the hunt for a Jedi Holocron holding the location of force-sensitive children. Jedi: Fallen Order quickly became one of the biggest games in all of Star Wars, with gamers falling in love with the cast of characters and the experience it offered players.
Fans have always wondered if they might one day meet Cal Kestis in live-action. Now, thanks to some intriguing quotes from the cast of Obi-Wan, it seems the possibility is a very real one.
A Big Obi-Wan Crossover to Come?
In an interview with Entertainment Weekly about the upcoming Disney+ show Obi-Wan Kenobi, the cast may have accidentally let it slip how there might be a crossover between the series and a video game—one that may very well be Star Wars Jedi: Fallen Order given its recent popularity.
Rupert Friend, who portrays the Grand Inquisitor in the series, mentioned how much he loves how the "Star Wars universe [has been doing] that crossover thing" and went on to give the specific example of "crossing over into a movie or back into a game:"
"Well, it's a really good point because one of the things I'm loving about seeing the Star Wars universe unfold and expand is that crossover thing. It's seeing characters who are in a limited world, are crossing over into a movie or back into a game, even. And I think that the characters are so thoroughly created and so exciting to watch that the world lends itself to that sort of crossover.
Friend continued, saying how he'd "be completely open to [continuing his portrayal of The Grand Inquisitor]:"
"So I would be completely open to it. I loved playing the part and would love to see what happened if he were to interact. Or, if you read his kind of timeline, there are some really fascinating things where he is turned into a hologram, and he decides to jump to his own death because he says that there's some things that are worse than death, referencing Vader's punishment. And obviously, our period doesn't cover that. So if they decide to explore that, I would think that would be pretty thrilling."
Obi-Wan Kenobi himself, Ewan McGregor, mentioned how during the process of figuring out the show, they had to "coordinate with each other" to make sure canon never contradicted, as they "[couldn't] have a character in our story that doesn't exist in that timeline in the videogame:"
"The amazing thing about Star Wars now is that the universe has sort of grown. When I made the first three films, we only had three other movies to sort of tell us what the world is. Now there's TV shows, movies, computer games, comics, cartoons, novels, graphic novels... there's no end of storytelling going on in Star Wars. And it all has to coordinate with each other, so we can't have a character in our story that doesn't exist in that timeline in the videogame. That was part of our process in finding the story to tell, and I think that we found one that will very much satisfy the fans."
If a crossover were to ever happen between a massive game like Star Wars Jedi: Fallen Order and the Obi-Wan Kenobi series, which characters could show up?
The Ninth Sister
One possible crossover is with the Ninth Sister. While the character was defeated by Cal Kestis on Kashyyyk, her death was not confirmed.
Seeing as Darth Maul was cut in half and fell who knows how far, there's still a chance she survived her run-in with the Jedi. So her inclusion is a possibility.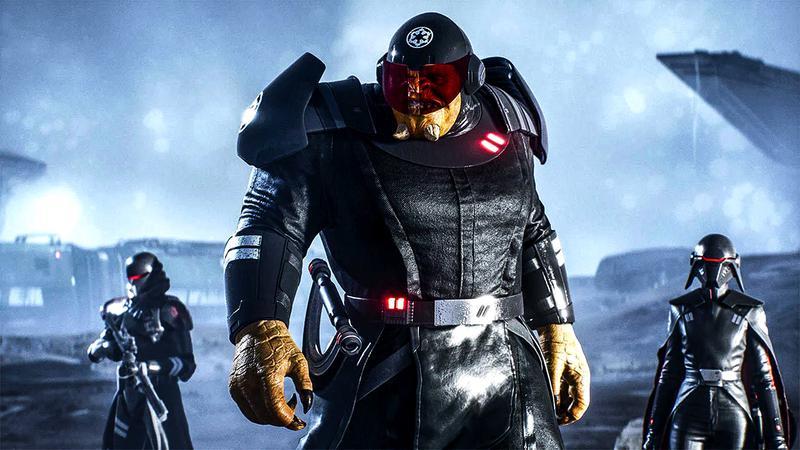 The Second Sister
Then there's the more primary antagonist of Fallen Order, the Second Sister. The chances for her to make an appearance in the upcoming Obi-Wan Kenobi show are sadly slim to none—seeing as she meets her end via Darth Vader's lightsaber at the end of the game.
With Ewan McGregor's Disney+ show taking place roughly five years after the events of the hit game, the odds don't look great for her appearance. Though, there's always the possibility of a flashback; maybe one exploring the Inquisitors specifically?
Cal Kestis
The most obvious choice for a crossover would be with Cal Kestis himself. While he survives the events of the game, whatever he happens to be doing after is unknown.
With a roughly five-year gap, there would be plenty of room for Lucasfilm to have to do whatever they wanted with the character in Obi-Wan. A crossover between the two would certainly be something fans would go nuts over. It would also be one of the biggest crossovers from any Star Wars game to film ever seen.
Obi-Wan Kenobi: Fallen Order
While the bosses at Lucasfilm have warned fans not to expect big cameos in the upcoming Obi-Wan Kenobi series, there's all the possibility they were referring to the likes of Boba Fett and Ahsoka. Also, such a warning doesn't necessarily confirm that there won't be any crossovers of any kind.
With the sequel to Star Wars Jedi: Fallen Order, potentially named Survivor, set to be announced any day now, the hype will start building for that world once again. Corporations do love synergy, so if a crossover isn't happening at all, they undoubtedly discussed it at the very least.
Even if fans don't get to see the likes of Cal Kestis in the coming weeks on their television screens, they can rest assured knowing they'll have a new adventure with him sooner rather than later.
At the end of the day, the cast could have been referencing crossovers that already happened between the two mediums. The biggest example is Forest Whittaker's Saw Gerrera, who was seen in animation during both Clone Wars and Rebels, went into live-action for Rogue One, and then into the world of gaming with Fallen Order.
Then, of course, there was the little droid who appeared in The Book of Boba Fett that resembled the now-iconic BD-1.
Obi-Wan Kenobi hits Disney+ on May 27.