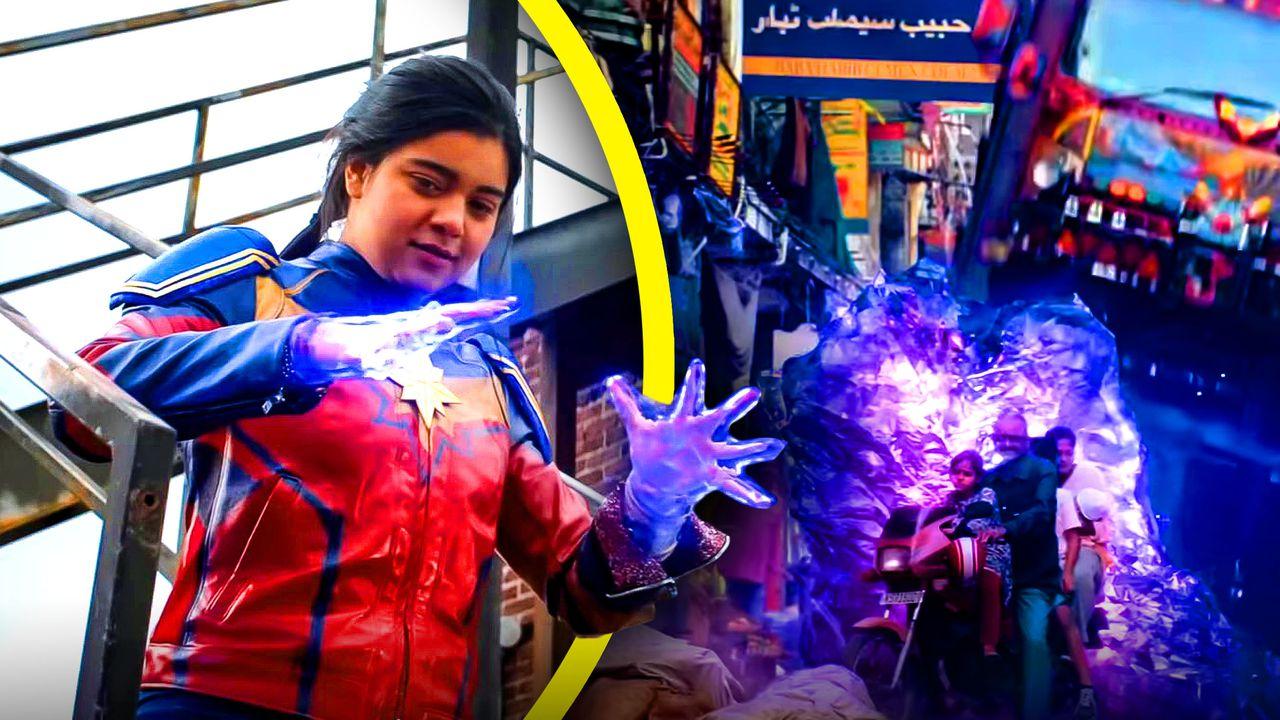 Ms. Marvel is set to introduce another young hero into the Marvel Cinematic Universe, but the character will have a different set of powers from her counterpart in the comics. Iman Vellani will portray the franchise's Kamala Khan, and she will be joined by a stellar ensemble. The changes made to Kamala's powers have been a subject of viral debate ever since it was teased by a series of behind-the-scenes photos. 
In Marvel Comics, Kamala is an Inhuman who has the ability to extend her limbs, alter her appearance, and shapeshift. Instead, Ms. Marvel's first trailer confirmed that those stretching abilities will be replaced with a cosmic bracelet and the power to create purple constructs - similar to that of DC's Green Lantern. 
Now, another sneak peek at Kamala's newfound powers has been unveiled in a new teaser.
A Fresh Look at Ms. Marvel
Marvel Studios officially released a brand new TV spot for Ms. Marvel, showcasing a fresh look at the upcoming debut of Iman Vellani's MCU hero. 
The 30-second promo features footage of Kamala Khan using her superpowers, the young hero's daily life, and the first look at Red Dagger.
Footage of Kamala creating constructs to protect a family against a rampaging truck: 
A closer look at the purple constructs was also unveiled: 
A shot of Kamala being confused was additionally featured:
Aramis Knight's Red Dagger teams up with Kamala in this image: 
The promo can be seen below: 
The Controversy Behind Ms. Marvel's Powers 
MCU fans have strong opinions about Ms. Marvel's new powers in the upcoming Disney+ series, with some pointing out that it is inappropriate to scrap the character's origin from the comics. However, it's safe to assume that Marvel Studios has a valid reason for the change, and it is expected to be explained at some point in the show. 
This latest trailer offered many new looks at Kamala Khan's use of purple constructs as her main weapon in the series, and the character appears to be adept at using her newfound abilities. It is unknown if her powers will be changed when Kamala makes her big-screen debut in The Marvels, but there's a strong chance that it won't, considering that the cosmic bracelet could be used as her connection to Brie Larson's Captain Marvel. 
The cosmic pair of bangles also gives Kamala more ways to use her powers, mainly because it allows her to create bulletproof shields and larger constructs to stop a massive threat. The artifact also makes her more formidable, which could prove to be useful in her upcoming cosmic trip with Carol Danvers and Monica Rambeau in The Marvels. 
Whatever the case, fans will get a closer and more detailed look at Kamala's new abilities when Ms. Marvel premieres on Disney+ on June 8.
---
Aeron is a news/features writer and Content Lead for The Direct who has been working for the site since March 2020. From writing about the inter-connectivity of the Marvel Cinematic Universe to having an extended knowledge about DC TV's Arrowverse, Aeron's expertise has since expanded into the realm of reality TV, K-drama, animated, and live-action shows from Netflix,  Disney+, Prime Video, MGM+, Peacock, Paramount+, and Max. When he isn't writing and watching all things MCU, Aeron is heavily invested with the NBA (go Celtics!) and occasionally watches thrilling matches in the WWE.