Ms. Marvel is set to introduce a brand-new hero into the MCU, and she will be portrayed by newcomer Iman Vellani. The upcoming Disney+ series revolves around Kamala Khan, a Muslim Pakistani American high-schooler who transforms into a superhero. Aside from that, Kamala is also a huge fan of the Avengers, with the show's synopsis confirming that she's a fanfiction writer who covers Earth's Mightiest Heroes.
Although Kamala is set to join forces with Brie Larson's Captain Marvel and Teyonah Parris' Monica Rambeau in The Marvels, fans are still wondering if the young hero will team up with other heroes in the wider MCU. Still, Ms. Marvel's trailer featured tons of references to other heroes such as Paul Rudd's Ant-Man and the Guardians' Rocket Racoon. 
Now, Ms. Marvel's producer teased the character's future crossover possibilities after her debut series. 
Ms. Marvel's Future Avengers Crossover Possibilities 
Ms. Marvel producer Sana Amanat sat down with Total Film, via GamesRadar, to talk about the MCU future of Iman Vellani's Kamala Khan. 
Amanat first compared Kamala to Peter Parker or Miles Morales, describing the character as a "fan of the bigwigs of the Marvel universe" while also pointing out that she can stand toe-to-toe with the Avengers:
"She's this young character who is very much a fan of the bigwigs of the Marvel Universe like the Avengers, and she doesn't feel necessary like she can stand toe to toe with them. But I think, ultimately, she can, and she does."
The Marvel producer then offered high praise for Vellani, saying that the MCU newcomer had this "energy, this innocence, and this quirkiness to her:"
"She just had this energy, and this innocence, and this quirkiness to her. In one of her auditions, she really went from being very nerdy and quirky, to emotional and almost like she had this understanding of a world that someone beyond her years should have."
Alongside the reveal, Total Film also unveiled a new still from the upcoming Marvel series, showcasing Vellani's Kamala Khan holding her mask before she suits up as the titular hero: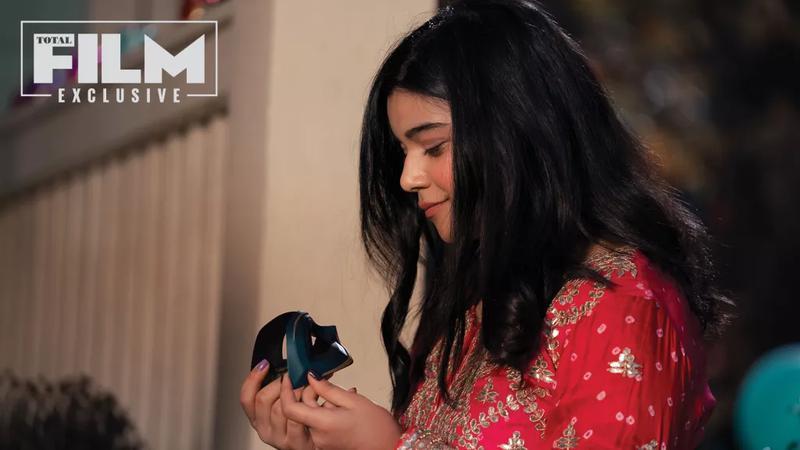 Will Kamala Join Avengers 5?
Kamala Khan's stint in The Marvels appears to hint that the character's debut in the Avengers roster could arrive sooner rather than later. 
Sana Amanat's comment about Kamala's desire to be an Avenger is deeply rooted in the comics, and the same is true for the MCU's live-action iteration. Whenever Kamala meets Earth's Mightiest Heroes, there's a strong chance that the character will have a fangirl moment while also proving that she can fight alongside them. 
While this character arc could be similar to how Tom Holland's Peter Parker was showcased during the Infinity Saga, the MCU is notorious for finding ways to make each hero stand out from the rest, meaning that Kamala's journey in the franchise will be unique. 
Meanwhile, Amanat's praise of the actress is exciting, considering that this is her first major acting role. Iman Vellani's passion for the MCU serves as an asset moving forward, as she can easily connect the dots of the interconnected universe.
Ms. Marvel is set to premiere on Disney+ on Wednesday, June 8.