Eternals' marketing has been ramping up in the past weeks, mainly because its November release is inching closer. 
The consistent drop of promotional materials for the upcoming Marvel film began when the final Eternals trailer was released, with new footage showcasing fresh story beats and impressive action sequences. 
Since then, various interviews and official photos from Eternals were unveiled, giving fans a preview of what's in store for the Chloe Zhao-directed MCU project. In addition, official Eternals merchandise was also featured, ranging from Funko Pops! all the way to movie-accurate Hasbro collectible figures. 
Now, it seems that one of the Eternals cast members is not pleased with her respective Hasbro figure. 
Salma Hayek Calls Out Creepy Ajak Figure 
On Jimmy Kimmel Live, Eternals stars Salma Hayek and Kumail Nanjiani had a fun conversation about Ajak's Hasbro Marvel figure. 
Kimmel first pointed out that having action figures of their respective characters is "really the sign that you've made it," then he brought out Hasbro's Ajak figure for Eternals, telling Hayek that it has a spare head.
Hayek hilariously admitted that she looks "creepy" in the figure, before imitating it and drawing laughs from the audience: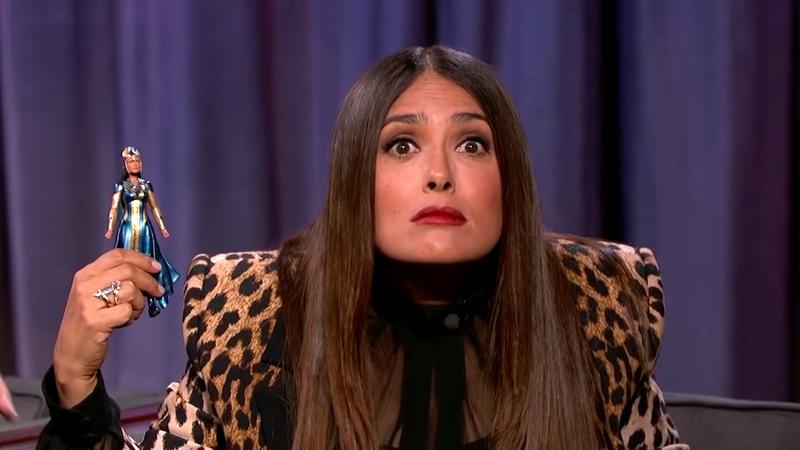 Nanjiani chimed in by sharing that the figure does look like it has an "E.T. head," to which Hayek hilariously agreed with: 
The conversation ended with Kimmel letting the Ajak and Kingo Marvel figures kiss, eliciting another laugh from the audience. 
Ajak's six-inch Hasbro figure features a premium design, detail, and articulation for posing and display: 
Eternals Stars Boost Hype for MCU Film
It's always fascinating to see when Marvel stars go out of their way to promote their upcoming project, and this fun conversation is a fitting example. 
While Hasbro is known for its movie-accurate depiction of Marvel characters, Hayek's hilarious disapproval of her collectible could be categorized as a noteworthy exemption. The veteran actress' "creepy" take on the matter is understandable, especially after seeing Ajak's Hasbro figure. 
It is unknown if Hasbro would adjust the design of the figure, but signs point that a more movie-accurate version will eventually be revealed in the future due to the looming release from Hot Toys. 
Many would agree that the chemistry between Kumail Nanjiani and Hayek is undeniable, and it looks like this will translate into the final version of the film.
Ajak has been described as the "spiritual leader" of the Eternals, and she is the only one who can communicate with the Celestials. It remains to be seen how Ajak will be utilized in the film's narrative, but it seems that she will play a vital part in the Eternals' conquest against the Deviants. 
Meanwhile, Nanjiani's Kingo is part of the team's fighters division, and the first official clip already showed a preview of what his Marvel hero can do. It will be interesting to find out how the two Eternals members will interact in the film since trailers have shown that Ajak is more on the serious side in comparison with Nanjiani's more comedic persona. 
Fans will find out how the rest of the team bonds when Eternals premieres in theaters on November 5, 2021. 
The full interview on Jimmy Kimmel Live can be seen below: