Eternals will introduce a brand-new group of cosmic-powered superheroes into the Marvel Cinematic Universe, meaning that the relationships and conflicts of each character will be pushed to the forefront. 
One of the interesting subplots that marketing has teased is the dynamic between Gemma Chan's Sersi and Richard Madden's Ikaris. Based on the trailers and official stills, the pair are confirmed to have a millennia-spanning romance in the movie, but the inclusion of Kit Harington's Dane Whitman will make things a bit complicated. 
It was previously reported that Eternals would mostly revolve around the romance between Sersi and Ikaris, so it's reasonable to assume that a good chunk of the film's lengthy runtime will be dedicated to exploring that relationship. As part of the romance subplot, it was confirmed that Eternals would feature the Marvel Studios's first sex scene involving the pair. 
Eternals director Chloé Zhao opened up about the scene's inclusion in the film, describing it as "a really beautiful thing" that fans would be able to see in a Marvel movie. 
Now, Marvel's newest love team has opened up about filming the intimate moment. 
Eternals Stars Break Silence About Intimate Scene 
Gemma Chan and Richard Madden, who play Sersi and Ikaris respectively in Eternals, sat down with Collider to talk about what it was like to film the first sex scene in an MCU movie. 
When asked if they had an idea that they were going to film an intimate scene for Eternals, Chan admitted that they were not aware while pointing out that she felt "very lucky" that she had done it with Madden, who is her close friend in real life: 
"No, we had no idea really. Those scenes can sometimes be a little bit tricky, but I felt very lucky that I was with my friend, Richard [Madden]."
Madden also chimed in by saying that the shoot was "a lot easier" since he was with someone that he trusts and cares about: 
"Yeah, it makes it a lot easier when you're with someone you trust and care about. You can kind of look after each other. It seems always really uncomfortable and not very fun and to try and make you look relaxed and intimate when you've got 300 people watching you. So it's really [with] a friend that you trust, we'll just try and make it as easy as possible."
The MCU Goes All Out in Eternals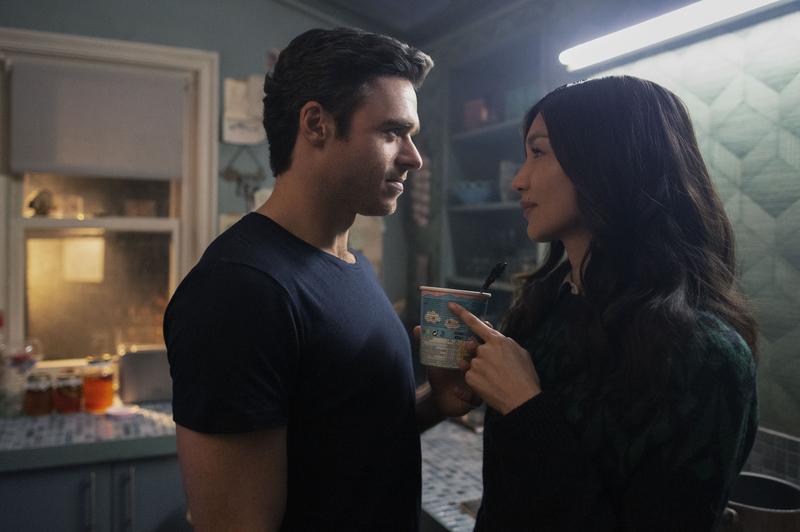 Gemma Chan and Richard Madden are close friends in real life, so it's easy to see the chemistry between the pair.
It will be interesting to learn how this translates on-screen in Eternals, especially considering the massive responsibility of showcasing Marvel Studios' first sex scene. Still, Chan and Madden's latest comments should serve as a positive sign. 
This isn't the first time that real-life friends have addressed the intimacy between their characters.
Madden previously explained that their long friendship helped with their romantic scenes in the movie, making that experience "just a nice, organic process" instead of being thrown into kissing someone after first meeting them. That said, it's safe to say that Chan and Madden will not disappoint in terms of on-screen chemistry. 
It remains to be seen how Sersi and Ikaris will end up in that intimate moment, but there's a strong chance it will have a natural feel due to the long history between the pair. 
Eternals is set to premiere in theaters on November 5, 2021.