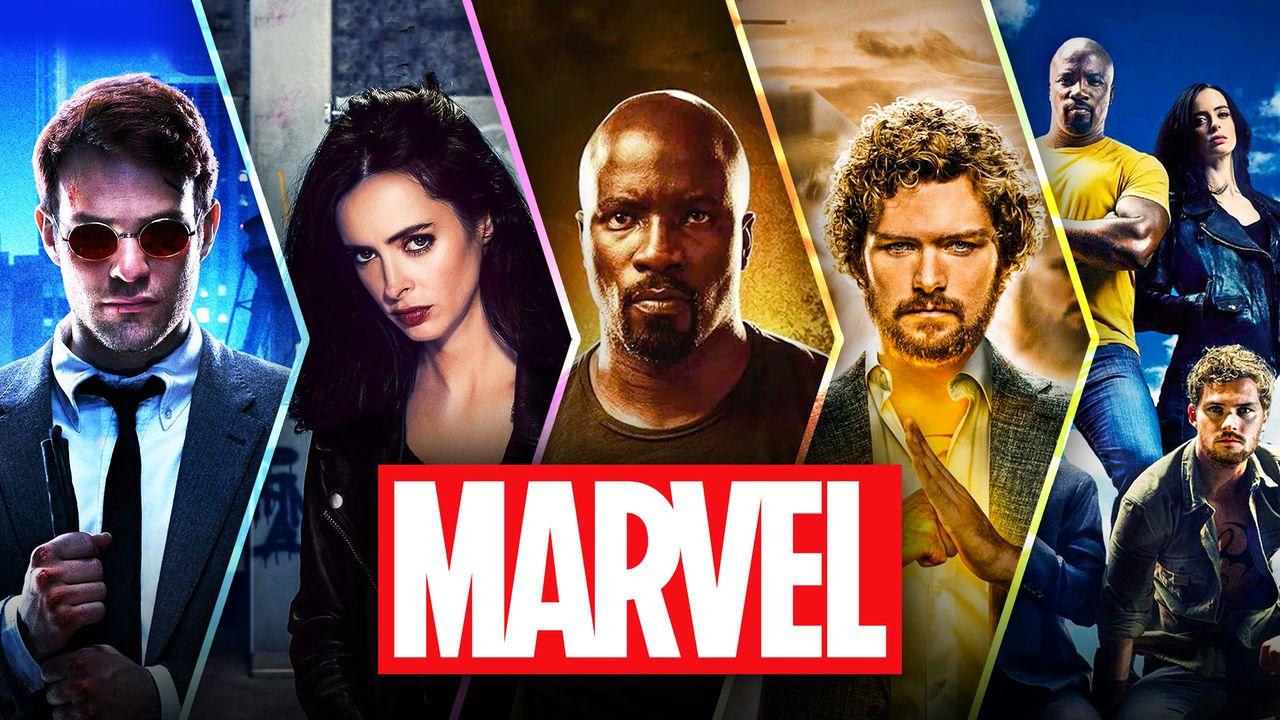 Six questionable heroes, twelve dramatic seasons, one blockbuster crossover limited series, and 159 episodes of Marvel goodness beginning with Daredevil Season 1 and culminating in Jessica Jones Season 3. For those who missed out on the six street-level installments of "The Defenders Saga" during their time on Netflix, the doors have just opened to a whole new corner of the MCU. 
Much like the rest of the MCU, enjoying these series to their fullest extent isn't quite as simple as binge-watching them all one by one. Not only do some heroes and certain characters crossover between shows, but several key plot points carry across the franchise to converge in The Defenders crossover event. 
Granted, Daredevil, Jessica Jones, The Punisher, or any of the shows can be enjoyed in their own right. But to get the full experience, first-time viewers will find it the most fulfilling to watch "The Defenders Saga" in its 12-season (and one limited series) timeline order.
Daredevil (Season 1)
Charlie Cox's Matt Murdock aka Daredevil was the one that started it all for the Defenders franchise, and what better way could there be to begin? 
Daredevil Season 1 explores the heroic origins of the blind lawyer and sees him go toe-to-toe with his arch-nemesis, Vincent D'Onofrio's Kingpin. With Murdock having just returned in No Way Home and Kingpin in Hawkeye, there is the perfect place to start for newcomers to this world. 
Jessica Jones (Season 1)
Before Black Widow and Captain Marvel came along, Jessica Jones became the MCU's first leading lady with the launch of her own detective series.
This season dives headfirst into a gripping detective story that comes accompanied by a deep exploration of Jones' character alongside one of the most menacing villains put on superhero screens with David Tennant's Kilgrave. 
Daredevil (Season 2)
After the hit success of Daredevil's first outing, the second season cranked things up a notch by setting up numerous key plots and characters for the future. But most excitingly, viewers meet Jon Bernthal's Frank Castle aka The Punisher, an anti-hero so intriguing he even spawned his own spin-off series.
Luke Cage (Season 1)
Having met Mike Colter's bulletproof muscleman in Jessica Jones Season 1, Luke Cage took the lead in his own series.
Set in New York's Harlem, the solo outing puts the superstrong hero in the crossfire of the city's top crime bosses including club owner Cottonmouth, played by the MCU's new Blade actor Mahershala Ali.
Iron Fist (Season 1)
After being missing for fifteen years, Danny Rand returns to New York to reclaim his family's company as a newly-trained martial arts expert with the power of the Iron Fist. Despite being the most controversial of the 13 seasons, Iron Fist Season 1 marks the final piece of the puzzle for the Defenders to finally assemble.
The Defenders (Limited Series)
With the four main players introduced, The Defenders gave audiences the Avengers-esque team-up they had been waiting for. Daredevil, Jessica Jones, Iron Fist, and Luke Cage came together to take on a mysterious conspiracy with plenty of familiar faces popping up, setting the course of the second half of "The Defenders Saga."
The Punisher (Season 1)
Spinning out of his breakout popularity in Daredevil Season 2, The Punisher returns for his own outing using his trademark lethal methods to uncover a deep conspiracy with ties to his military past and family tragedies.
Jessica Jones (Season 2)
After the traumatic events of her debut season, Jessica Jones comes back for Season 2, and this time, it's even more personal.
The super-powered investigator takes on a brand-new case that sees her uncover unforeseen information about her past.
Luke Cage (Season 2)
Having become Harlem's latest celebrity, Luke Cage takes on his toughest threats yet in Season 2 as he walks the line between being a hero of the people and a villain to be feared. 
Iron Fist (Season 2)
Iron Fist Season 2 corrects many of its predecessor's mistakes as the martial arts hero takes on a criminal element corrupting the city he has sworn to a friend he will step in and protect.
Daredevil (Season 3)
Matt Murdock comes back in Season 3 as a broken man, questioning both his vigilante and personal future. But when an old threat emerges, Daredevil must step up once again to embrace his heroic identity.
The Punisher (Season 2)
After being dragged into the murder of a young girl while trying to live a quiet life, Frank Castle becomes embroiled in the mystery of her life and the secrets she holds as he faces enemies new and old as the Punisher. 
Jessica Jones (Season 3)
Released in 2019, four years after Daredevil Season 1, Jessica Jones Season 3 is the final entry to date in "The Defenders Saga." After crossing paths with a genius killer, the investigating hero must repair broken bonds to take him down. 
Is The Defenders Saga Over?
"The Defenders Saga" began in April 2015 and came to a close in June 2019. But with the legal issues that brought these six shows to an end at Netflix now out of the way, could Daredevil, Jessica Jones, and their anti-hero companions see a revival on Disney+?
Without giving anything away to new audiences, several of the shows in question are left on a much more final note than others. While some were clearly given advance warning of their cancellation and were able to prepare a fitting ending, others were left unfinished and a revival would be more than welcome.
With Disney+ now welcoming mature Marvel content, perhaps hypothetical future seasons produced under Marvel Studios would continue to embrace the dark and twisted tone. And with Marvel Studios president Kevin Feige now able to sit at the helm, the Defenders could be more connected to the wider MCU than ever before.
All six series in "The Defenders Saga" are streaming now, exclusively on Disney+.