Lupin highlights a stellar cast in the show's overarching story throughout its three-season run on Netflix.
Created by George Kay and François Uzan, the French mystery thriller explores the story of Omar Sy's Assane Diop as he seeks revenge for those who framed his father for stealing a necklace when he was still a child. 
Lupin made its premiere on Netflix on January 8, 2021. Season 2 was then released on June 11, 2021. In May 2021, Sy confirmed that the show was renewed for a third season, with it releasing on Thursday, October 5.
Every Main Actor & Character in Netflix's Lupin
Omar Sy - Assane Diop
Omar Sy's Assane Diop serves as Lupin's main focus. 
When he was a child, Assane's father was framed for the theft of an expensive necklace from Hubert Pellegrini that was originally owned by Marie Antoinette. As a result, Assane's father committed suicide in prison. 
Anchored by his desire to seek revenge against the people involved in the death of his father, Assane became a professional thief to try and expose Hubert's crimes. 
The character used the adventures of master thief Arsène Lupin from Maurice Leblanc's novels as his inspiration to become an expert thief himself.
Throughout Lupin's three seasons, Assane proves that he is a thief who can get away with anything, executing clever plans and anticipating outcomes before a heist in order to pull off a successful mission. 
Perhaps best known for his role as Bishop in X-Men: Days of Future Past, Sy also appeared in other notable movies, such as Jurassic World, Jurassic World: Dominion, Transformers: The Last Knight, and Untouchable.
Mamadou Haidara - Young Assane Diop
Portraying the younger version of Assane Diop during flashbacks in the past three seasons is Mamadou Haidara. 
Aside from his incredible portrayal of the character in Lupin, Haidara is also known for his roles in Fort Boyard and 1H30 Max.
Ludivine Sagnier - Claire Laurent
Claire Laurent is Assane's first love, the mother of his child, and now ex-wife. The character is portrayed on-screen by Ludivine Sagnier. 
Despite being separated and admitting that she is not a fan of his dangerous exploits as a thief, it was made apparent during the course of the three seasons that Claire still has feelings for Assane. 
Claire has custody of their son, Raoul, and she will do anything to protect her son from harm, even if it means staying away from Assane.
Sagnier is known for her past roles in Swimming Pool, Peter Pan, and The Young Pope.
Ludmilla Makowski - Young Claire Laurent
Playing the teenage version of Claire Laurent in flashbacks is actress Ludmilla Makowski. 
In the flashback sequences, it was revealed that Assane and Claire first met in an orphanage and ultimately fell in love.
Makowski previously appeared in Les Particules élémentaires and Les Siffleurs.
Clotilde Hesme - Juliette Pellegrini
Another woman in Assane's life is Juliette Pellegrini, a character played by Clotilde Hesme. Although he was still with Claire at one point in their lives, Assane had an affair with Juliette. 
However, part of the twist of Juliette's involvement in Assane's life is the fact that she is actually the daughter of Hubert Pellegrini, the man who framed his father when he was a kid. 
Juliette, though, still tries to protect Assane from afar due to her feelings for the expert thief. However, Juliette's unwavering loyalty to her father is what complicates things.
French fans may recognize Hesme for playing Adèle in Les Revenants. The actress' other credits include Three Worlds, Love Songs, and Mysteries of Lisbon.
Léa Bonneau - Young Juliette Pellegrini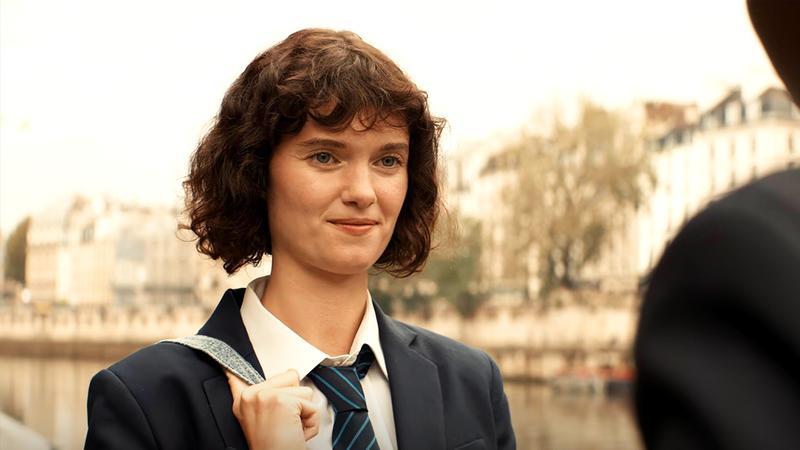 During flashbacks in Lupin, Léa Bonneau plays the younger version of Juliette Pellegrini. 
Lupin is her only acting credit.
Nicole Garcia - Anne Pellegrini
Not all members of the Pellegrini family are evil. Aside from Juliette, Anne Pellegrini, Hubert's wife, tried to save Assane's father, Babakar, by persuading him to sign a confession letter to potentially reduce his sentence. 
However, the letter didn't do anything, leading to Babakar's imprisonment and eventual suicide. 
Assane then grew to hate Hubert and Anne Pellegrini. Little did he know that Anne secretly funded his education at the Andrésy school.
Garcia previously appeared in Alias Betty and My American Uncle.
Hervé Pierre - Hubert Pellegrini
Serving as Lupin's big bad, Hervé Pierre's Hubert Pellegrini is a ruthless, evil, and corrupt businessman who Assane is trying to take down after framing his father for theft when he was a child. 
Throughout the show's three seasons, Hubert showcased his dangerous and unpredictable personality by successfully covering up his evil deeds through the use of bribes and murder. 
Aside from his impressive resume in theatre, Pierre is also known for his roles in films like An Officer and a Spy, Lautrec, and Paris, je t'aime.
Antoine Gouy - Benjamin Ferel
Assane's rise to the top wouldn't be complete without his best friend, Benjamin Ferel. Played by Antoine Gouy, the character serves as Assane's right-hand man, helping him in every mission, heist, or any situation under the sun. 
Anchored by a friendship that started back in elementary school, Benjamin uses his skills as an antiquarian to help Assane identify artifacts and hold his stolen goods for him in his antique shop. 
Gouy is a French actor and director best known for his roles in A Very Secret Service and The Days That Made History. 
Adrian Valli de Villebonne - Young Benjamin Ferel
Adrian Valli de Villebonne plays the teenage version of Benjamin Ferel in Lupin. 
The actor appeared during a flashback sequence where Benjamin tries to help Assane from being bullied in school.
Aside from his impressive portrayal of Benjamin in the Netflix series, the actor also appeared in films like Ex-Model and For Sarah's Love.
Fargass Assandé - Babakar Diop
Babakar Diop is Assane's father who was framed by Hubert Pellegrini. He is played by Fargass Assandé.
Despite his confirmed death, Lupin Season 1 helped fans understand more of his backstory. It was revealed that he immigrated to France with Assane and eventually became Hubert's chauffeur. 
While it was believed that Babakar committed suicide while he was in prison, it was later unveiled that a murderer named Leonard was the one responsible for his death.
The Ivorian actor is known for his roles in Cacao, Eye of the Storm, and Caramel.
Soufiane Guerrab - Youssef Guédira
Assigned as the detective for the case involving Assane's exploits as a thief, Soufiane Guerrab's Youssef Guédira is consistently in pursuit of Assane as he tries to unwrap the connection between him and Arsène Lupin. 
Aside from dealing with Assane's crimes, Youssef is also on the verge of questioning whether his peers in the police force are fully corrupt. 
Guédira is best known for his role as Sami Abadi in Netflix's Call My Agent! series. The actor's other credit includes District 13: Ultimatum.
Vincent Londez - Captain Romain Laugier
As the captain of the Paris police force, Vincent Londez's Romain Laugier will do anything in his power to track down Assane. 
However, upon realizing that corruption runs amok within the police force, he eventually catches the police commissioner red-handed for the murder of Léonard, putting him behind bars in Season 2.
Londez is a veteran actor in French television who previously appeared in Public Enemy, Missions, and Into the Night.
Shirine Boutella - Lieutenant Sofia Belkacem
As one of the loyal allies and lieutenant of Captain Romain Laugier, Shirine Boutella's Sofia Belkacem works with her superior and Youssef Guedira to try and find Assane. 
While Laugier and Guedira usually butt heads over the case, Belkacem acts as the sole mediator to keep the investigation team together. 
In Season 2, Belkacem helps lead the pursuit against their corrupt commissioner, Gabriel Dumont. 
Shirine Boutella is a famous social media personality known for her roles in Papicha and Mention Particulière: Bienvenue dans l'Âge Adulte. 
Johann Dionnet - Young Gabriel Dumont
When Babakar was framed for stealing Marie Antoinette's necklace, Gabriel Dumont was assigned to oversee the case. Johann Dionnett portrays the younger version of the character. 
At first, Dumont was hesitant to side with Hubert after finding out that he had increased the insurance policy on the necklace before it was stolen. However, Hubert's threat against Dumont's wife and a promise of a promotion in the future led to the detective's heel turn. 
Dionnett is an actor and director who previously appeared in 3000 euros, The Birth of Jealousy, and The Night of the 12th.
Vincent Garanger - Gabriel Dumont
Fast forward to the present day, Vincent Garanger portrayed the older Gabriel Dumont, the one who became the commissioner of the Paris police force with the help of Hubert Pellegrini.
Dumont eventually became one of Assane's targets since he was fully aware of the commissioner's role in the death of his father. 
The French actor's credits include notable roles in A Cat in Paris and Les dossiers de l'écran.
Etan Simon - Raoul Diop
Raoul Diop is Assane and Claire's son who is also a fan of Arsène Lupin from Maurice Leblanc's novels. Etan Simon portrays the character.
Although sometimes a quiet boy, Raoul's love for books and video games makes him quite perceptive of others while also showing a hint of strong resiliency amid crisis. 
Aside from Lupin, Simon is also known for his roles in Jeune et golri and Parents à perpétuité.
Anne Benoît - Fabienne Bériot
Anne Benoît's Fabienne Bériot served as an integral part of Lupin Season 1. 
Bériot was an investigative journalist trying to uncover the dark secrets of the Pellegrini family, but she was sued and eventually blacklisted by Hubert. 
The character also tries to help Assane take down Hubert, but their plan fails. Bériot was eventually killed by Léonard Koné, Hubert's dangerous mercenary.
The veteran actress has a long list of credits in her name, including the likes of Paris, The Adversary, and Farewell, My Queen.
Adama Niane - Léonard Koné
Serving as one of the villains of Lupin Seasons 1 and 2, Adama Nian's Léonard Koné is an assassin who killed Fabienne Bériot and Assane's father, Babakar Diop. 
The evil deeds didn't stop there as he also kidnapped Assane's son, Raoul, at the end of Season 1. After Raoul was rescued by Guedira, Leonard tried to kill Assane once and for all, but he was murdered by Pascal Oblet instead. 
Niane is best known for his roles as Paul Diallo in Get In, Jean Lutin in Nicolas Le Floch, and Frère Frédéric in Alex Hugo.
Nicolas Wanczycki - Pascal Oblet
Nicolas Wanczycki's Pascal Oblet is an assassin whom Hubert hired to kill Assane. However, in a surprising twist, Pascal strangled Leonard to death instead, framing Assane as the killer. 
Wanczycki previously appeared in The Climb and Simon's Got a Gift.
Salif Cissé - Jean-Luc Keller (1998)
Salif Cissé's Jean-Luc Keller first appeared in a flashback in 1998. 
As an owner of a boxing gym, Keller forces abandoned young men to do illegal things for his own benefit. 
Cissé previously appeared in All Hands on Deck, Mental, and L'enfant du Paradise.
Steve Tientcheu - Jean-Luc Keller (2021)
13 years later in 2021, Steve Tientcheu portrayed an older version of Jean-Luc Keller. 
As expected, Assane crosses paths with Keller again, setting up an imminent clash in Season 3. 
Perhaps best known for his role as Le Maire in 2019's Les Miserables, Tientcheu's other credits include AKA and Germinal. 
Naky Sy Savané - Mariama
Naky Sy Savané plays Mariama Diop, Assane's mother who finally reunited with his son after 25 long years. 
Mariama's return to Assane's life presents many dangers for both characters, especially now that he is on the run after being framed for Leonard's murder. 
The actress previously appeared in The Night of Truth, Moolaadé, and Cacao.
Martha Canga Antonio - Fleur
One of the newcomers to the cast of Lupin is Martha Canga Antonio as Fleur. 
Aside from being a huge fan of the Arsène Lupin novels, Fleur is also a journalist fascinated with Assane's antics as a master thief. 
Antonio previously played Mavela in Black, Telma in Roomies, and Lina in Baptiste. 
Noé Wodecki - Bruno (1998)
Playing the younger version of Bruno is Noé Wodecki. 
The character is Assane's neighbor from 1998 who introduces him to Keller and his girlfriend, Manon. 
After being jealous of Assane and Manon's bond, Bruno decided to let Keller know that the pair were getting close. This led to a fistfight between Bruno and Assane, with the former being badly injured.
Bruno and Assane eventually bonded together due to their shared trauma, becoming close friends in the process.
Wodecki is best known for playing Gabriel in The Red Band Society.
Pierre Lottin - Bruno (2021)
13 years after they first met, an older version of Bruno, portrayed by Pierre Lottin, shows his loyalty to Assane by helping him in The Black Pearl Robbery.
At the end of Season 3, Bruno opened his own boxing gym and named it after Lupin (which is quite fitting). 
Lottin is known for Conf Call, The Night of the 12th, and Remember. 
---
All three seasons of Lupin are streaming on Netflix.
---
Aeron is a news/features writer and Content Lead for The Direct who has been working for the site since March 2020. From writing about the inter-connectivity of the Marvel Cinematic Universe to having an extended knowledge about DC TV's Arrowverse, Aeron's expertise has since expanded into the realm of reality TV, K-drama, animated, and live-action shows from Netflix,  Disney+, Prime Video, MGM+, Peacock, Paramount+, and Max. When he isn't writing and watching all things MCU, Aeron is heavily invested with the NBA (go Celtics!) and occasionally watches thrilling matches in the WWE.