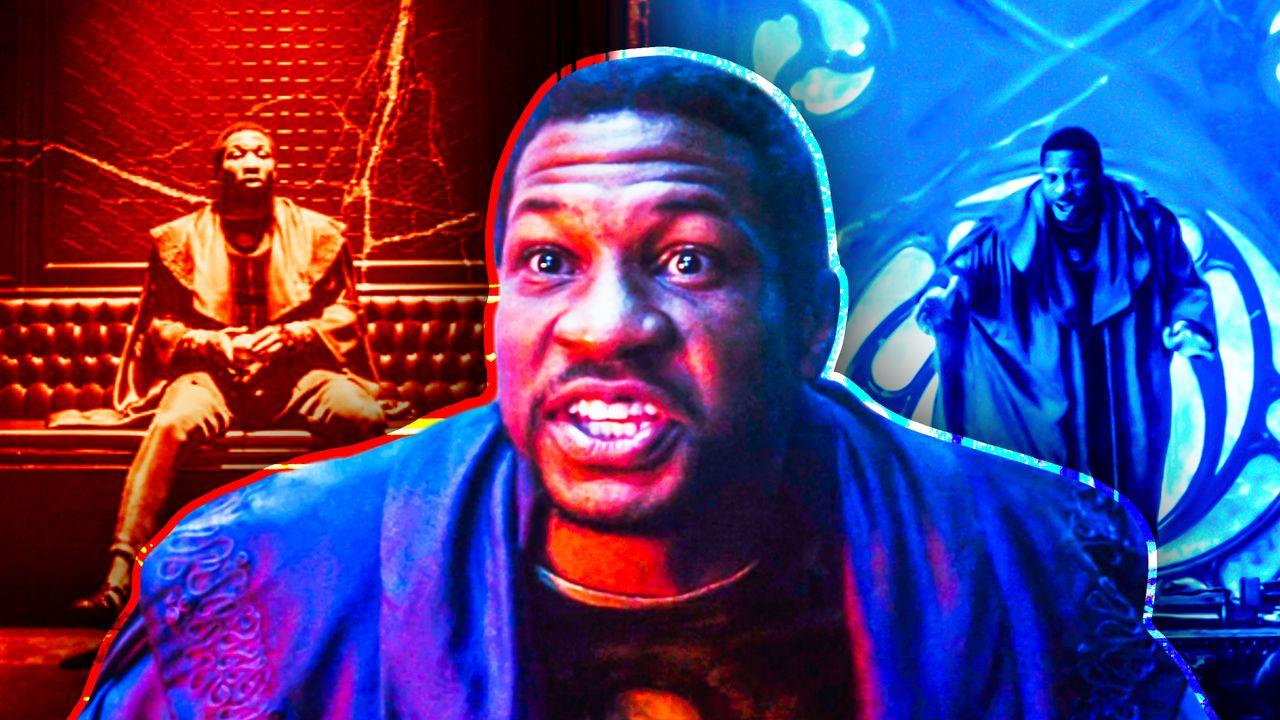 WARNING - This article contains spoilers from the season finale of Loki.
After weeks of wild speculation and high expectations, fans finally got their first glimpse at Jonathan Majors' Kang in the Loki season finale. Kind of.
Majors is revealed to be the mastermind behind the Time Variance Authority, He Who Remains. The charismatic Willy Wonka-esque figure explains to the titular heroes that he created the TVA and established the Sacred Timeline in order to prevent Variants of himself from rising to power. Coupling He Who Remains' ominous warnings with the knowledge that Majors himself is set to play Kang the Conqueror in Ant-Man and the Wasp: Quantumania, fans have appropriately concluded that Loki's man behind the curtain is a Variant of the infamous Avengers-level threat.
Series director Kate Herron recently confirmed that Kang is a Variant of He Who Remains, and even emphasized that Majors combines elements of numerous characters related to the infamous conqueror for his episode of Loki.
While Kang's arrival is an inevitability, the tease of multiple versions of the blue-skinned time-traveler has peaked fans' interest.
MULTIPLE KANGS ARE COMING
"And if you think I'm evil, well, just wait 'til you meet my Variants."
Jonathan Majors' plurality of that last word was no accident. In an interview with The Hollywood Reporter, Loki director Kate Herron praised Majors' acting chops while also confirming "a lot of different versions" of He Who Remains are coming to the Marvel Cinematic Universe:
"Jonathan Majors is an actor that we were all just blown away by; I think everyone who knows his work is blown away by him. He's an amazing actor, and the thing that I love about him is that he's this chameleon. He's so different in everything he does, and that's exciting, obviously, when you're asking an actor to play a character who's going to have a lot of different versions of himself. So for us, that was a thrill."
Herron noted herself and Majors had a couple sit-downs in which they dug into the psyche of his character as they attempted to craft his charismatic personality:
"[Jonathan] and I were solely focused on He Who Remains and this version of the character, this Variant. It was just fun digging into him. We have this character who's so lonely and isolated, and the only character he probably interacted with is Miss Minutes, which is what we imply. At the beginning, you see that he's surrounded by all this noise in the universe, but he's quiet and he's alone. So how introverted or extroverted is a character like that? What makes that personality? So it was really fun digging into it with him."
AN OVERWHELMING ENEMY
Tom Hiddleston's God of Mischief stressed that himself and Sylvie made a "terrible mistake" by killing He Who Remains, and these words only emphasize that fear.
Majors is confirmed to debut as the Kang the Conqueror in Ant-Man and the Wasp: Quantumania, but the possibilities for where else he could turn up, and who else he could appear as before then, are endless. Parallels between He Who Remains and Immortus are already being drawn, as many have compared Majors' role in Loki to Nathaniel Richards from the Marvel comics. 
While Majors is only referred to as "He Who Remains," Herron's words plant the seeds for the actor to return as a full-fledged version of Immortus or the relative of Mr. Fantastic. The endless possibilities make Majors a truly overwhelming enemy, as he could pop up as Variants of Kang in multiple movies and get killed, just to return as a more evolved version of his already-terrifying villain.
Besides the confirmation that multiple Kangs are on their way, Herron offers some intriguing insight into what it was like to build He Who Remains' persona. For a character so "isolated," why is he so extroverted? Hopefully fans will get those answers in Marvel Studios Assembled: The Making of Loki, rumored to debut on Disney+ next week.
For now, Majors can be seen in the season finale of Loki, streaming on Disney+.