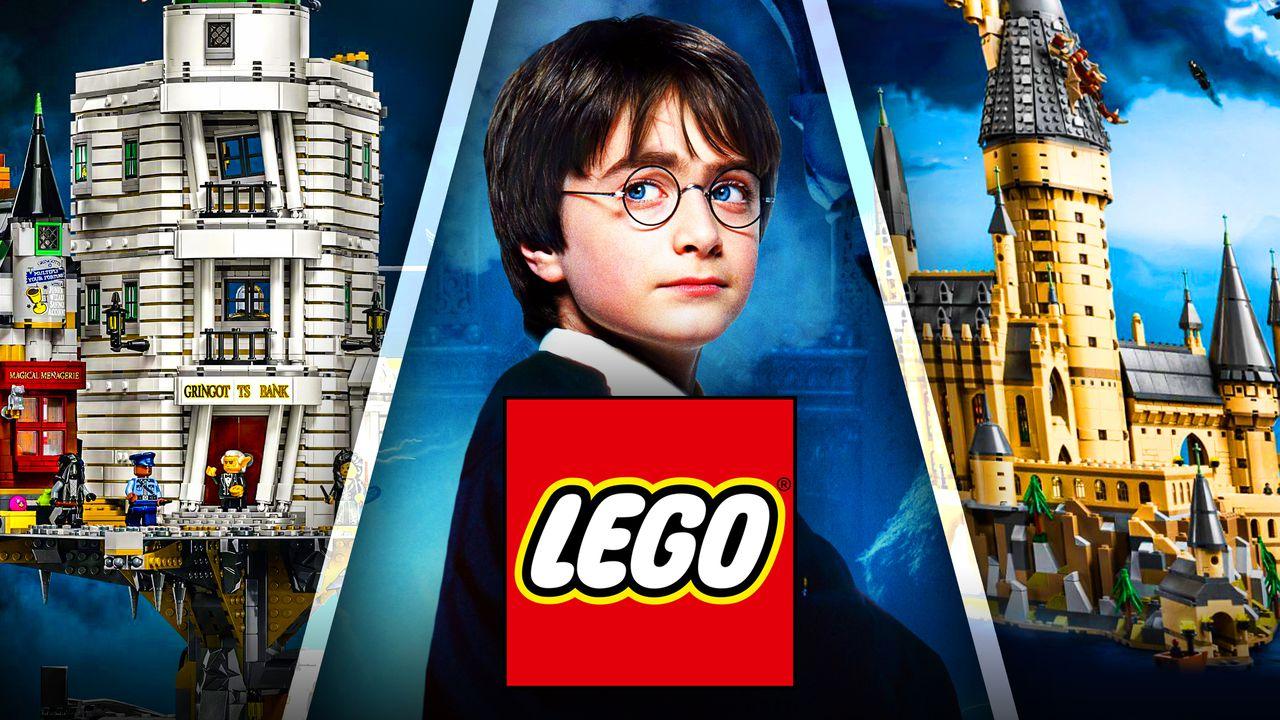 Harry Potter and LEGO have made for a quite successful team, bringing some of the biggest and most expansive figurine sets in LEGO history.
The Wizarding World of Harry Potter remains as popular as ever, with the Hogwarts: Legacy video game from 2023 adding to the series after 11 total movies that grossed nearly $9.6 billion at the global box office.
With those movies and the new video game come incredible characters and settings on which to reminisce, giving fans plenty of memories from Hogwarts and the entire magical landscape to look back upon.
The 10 Biggest Harry Potter Lego Sets Ever
Below are the 10 biggest LEGO sets (official name and set number) from the Harry Potter franchise, ranked by how many pieces make up each set.
10.) 76389: Hogwarts Chamber of Secrets
Released in 2021, this piece recreates Salazar Slytherin's memorable Chamber of Secrets below the girls' bathroom, seen most prominently in 2002's Harry Potter and the Chamber of Secrets. 
Made up of 1,176 pieces and coming in at a semi-pricey $149.99 USD retail price tag, this set highlights the second movie's final battle venue, even including a large basilisk along with Harry and other heroes.
9.) 4842: Hogwarts Castle
The first of three LEGO Hogwarts Castle sets brings a fairly simple version of Harry Potter's most famous wizarding school to life, complete with three buildings and the Astronomy tower. 
Retailing for the second-lowest price on the list ($129.99 USD) and coming with the second-lowest piece count at 1,290, the 2010 set is still quite the endeavor as fans build these figures from the ground up.
8.) 76393: Harry Potter & Hermione Granger
While individual characters usually come in tiny Minifigures, this 2021 set allows fans to see much taller versions of both Daniel Radcliffe's Harry Potter and Emma Watson's Hermione Granger. 
Consisting of 1,673 pieces and coming in as the least expensive set on this list at $119.99 USD, two of the franchise's leading heroes, along with their iconic wands, can be pieced together for ambitious fans.
7.) 10217: Diagon Alley
Along with the release of Harry Potter and the Deathly Hallows Part 2, LEGO fans got their own taste of the Wizarding World in 2011 with a set depicting three key locations in Diagon Alley along with 11 Minifigures. 
Retailing for $149.99 USD and becoming the first set on this list to cross the 2,000-piece barrier (2,025 exactly), this collectible brings Gringott's Bank, Ollivander's wand shop and the Borgin & Burke's antiques shop into the spotlight.
6.) 76419: Hogwarts Castle and Grounds
2016 brought LEGO's second-biggest version of Hogwarts Castle from the Harry Potter movies, delivering a much bigger set that includes the Black Lake and even hidden portions in the rocks to depict locales like the Chamber of Secrets. 
Using 2,660 pieces and sporting a $169.99 USD price tag, the set also includes both the Durmstrang Ship and the Beauxbatons Carriage from 2005's Harry Potter and the Goblet of Fire along with a couple of extra minifigures.
5.) 76391: Hogwarts Icons - Collectors' Edition
Released as a rare commemorative set in 2021, fans got the opportunity to build a number of important characters/props from Harry Potter in this set, including Harry's glasses and wand, a tray of potions, the Golden Snitch Hedwig the owl, and much more. 
Utilizing 3,010 pieces and coming at a pricey $299.99 USD retail tag, Minifigures for Professor Dumbledore, Professor McGonagall, and Rubeus Hagrid complete this collector's set so fans can look back fondly on this franchise.
4.) 76417: Gringotts Wizarding Bank - Collectors' Edition
Only just released in 2023, the most recent set on this list provides an intricate depiction of Gringott's Bank, with the set in question prominently seen in 2010's Harry Potter and the Deathly Hallows Part 1. 
Priced at $429.99 USD, this 4,803-piece set brings plenty of exciting magical moments to life, including the vault cart and track along with multiple vaults and even a Ukranian Ironbelly dragon.
3.) 76405: Hogwarts Express - Collectors' Edition
2022 bought a massive version of one of Harry Potter's iconic modes of transportation, the Hogwarts Express, in a collector's edition set depicting the train itself along with its Platform 9 3/4 stop and multiple Minifigures. 
Retailing at $499.99 USD and being made up of 5,129 bricks, this set brings the train's entire inner workings to reality with the engine and a passenger carriage, delivering the full train experience for builders.
2.) 75978: Diagon Alley
Diagon Alley got another round of shine in 2020 thanks to a huge LEGO set complete with seven different shops depicted in four separate buildings that can all attach to one another to make the entire locale come alive. 
Coming with 14 Minifigures, including four exclusive pieces, this set ranks second in both price and piece count with a $449.99 USD price tag and 5,544 bricks.
1.) 71043: Hogwarts Castle
The top-ranked piece on this list is the third different depiction of Harry Potter's Hogwarts School of Witchcraft and Wizardry, dwarfing the other two in size while highlighting Hagrid's Hut, the Whomping Willow, and an intricately detailed Great Hall. 
Released in 2018, this set comes in as the most expensive brick set at $469.99 USD while also being the only one to boast over 6,000 pieces with a brick count coming out to 6,020 in total. 
---
All 11 movies in the Harry Potter and Fantastic Beasts franchises are streaming on Max.