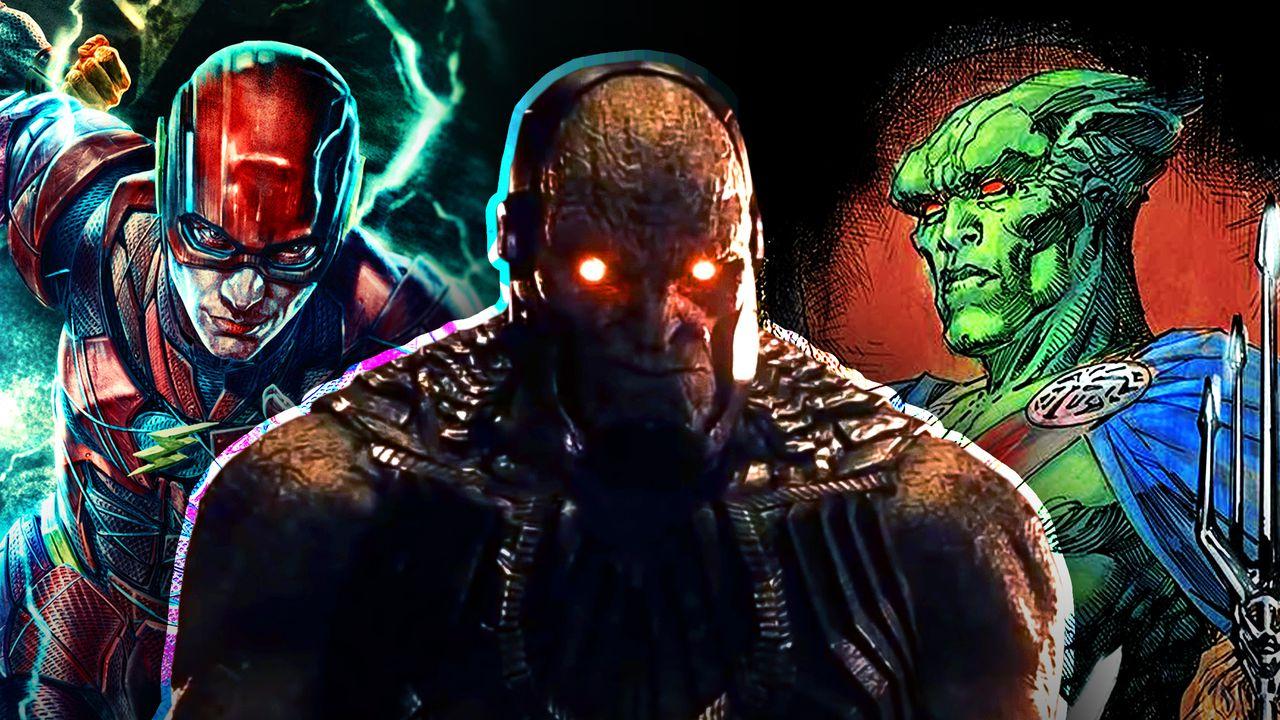 Zack Snyder's Justice League is mere weeks away from its debut on HBO Max. And while consuming all the news and rumors surrounding the project has been like drinking out of a fire hose these last few months, there's no denying this is a rare event for the entertainment world and the product of a remarkable fan movement.
It appears the powers that be have kept Snyder's fans in mind ahead of the cut's release; and in addition to confirmation of a global release of Zack Snyder's Justice League , those fans will also have the chance to commemorate the cut with special comic book covers.
SNYDER CUT COMIC COVERS FOR JUSTICE LEAGUE #59
According to a series of tweets from @RyanHigginsRyan , DC Comics is releasing several Snyder Cut-inspired variant covers for Justice League #59.
In addition to promoting the HBO Max film, each cover manages to highlight something different Snyder is including in his cut of Justice League .
For example, along with Darkseid and the Flash, the cover above features Snyder's addition of black suit Superman that he promised to be a huge part of Clark Kent's story arc.
Another change from Snyder that's included on this cover is Steppenwolf's upgraded appearance. The villain's armor redesign has already been shared online by designer Jered Marantz , and it offers a much different look than what audiences saw in 2017's Justice League .
This Jim Lee cover is perhaps the most surprising since it offers fans their first look at the director's take on Harry Lennix's Martian Manhunter .
Lennix played Calvin Swanwick in both Man of Steel and Batman v Superman , and his transformation into Martian Manhunter is expected in Snyder's version of the film.
A REWARD FOR THE FANS
Since Zack Snyder's Justice League is a product of a fan movement, it's great to see DC Comics create these collectible covers for the fans and to both acknowledge and commemorate the event.
However, it's interesting to note that the lack of secrecy surrounding the project is manifest in the reveal of these covers. It goes to show how different marketing for this 4-hour film has been since its announcement and how open has Snyder is to share his ideas and plans with his fans. It's certainly a sharp contrast from the MCU where every bit of news and promotion is safely screened for spoilers to ensure fans and audiences are surprised by why they see on screen.
Zack Snyder's Justice League streams on HBO Max on March 18.
---
Savannah Sanders joined The Direct as a writer in 2020. In addition to writing for The Direct's Star Wars, Marvel, and DC teams, Savannah specializes in the relationship between Disney's blockbuster franchises and the Disney Parks.