A more descriptive look at Jeff Goldblum's deleted scene as the Grandmaster in Thor: Love and Thunder has finally been revealed.
After making a grand entrance to the MCU in 2017's Thor: Ragnorak, Jeff Goldblum was missing in Thor 4.
It was confirmed that there was a plan for Goldblum to reappear, but director Taika Waititi confirmed that the scene was cut, noting, "You have to do what's best for the film."
New Look at Deleted Jeff Goldblum Scene
Artist William Groebe released an array of storyboards from Thor: Love and Thunder, some including deleted scenes of Jeff Goldblum's Grandmaster.
The scene depicts Thor, Jane Foster, and Valkyrie seemingly taking Korg's disembodied head to the Grandmaster for treatment on a moon. The entire sequence is titled "The Moon of Shame".
Previously revealed concept art already highlighted elements of this scene, particularly Goldblum's Grandmaster with Korg's head on the Moon of Shame.
However, in this new look by Groebe, more action is shown with the godly trio visiting the Moon of Shame.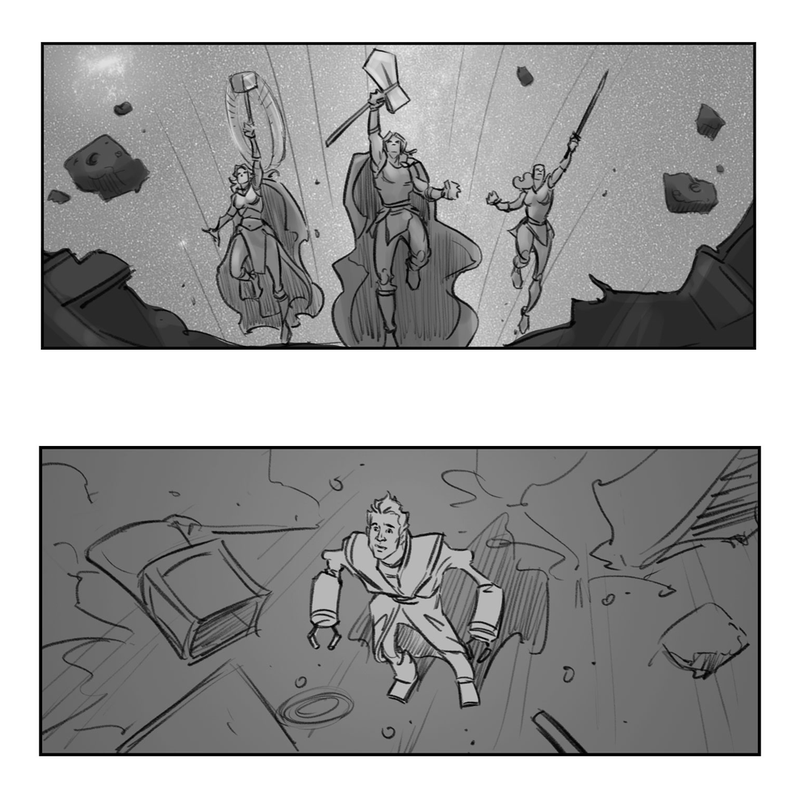 While a robot looks to be working on giving Korg the ability to be mobile, the Grandmaster is alarmed by the realization that an attack is happening.
As those may remember in Ragnorak, Grandmaster wasn't much of a warrior himself, so it's comedic to see him armed with some alien weapon. This panel also gives a close-up look at Korg's head:
Zooming out, it's revealed that Korg's head has been welded to a miniature tank that he presumably has control over. This panel also shows Grandmaster and Korg running to join the fight:
Finally, back to focusing on Mighty Thor and Thor Odinson, Gorr and his army are shown unleashing an attack on the Moon of Shame.
Could the Grandmaster Appear in Thor 5?
Director Taika Waititi could possibly return for a potential Thor 5, which would be another opportunity for Jeff Goldblum to return to the MCU.
When Waititi was recently asked about a fifth installment, he questioned, "What is left to do to him (Thor)?" while also adding that he doesn't think they "can have a villain that's weaker than Hela."
Currently, it remains uncertain whether the Grandmaster will make a comeback in the MCU, but there is future potential for the character. 
In the first episode of She-Hulk, a Sakaaran spacecraft, which resembles the Grandmaster's Commodore, was shown.
This hinted at the possibility of Goldblum's Marvel character making a reappearance, or at the very least connecting the growing MCU.
Considering characters like Natalie Portman's Jane Foster, Idris Elba's Heimdall, and Jaime Alexander's Lady Sif all have made returns, the franchise is not opposed to reintroducing previously utilized characters.
Thor: Love and Thunder is now streaming on Disney+.