Doom Patrol Season 4 Part 2 is coming to Max sooner than fans think. 
Part 1 of the DC series' final season premiered on Max running new episodes weekly from December 8, 2022, to January 5, 2023. 
In July 2023, Doom Patrol star Michelle Gomez, who plays Madame Rouge, posted on Instagram that she had a "sinking feeling" that Part 2 of Season 4 was "binned," leading to a cause of concern for some fans. 
Despite that, a recent report claimed that Doom Patrol Season 4 Part 2 was expected to be released sometime this October. 
When Will Doom Patrol Season 4 Part 2 Release?
Max officially unveiled that the first two episodes of Doom Patrol Season 4 Part 2 will premiere on the streaming service on Thursday, October 12. 
New installments of Doom Patrol will drop over the course of five weeks, ending on November 9, 2023. 
Alongside the announcement, Max also released a new poster highlighting the titular group of DC heroes, namely Mr. Negative, Rita Farr, Crazy Jane, Robot Man, Cyborg and Madame Rouge.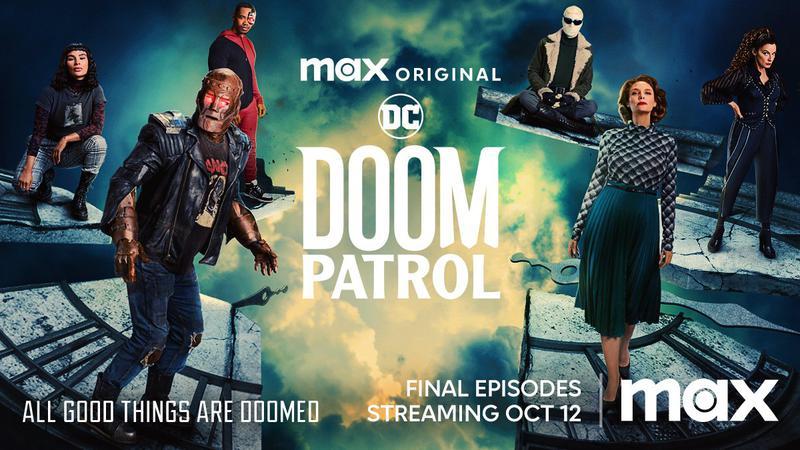 An official synopsis teased what lies ahead for the Doom Patrol's final adventure:
"The Doom Patrol meet old friends and foes as they race to defeat Immortus and get back their longevities. Battling between saving the world and each other, the Doom Patrol are forced to face their deepest fears and decide if they are ready to let go of the past in order to take their future into their own hands — and away from the zombie butts."
The first footage of the second half of Season 4 was also unveiled in an official new trailer: 
What To Expect in Doom Patrol's Final Episodes
At the end of Season 4's first half, the dangerous Immortus was still at large while the Doom Patrol were sorting out their different issues. 
To recap, the zombie Butt that Cliff saved successfully escaped, Larry Trainor agreed to give up his superhuman longevity to Immortus, and his vision that he could end the universe due to his radiation. 
All of these events meant that there would be heaps of trouble for the titular DC heroes when Part 2 of Season 4 debuts. 
Some fans have hoped that a proper swan song for Doom Patrol would eventually happen by the time the final credits rolled, especially after concerns about a potential cancellation. 
Speaking with Comic Book Resources in December 2023, Doom Patrol showrunner Jeremy Carver teased "a couple of very big battles" for the heroes, noting that it has the potential to "unearth some seasons-long mysteries" that could surprise fans: 
"The existence of Immortus is an ever-looming threat. I will say it is a parallel threat to the Butts destroying the Earth. So, they have a couple of very big battles on their hands. The search for Immortus and the effort to stop Immortus is going to unearth some seasons-long mysteries that have been dangling out there. It's going to help the Doom Patrol understand themselves and their creations just a little bit more."
Carver's exciting comment reassures the final episodes will give the heroes a fitting send-off to save both the world and themselves. 
The first two episodes of Doom Patrol Season 4 Part 2 will premiere on Max on October 12.