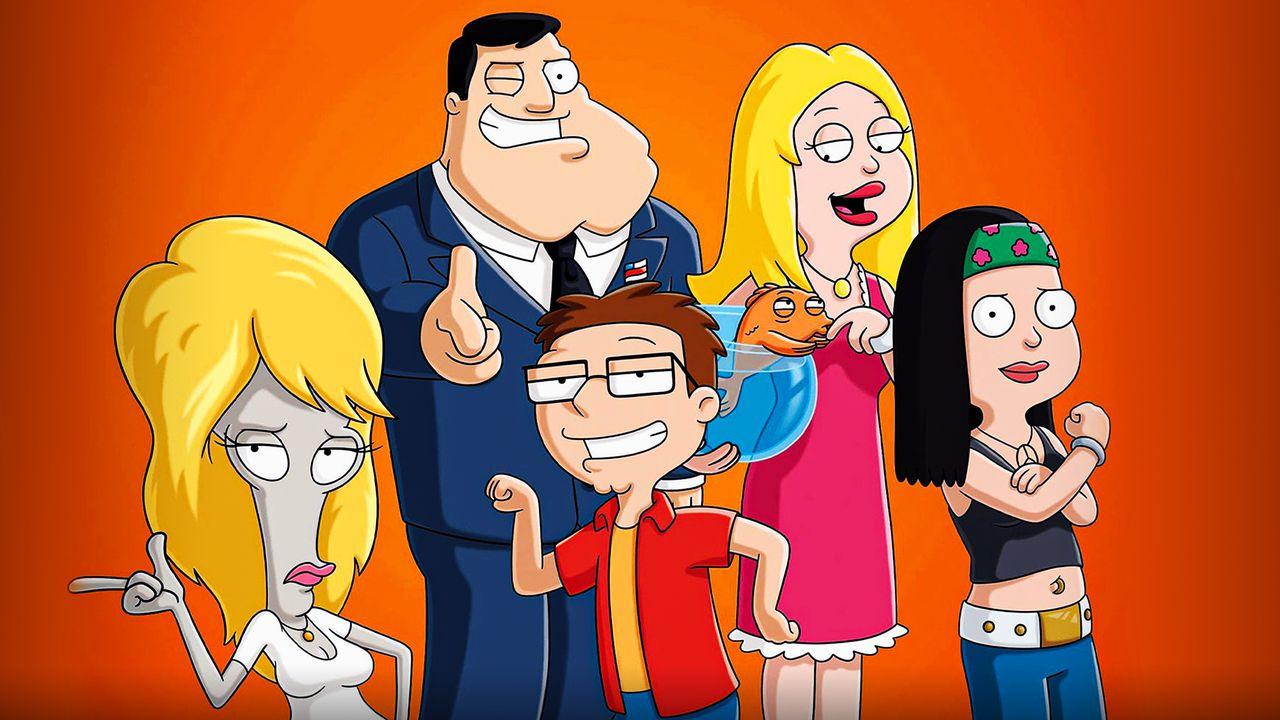 IMDb users ranked the 15 best episodes of the hit TBS series American Dad!.
Running for an incredible 20 seasons on both Fox and TBS, Seth MacFarlane teams up with Mike Barker and Matt Weitzman on American Dad!, showing the Smith family's adventures with their crew of wild supporting characters.
Earning four Primetime Emmy Award nominations and earning countless other accomplishments for their work, MacFarlane and his team delivered one of the most popular adult animation shows ever, which now has over 350 episodes in total.
The 15 Highest-Rated American Dad Episodes
IMDb listed the 15 episodes of American Dad! were revealed, all of which can be seen and detailed below:
15. The Best Christmas Story Never Told - Season 2, Episode 9
IMDb Rating - 7.9
Featuring Friends' Lisa Kudrow as a guest star, Stan goes on a trip to the 1970s with the Ghost of Christmas Past and escapes, seeking to kill that universe's version of Jane Fonda and stop her from ruining the Christmas season.
However, he winds up creating a completely different timeline where the United States winds up being taken over by the Soviet Union, causing mass mayhem for the dedicated American.
14. Faking Bad - Season 10, Episode 7
IMDb Rating - 8
American Dad! goes full Breaking Bad in this Season 10 episode as Hayley Smith tries to fit in with her old high school friends, finding out about her brother Steve's ability to make fake IDs.
The two turn this into a major operation together, but they also find themselves against another fake ID kingpin in Langley Falls, who happens to be their dad in his Kevin Ramage disguise.
13. Hurricane! - Season 8, Episode 2
IMDb Rating - 8
A massive hurricane hits the Smiths' hometown of Langley Falls, with the family deciding to stay in their house as the weather affects both Quahog and Stoolbend as well.
This episode was even part of a massive three-show crossover event as American Dad! interacted with the stories from both Family Guy and The Cleveland Show, all of them created by Seth MacFarlane.
12. Persona Assistant - Season 15, Episode 16
IMDb Rating - 8.1
A brain tumor takes Roger out of commission for some time, forcing Stan to take over the leading character's various personas, although it ends up causing a massive gang war.
Marking the series' 250th episode overall, Stan has to do everything in his power to stop the gang war, all while Steve is pressured to win a competition with his school choir.
11. The Unincludeds - Season 13, Episode 11
IMDb Rating - 8.1
Steve and his high school friend Snot throw a major party for the unpopular students at their school, only to meet versions of themselves from the year 2040 as they learn what their future actually holds.
Roger and Hayley also go out to dinner together, as Roger takes offense when Hayley's dinner choice is complimented instead of his, making for an incredibly awkward night out.
10. Great Space Roaster - Season 6, Episode 18
IMDb Rating - 8.1
The Season 6 finale shows the Smith family honoring Roger's biggest request - subjecting him to a full-blown family roast - although Roger ends up taking the jokes a little too seriously.
In the end, he promises to change his life for the better, although he has to work through his pettiness and his fragile ego as he once again puts his family in serious danger.
9. In Country… Club - Season 6, Episode 1
IMDb Rating - 8.1
Stan forces Steve to participate in a war reenactment in order to fully appreciate the USA national anthem, although it ends with Steve being changed fundamentally as Stan examines the influence he has on his son.
Inspired by Vietnam War movies like Apocalypse Now, Platoon, and Forrest Gump, Roger also gets a pet bird while an amputee mental patient with psychic powers escapes from a mental hospital.
8. Dope and Faith - Season 4, Episode 3
IMDb Rating - 8.1
Stan attempts to convert one of his atheist friends to Christianity by putting him in highly dangerous situations, although nothing goes according to plan.
He also gets caught up in gang activity as he pretends to be part of the Harry Potter universe, bringing the magical franchise into play as a side plot in this adult animated adventure.
7. The Vacation Goo - Season 4, Episode 1
IMDb Rating - 8.2 
Season 4's opening episode centers on Francine when she realizes that all of the Smith family's vacations were virtual reality simulations made by the CIA so that Stan could ditch them to do his own thing.
Furious at her husband, she forces the entire family to suffer her wrath, all while Roger puts forth a valiant effort to become the greatest actor in history as he attempts to cry on cue.
6. Lost in Space - Season 9, Episode 18
IMDb Rating - 8.4
Taking place months after the events of Season 8, Episode 12, entitled "Naked to the Limit, One More Time," Jeff is still stuck on a spaceship owned by Roger's race of aliens, being used as slave labor at the spaceship's massive food court
Jeff is then forced to prove that he was in true love in order to be set free from his enslavement, which he attempts to do with his wife Hayley as they attempt to escape the spaceship.
5. Tearjerker - Season 4, Episode 10
IMDb Rating - 8.4
Taking inspiration from the plot of old James Bond movies, every character in American Dad! plays a character similar to those seen in classic films featuring the iconic 007 agent.
This Season 4 entry follows Agent Stan Smith as he infiltrates a Hollywood movie set, finding out that Matthew McConaughey is a robot while also encountering Johnny Depp on an island owned by Tearjerker, the episode's main villain.
4. For Whom the Sleigh Bell Tolls - Season 7, Episode 8
IMDb Rating - 8.5
Stan gives his son Steve a rifle for Christmas against his wife's wishes, although Steve eventually kills a mall Santa while practicing shooting - as it turns out, it was the real and true Santa Claus all along that Steve killed.
Slightly modeled after director Zack Snyder's 300, Santa later wants revenge against the Smith family as he attempts to kill them after coming back to life.
3. The Two Hundred - Season 13, Episode 10
IMDb Rating - 8.6
Celebrating American Dad!'s 200th episode in Season 13, Stan comes in heavily tattooed along with Roger and Greg as he sets out into a vast wasteland looking for the rest of the Smith family, passing warnings about "The Two Hundred."
This entity has turned Langley Falls into an apocalyptic wasteland, with all of the town's citizens having turned into savages and cannibals under Principal Lewis' watch.
2. Rabbit Ears - Season 15, Episode 4
IMDb Rating - 8.6
After picking up an old-fashioned large-screen TV in the trash and dragging it home, Stan Smith winds up going through a static doorway and passing through dimensions into the TV world itself. 
Stan has to stay in character throughout the TV show's plot in order to avoid intense physical harm, although this only leads to more dimension-jumping antics across time and space.
1. Rapture's Delight - Season 6, Episode 9
IMDb Rating - 8.8
The top-rated episode of American Dad! on IMDb comes from Season 6, centering on Stan and Francine after many of the members of their church are raptured and taken to heaven, including Hayley and Steve.
Francine eventually befriends a man that is later revealed to be Jesus, becoming his bride and leaving Stan behind her as she takes part in armageddon on Earth.
---
All episodes of American Dad! are available to stream on Hulu.