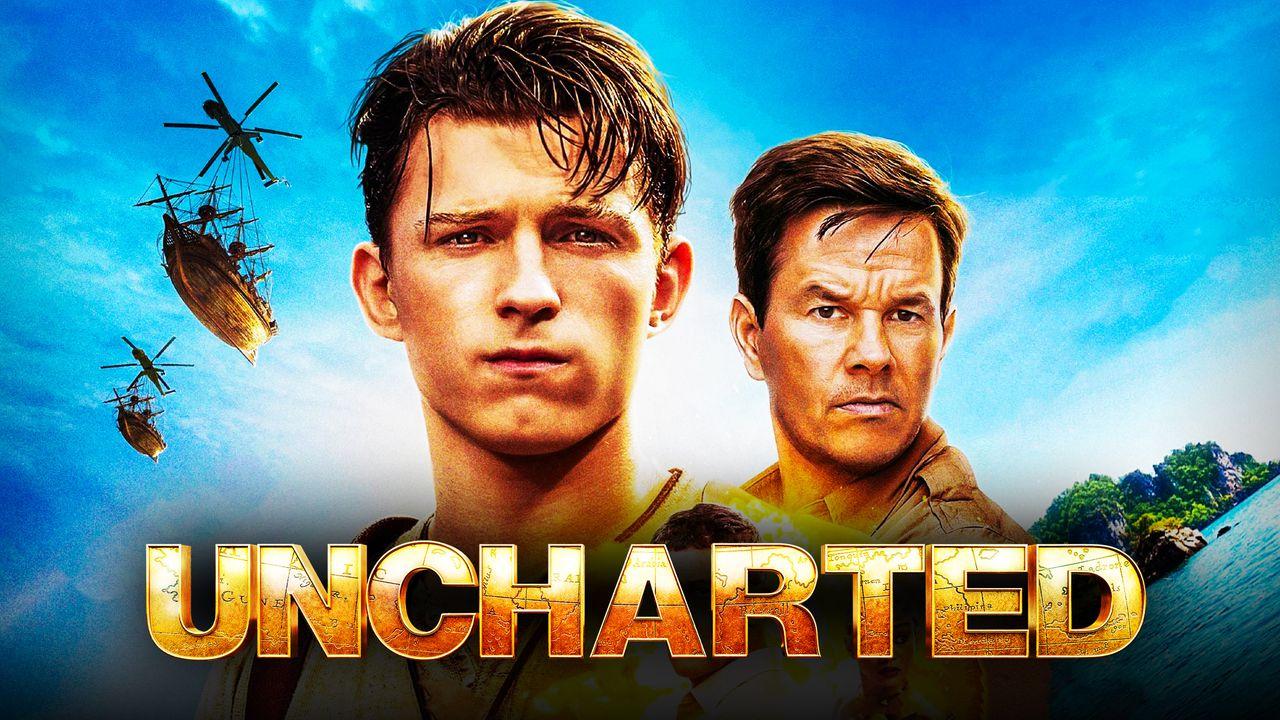 Uncharted's ending laid the groundwork for a potential sequel, but it remains to be seen if a follow-up could eventually happen.
Uncharted is based on the beloved PlayStation franchise that features high-stakes treasure-hunting adventures. The film stars Tom Holland as Nathan Drake, with the movie's story exploring his origin story and his dynamic with Mark Wahlberg's Sully. 
Despite mixed reviews, Uncharted made an incredible run at the box office. It earned $401.7 million, via Box Office Mojo, to become the sixth-highest-grossing film based on a video game of all time worldwide.
Uncharted 2 Movie Release: Will It Ever Come Out
While Uncharted had a strong box office performance, there's still no guarantee that a sequel will be made. However, a past report may hint at a bright future for the video game adaptation. 
In a report from The Ankler in July 2022, Sony Pictures was reportedly looking to secure a deal with Tom Holland for a sequel and beyond, indicating that Uncharted could become a franchise. 
While the studio has yet to confirm a sequel, The Ankler claimed that Sony Pictures CEO Tom Rothman is "excited" about seeing another Uncharted project.
Speaking with Pinkvilla, via News Week, Uncharted star Mark Wahlberg talked about potentially making a sequel to the beloved video game adaptation. 
The actor said that he would be open to returning if "[they] can make it better than the first" and if there is demand from fans: 
"If the [Uncharted] fans really love the movie and they want another one, and there is that demand. And [if] we can make it better than the first, then I would." 
Uncharted 2 Movie Cast Speculation: Who Could Return?
Tom Holland and Mark Wahlberg are clear locks to return as Nathan Drake and Victor "Sully" Sullivan respectively if a sequel does push through. 
Sophia Ali's Chloe Frazier could also make a comeback, considering that she became Nathan Drake's love interest in the second Uncharted game. 
Pilou Asbæk's Gage, who appeared in Uncharted's post-credits scene, is also expected to make a comeback. 
The sequel could then introduce Elena Fisher, Nate's future wife in the video game. 
Lastly, the adult version of Sam Drake could play a bigger role in the sequel.
Who Will Play Sam in the Uncharted 2 Movie?
Uncharted's first post-credits scene set up the eventual return of Sam Drake in a possible sequel. But the question remains: who will play Nate's brother in the follow-up?
In the first movie, Outer Banks star Rudy Pankow portrayed Sam Drake, but a much older actor is needed to continue the story.
In an interview with CinemaBlend in February 2022, Uncharted director Ruben Fleischer revealed that he already has a "list of actors" who could bring Sam Drake to life: 
"I've definitely got a list of actors or people who would bring that character to life, if we're lucky enough to do a sequel. So I'm definitely thinking in that direction."
Fleischer also mentioned that he can't promise that Sam will show up in Uncharted 2, noting that the character's appearance in the first movie's ending was done to confirm that "he's alive:"
"As to when we'll see Sam again, I couldn't promise that it'd be in the next movie, but it was really important to me that if we're gonna bring that character back, that in this film, we acknowledge the fact he's alive. I thought it would be really odd if Nate leaves the movie thinking his brother's dead, and then all of a sudden, he finds out, oh, he is alive. And I didn't want that kind of reality for our movie series. So, I thought it was important to make sure the audience knows that he's out there somewhere. Nate doesn't know. Someday he'll find out himself, and meet him again."
There are many possible actors for the role of Sam, but there are few who fit the description of successfully portraying an older brother to Tom Holland's Nathan Drake. 
Some would say that the likes of Jamie Bell, Taron Egerton, and Aaron Taylor-Johnson could play Sam if Uncharted 2 does end up happening.
What Will Happen in Uncharted 2?
With the wealth of stories from Uncharted's long library of video games, pulling a narrative for a sequel isn't hard. 
Uncharted 2 could explore many story possibilities, such as Sam Drake's return and his upcoming reunion with Nate, the origins of Pilou Asbæk's Gage and his connection to Roman (one of the game's villains), and seeing more of the partnership between Nate and Sully. 
Given that the first movie is not a direct adaptation of any of the Uncharted games, the same could happen for the sequel. This would allow the project to tell unique stories that are still inspired by the game's lore. 
---
Uncharted is available for purchase on major digital platforms.