While Pedro Pascal's Mandalorian isn't even four years old yet, the character has been a part of some pretty historic Star Wars moments.
Lucasfilm just released the Star Wars Timelines book that clearly pulls together all of the events within Mando's exciting life for readers to see in a concise manner.
The book only covers The Mandalorian's first two seasons and The Book of Boba Fett, and according to its pages, everything up until that point takes place in 9 After the Battle of Yavin (ABY). 
The Mandalorian's Timeline
The Mandalorian Finds a Child
This is where it all began.
A high-paying bounty from an Imperial client leads Din Djarin right to the Child, now known fondly as Din Grogu. Mando even double-crosses a droid to save the youngling's life.
Grogu Uses the Force
While trying to retrieve a mudhorn's egg to exchange for ship parts, Din is almost killed by a mudhorn.
Thankfully, Grogu steps in to save the Mandalorian with his force abilities. While Mando's life is spared, his armor needs replacing.
The animal will eventually become the insignia Din Djarin wears on his armor.
A Mandalorian Regrets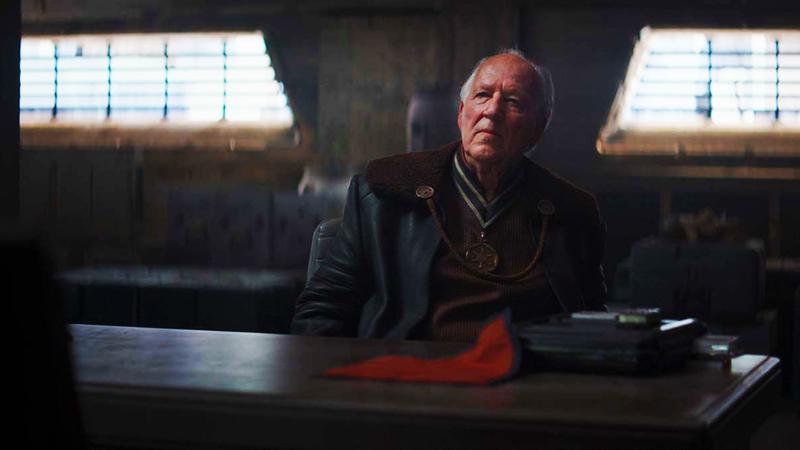 Din completes his bounty for the Empire by turning Grogu in.
It doesn't take long for the bounty hunter to regret his actions. Din decides to take the child back, and thanks to the remnants of the Mandalorian's covert, survives a slew of attackers trying to reclaim Grogu.
Din Goes Against Moff Gideon
Moff Gideon arrives for the child, but thanks to a noble sacrifice by IG-11, Mando and his allies escape the Empire's troops.
With his newly acquired jet pack, Din single-handedly defeats Moff Gideon and his outland TIE fighter.
The Mandalorian continues to embark on his adventures while Greef Karga stays behind on Nevarro.
Discovering Fett's Armor & Meeting Cobb Vanth - Year 9 ABY
Din discovers the Marshall of Mos Pelgo, also known as Cobb Vanth, wearing genuine Mandalorian armor. After striking a deal, the beskar makes its way back into Mando's hands.
Meeting Bo Katan & Ahsoka Tano - Year 9 ABY
In search of the Jedi, Din crosses paths with Bo-Katan Kryze, who will later play a much larger role in his story. She tells Din that he can find who he is looking for on the planet Corvus.
On Corvus, Mando meets Ahsoka Tano. Anakin Skywalker's former apprentice refuses to train Grogu due to his emotional attachment to the bounty hunter, but she does offer them some useful information.
Meeting Boba Fett Himself
Tano's advice leads the duo to Tython.
Here, Mando comes face-to-face with the man who owns the beskar armor he retrieved from Cobb Vanth: Boba Fett.
Their introduction to each other starts out rocky, however, things eventually settle down, with Boba getting his look back. The two, alongside Fennec Shand, team up against the Empire, looking to take the child.
Grogu sends out a fateful call through the force before being abducted.
Saving Grogu
Din is forced to remove his helmet in front of other humans for the first time since becoming a Mandalorian to get essential information to save Grogu.
Going up against Moff Gideon, Din successfully bests the Imperial, saving Grogu and winning the Dark Saber as an additional prize.
While the Moff's dark troopers almost recovered the situation for Gideon, Luke Skywalker saves the day after having heard Grogu's call through the forcer earlier in the season.
Visiting Grogu
Mando travels to the planet of Ossus to visit Grogu. Ahsoka is there to turn him away. Though, the former Jedi promises to give the youngling Mando's chainmail gift.
Grogu's Big Save
In order to repay his debt to Boba for his help saving Grogu, Din Djarin is pulled into a syndicate war in Mos Espa on Tatooine.
Amidst all the fighting, Grogu arrives to reunite with Din in the middle of the battlefield, having left Luke Skywalker. The child then uses his force abilities to calm a rampaging rancor who would've otherwise destroyed the city.
The Mandalorian Season 3
With the most recent season of Din Djarin's adventures having just concluded on Disney+, it's not surprising to learn that the events of those latest eight episodes are not covered in the Star Wars Timelines books.
However, Jon Favreau confirmed how the time between The Mandalorian's finale and The Book of Boba Fett was roughly two years. That would make it 11 ABY by the time Season 3 arrived.
Though, there are a lot of contradictions on this particular topic from even the producer and writer behind it all.
For those who might need a brief recap, here's a bullet-point list of the biggest events that happened throughout Season 3:
Din Djarin is cleansed in the waters of Mandalore.
Bo Katan sees the real Mythosaur while rescuing Din Djarin.
The Armorer declares Bo Katan of two worlds, allowing her to walk between multiple Mandalorian creeds.
Bo Katan once again becomes the owner of the Dark Saber to unite her people.
Grogu gets a short-lived mech suit.
Bo Katan and the united Mandalorians set out to reclaim Mandalore.
Moff Gideon is alive and working on creating clones of himself with artificial force abilities. All the work is being done in an Empire facility built in the ruins of Mandalore.
Paz Vizsla dies as a result of a trap sprung by the Empire. Moff Gideon crushes the Dark Saber.
Gideon is seemingly killed, and his cloning experiments are destroyed thanks to a crashing spaceship.
Grogu becomes Din Grogu as the Mandalorians relight the fire of the great forge, reclaiming their home.
Din Grogu and Din Djarin officially become family, with Din adopting Grogu as his son.
The Future of The Mandalorian
The end of Season 3 put Din and Grogu in a great spot where Lucasfilm can basically use them whenever they want, in any story that fits them.
When it comes to Season 4, it wouldn't be surprising if the next batch of episodes took a more episodic approach like its freshman run had.
With Mando taking jobs for the New Republic, it gives the writers an easy outline to tell a vast array of stories. Hopefully, at least one of them will see Mando team up with Zeb Orelleos.
Though, there's always the bigger picture to worry about. Dave Filoni's big MandoVerse culmination film will almost certainly include both Din Djarin and Din Grogu—so the two better enjoy their time off while they have it.
The Mandalorian Seasons 1, 2, and 3 are now streaming on Disney+.