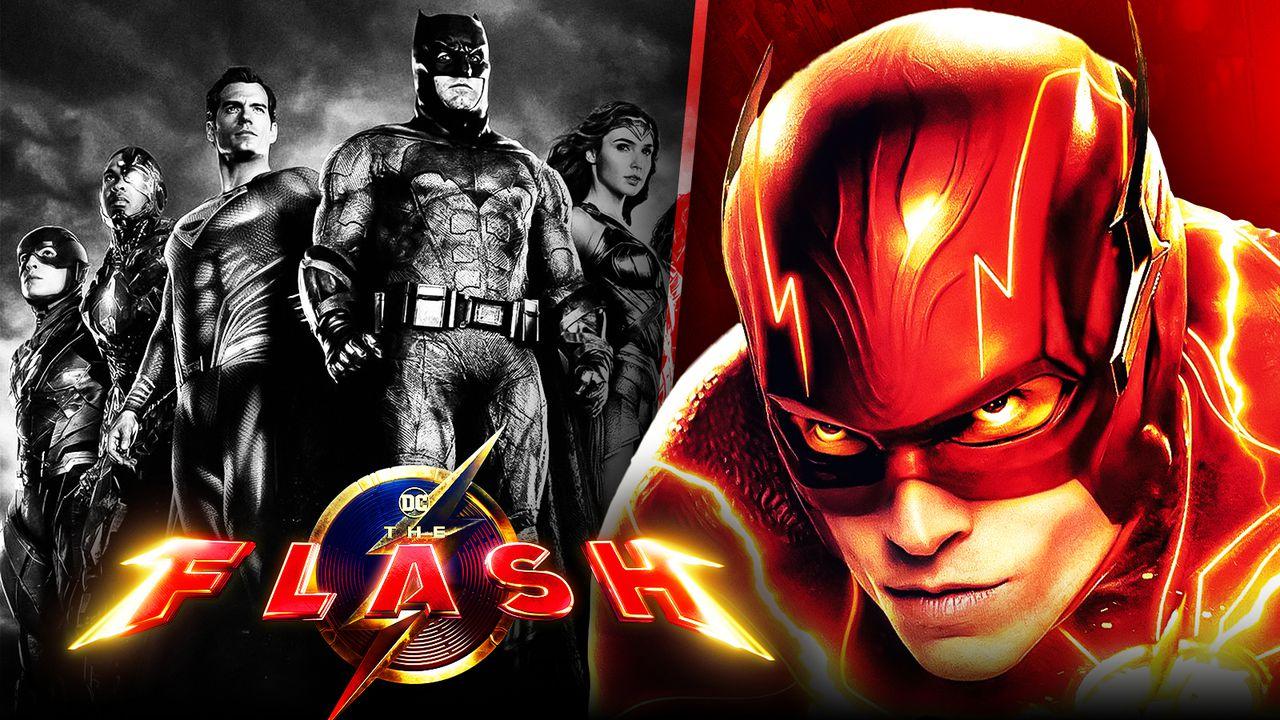 A small reference in Ezra Miller's The Flash just confirmed the canonicity of Zack Snyder's Justice League.
Both fans and critics annihilated the 2017 theatrical version of the big crossover event. Eventually, Warner Bros. released the Zack Snyder recut, which received a far less volatile reaction,
Despite the release of that new version, the studio still doubled down on the Joss Whedon cut being the proper canon installment for its franchise.
Up until now, nothing has gone against that status quo.
Confirming the Justice League Canon
Warning - the rest of this article contains minor spoilers for The Flash.
A scene in The Flash seemingly confirmed which version of the Justice League film is canon to the wider DCEU.
Early in the movie, Iris West pulls Barry Allen aside to ask him a few questions. It's here where she mentions that she's confident they've met before, something Barry tries to avidly deny.
This is a clear reference to the scene in Zack Snyder's Justice League where Barry Allen saves Iris West from a car accident.
The sequence is not present in the original Joss Whedon version that came to theaters in 2017, which was previously considered the proper canon.
Its reference in Ezra Miller's newest film indicates that the more recent Zack Snyder recut of the movie is considered more canon—at least where The Flash is involved.
Zack Snyder Fans Rejoice
The whole topic of the Justice League movies remains a touchy subject for its fans. 
Recently, Warner Bros. even used a clip from Joss Whedon's original 2017 version for marketing purposes, and it very quickly riled up the fanbase.
Ironically, at one point and time, it was rumored that The Flash would decanonize the Snyderverse. While there's a reset of sorts by the time the movie is finished, no such separation of the canon happens.
Instead, director Andy Muschietti lived up to his word earlier this month, and he perfectly "honored" what came before the events of this new film.
As excited as SnyderVerse fans might be by this reference in The Flash, sadly, that continuity is still out of the picture. At the end of the day, neither version of Justice League matters with James Gunn's reboot right around the corner.
The SnyderVerse will now always exist independently, outside of the main stories told on screen. Perhaps, one day, it'll return in some big Multiverse adventure down the line.
The Flash is now playing in theaters worldwide.
---
Release Date
June 16, 2023
Platform
Theaters
Russ Milheim is the Industry Relations Coordinator at The Direct. On top of utilizing his expertise on the many corners of today's entertainment to cover the latest news and theories, he establishes and maintains communication and relations between the outlet and the many studio and talent representatives.