At the moment, Superman's status in films is currently in a state of limbo, or, at least, Henry Cavill's Superman is taking an extended break. But there are currently two Superman projects currently in development at Warner Bros. One is a limited series on HBO Max produced by Michael B. Jordan and the other is a film produced by J. J. Abrams and written by Ta-Nehisi Coates.
However, before either of those projects got off the ground, director James Gunn was pushed by Warner Bros. to adapt the character before taking The Suicide Squad instead. Gunn recently reaffirmed to fans his lack of interest in any of the more prominent superheroes and instead preferred the "less popular characters."
Now, Shazam! director David Sandberg has been asked whether he'd ever want a shot at Superman, giving a similar answer to his fellow DC director.
Superman's Unappealing Expectations for Shazam Director
During a sudden power outage at the home of Shazam! Fury of the Gods director David F. Sandberg, he decided it was the perfect time to let fans ask him various questions on Instagram, which he answered in a long series of Instagram Stories.
One fan asked Sandberg, "If you could choose any other DC hero to direct, which one?" The director responded, "At one point I would have said Superman," but he lost interest due to "many different expectations and hardcore fans" that would come with the character:
"At one point I would have said Superman but when there are so many different expectations and hardcore fans you're going to piss off so many people no matter what you do."
Sandberg specified that seeing how fans reacted to Star Wars: The Last Jedi made him "want to stay away from things like that" when it came to such huge properties. It's also why the director believed Shazam "was perfect" due to the character not having any lofty expectations attached to him:
"Seeing how people react to things like The Last Jedi makes me want to stay away from things like that. Shazam was perfect in that there hadn't been that many adaptations before. There are still people who think it was done wrong but it was on a manageable level."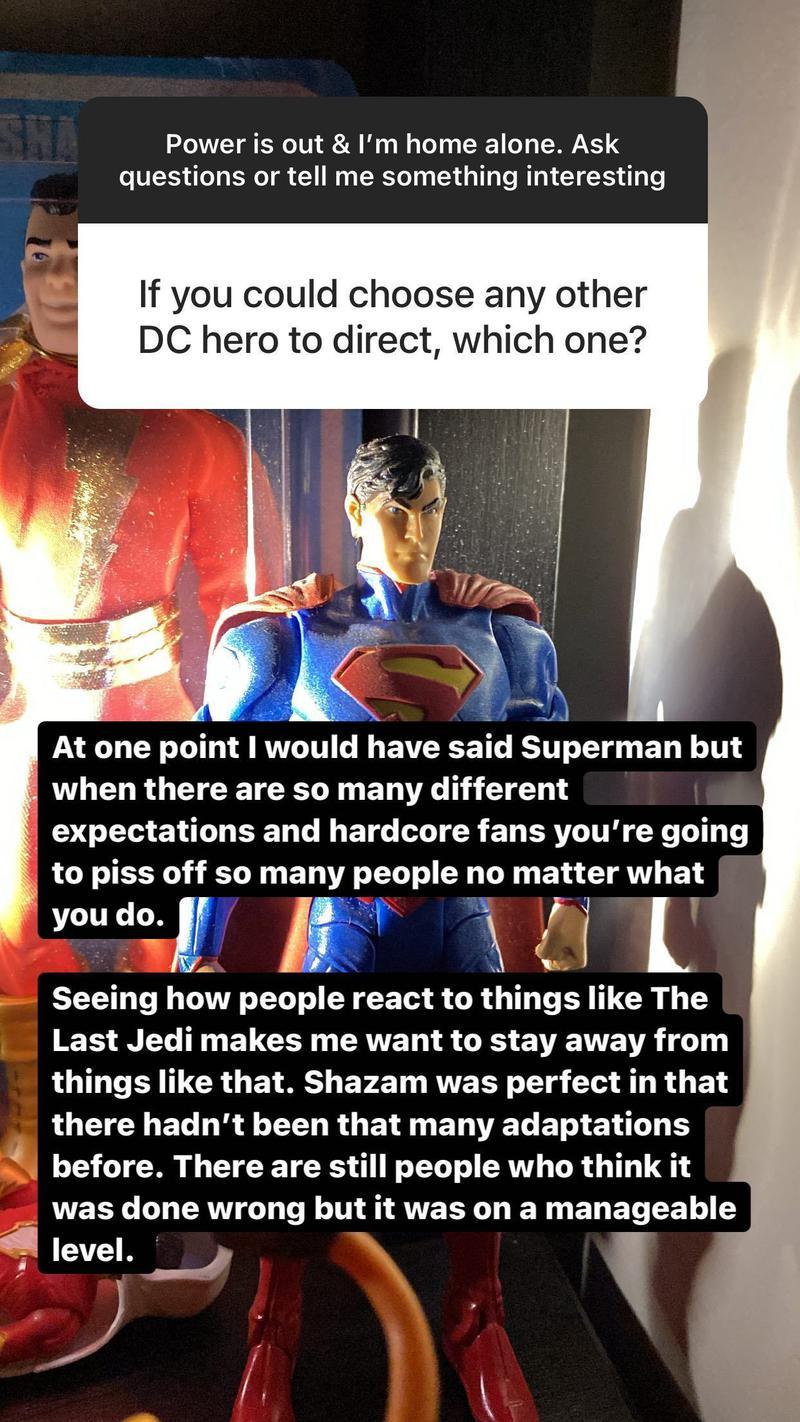 Going Against Superman Grain
It was likely a smart move for director David Sandberg to avoid high-profile properties like Superman, considering how Zack Snyder's most ravenous fans reacted to Matt Reeves' The Batman and actor Robert Pattinson replacing Ben Affleck as The Caped Crusader. It'd be a headache dealing with the inevitable online rhetoric around the film as it would draw endless comparisons to Snyder's Man of Steel.
Focusing on less popular characters like Shazam allows Sandberg infinitely more freedom with the character without the risk of angering a hornet's nest of fans online. Although, it's sad that such a potential reaction from such fans drove Sandberg away from wanting a crack at Superman. It would have been interesting to see the director's interpretation of Superman.
But fans will have to wait and see Sandberg's next superhero endeavor with Shazam! Fury of the Gods releasing in theaters on December 16.