2022 is kicking off in style for Star Wars thanks to the first six chapters of The Book of Boba Fett. While helping expand the narrative for the galaxy's most well-known bounty hunter, the series is doing its part to push the entire MandoVerse story forward in droves on Disney+. This included bringing some major players into the most recent entry, such as Rosario Dawson's Ahsoka Tano, the fan-favorite foundling Grogu, and the return of Luke Skywalker.
Even for a series featuring a longstanding well-known character in Boba Fett, this new Disney+ entry has utilized an impressive number of characters from multiple sources to add new layers of excitement.
Early episodes took inspiration from Star Wars' recent comic strips by introducing Black Krrsantan, a dark and terrifying Wookie gladiator who worked for both Darth Vader and Jabba the Hutt. This comes alongside another classic group of villains in the Pyke Syndicate, who showed their faces on-screen for the first time, as well as the live-action debut for Cad Bane from Star Wars: The Clone Wars.
All of this, on top of moments from three key players from The Mandalorian, is giving The Book of Boba Fett viewers of all levels a chance to explore multiple dimensions of Lucasfilm's past, present, and future. Now, ahead of the series' final episode prepping for its debut, Star Wars is putting this myriad of heroes and villains into the spotlight via a new TV spot.
Boba Fett Spot Features Grogu, Ahsoka & More
Star Wars released a 30-second promotional spot highlighting the first six chapters of The Book of Boba Fett on Disney+.
The spot features major moments from nearly every episode to date as fans reminisce on Temuera Morrison and Ming-Na Wen's spin-off series. Also included are looks at more than half a dozen key players that have helped drive the plot forward thus far.
Fans get short glimpses of The Mandalorian (Din Djarin), the Pyke Syndicate, and Black Krrsantan following their appearances in at least one of the first five chapters. "Chapter 6" is highlighted even further with looks at Ahsoka Tano, Grogu, Cobb Vanth, and the newly-introduced Cad Bane.
The full spot can be seen below:
Grogu & Ahsoka & Bane?! Oh, My!!!
Although Chapters 5 and 6 of The Book of Boba Fett have had a notable lack of Boba Fett in them, Lucasfilm hasn't short-changed fans for a moment. Providing everything from a look at Star Wars history with Order 66 to an update on the man who started the franchise's venture into Disney+ storytelling, the new series has built an interesting discourse amongst viewers every week.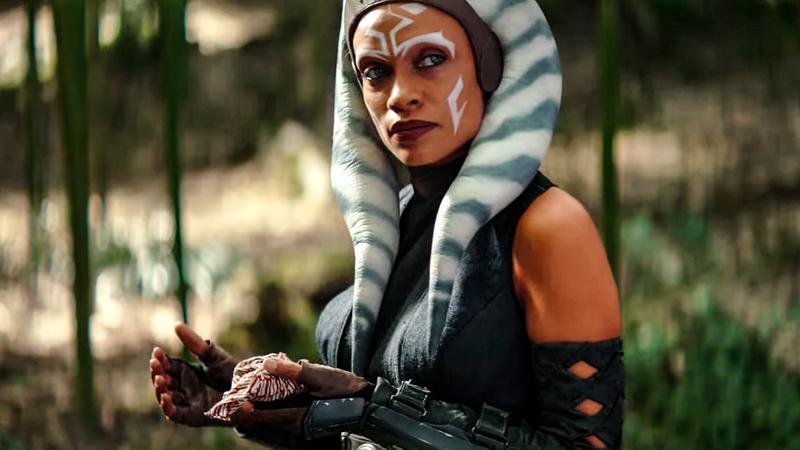 As Lucasfilm has done in the past, the last couple of chapters have shown just how interconnected this universe is, particularly by having them focus largely on Pedro Pascal's  Din Djarin. Seeing him revisit the show-stealing Grogu in his training efforts with a post-Episode VI Luke Skywalker helped set the stage for Mando's story to continue while also showing his efforts to help Boba Fett in his upcoming tussle with the Pykes.
Bringing in heroes and villains from the comics, the Skywalker saga, and Lucasfilm's other Disney+ shows has made The Book of Boba Fett a truly unique adventure in Star Wars' growing legacy. Now, the big question is how exactly all of these characters will come together in the show's explosive season finale.
With Boba and Fennec having been largely absent for most of the last two weeks, their story will almost certainly take center stage as they deal with the aftermath of the Pykes' attack on the Sanctuary. Luke and Grogu's story will likely have to take a backseat since it should be more of a set-up for The Mandalorian Season 3, meaning Ahsoka will move to the background for now as well.
"Chapter 6" set up a confrontation with Cad Bane on Tatooine that will put him at odds with the series' leading stars, The Mandalorian, and possibly Black Krrsantan too. The Pykes have set their eyes on chaos, and with a host of powerful players making a mark on the narrative, "Chapter 7" should be an all-out war from start to finish.
The first six chapters of The Book of Boba Fett are now streaming on Disney+. "Chapter 7" will premiere on Wednesday, February 9.
LATEST NEWS
TRENDING