Spider-Man: No Way Home might be the hottest commodity in the comic movie market right now. The project has been shrouded in secrecy with some of the only confirmed details to be regarding returning villains from the webhead's past cinematic outings. Despite leaks aplenty, fans still don't know what to believe, so speculation has run rampant surrounding the project. 
The biggest conversation point regarding the Tom Holland threequel has been the inclusion of past Spider-Man actors Tobey Maguire and Andrew Garfield. While neither actor has been present in trailers for the film, talk still continues to be centered on the two legacy Spider-Man - though nothing has been 100% confirmed. 
Well, with tickets out in the wild, and mere days before the first of the public get to see No Way Home, fans have gotten a pretty solid new piece to throw into the Maguire and Garfield conversation.
A Pair of Spider-Man
An official promotion with Bank Mandiri (the largest bank in Indonesia) has revealed a Spider-Man: No Way Home marketing tie-in image that seems to feature Tobey Maguire's Spider-Man.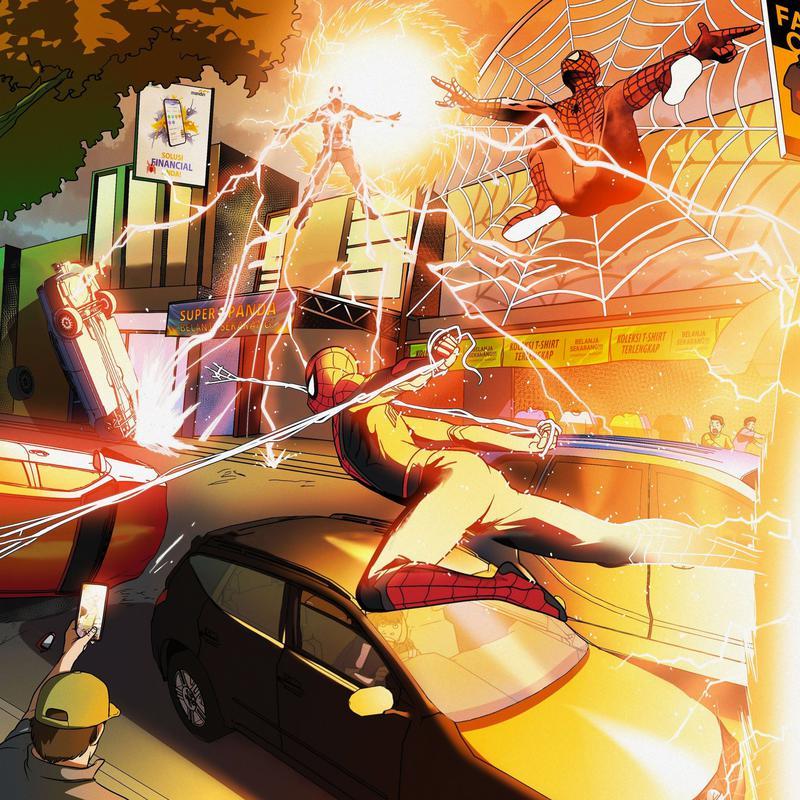 The promotion had fans looking for small pieces of art across social media that, when combined into a larger piece, make a more cohesive image.
The most notable of these pieces comes together to showcase Tom Holland's young hero alongside what could be Maguire's wall-crawler taking on Electro. This could be the iconic Spidey actor, but it also does closely resemble a famous store sign on Cihampelas Walk in Bandung, Indonesia.
Special thanks to Twitter user @sebbazz for uncovering the art.
Tobey, or not Tobey? That is the Question
So that's it, right? Tobey Maguire is in No Way Home. Well, don't be so sure. These images are officially-licensed, but they're not exact depictions of the movie. They were done by an artist with permission from Marvel for this international promotion.
While being some of the most legit evidence of past web-slingers joining the fun in the Tom Holland MCU epic, there is still that small chance that this is nothing more than an artist having a bit of fun and drumming up excitement over Bank Mandiri's promotion. 
Sure, everything is leaning towards Maguire and Garfield being in the movie, but nothing is official until fans see them swing onto the screen for the first time.
And Marvel has been pretty airtight up to this point, so how could they have missed something as blatant as this? In a marketing cycle that has had fans scrubbing through footage, going pixel by pixel, it seems a little too good to be true for something this obvious to be the iceberg that sinks this Multiversal Titanic. 
Still so many questions remain, but everything will be answered when Spider-Man: No Way Home hit theaters worldwide on December 17.
---
Release Date
December 17, 2021
Platform
Theaters