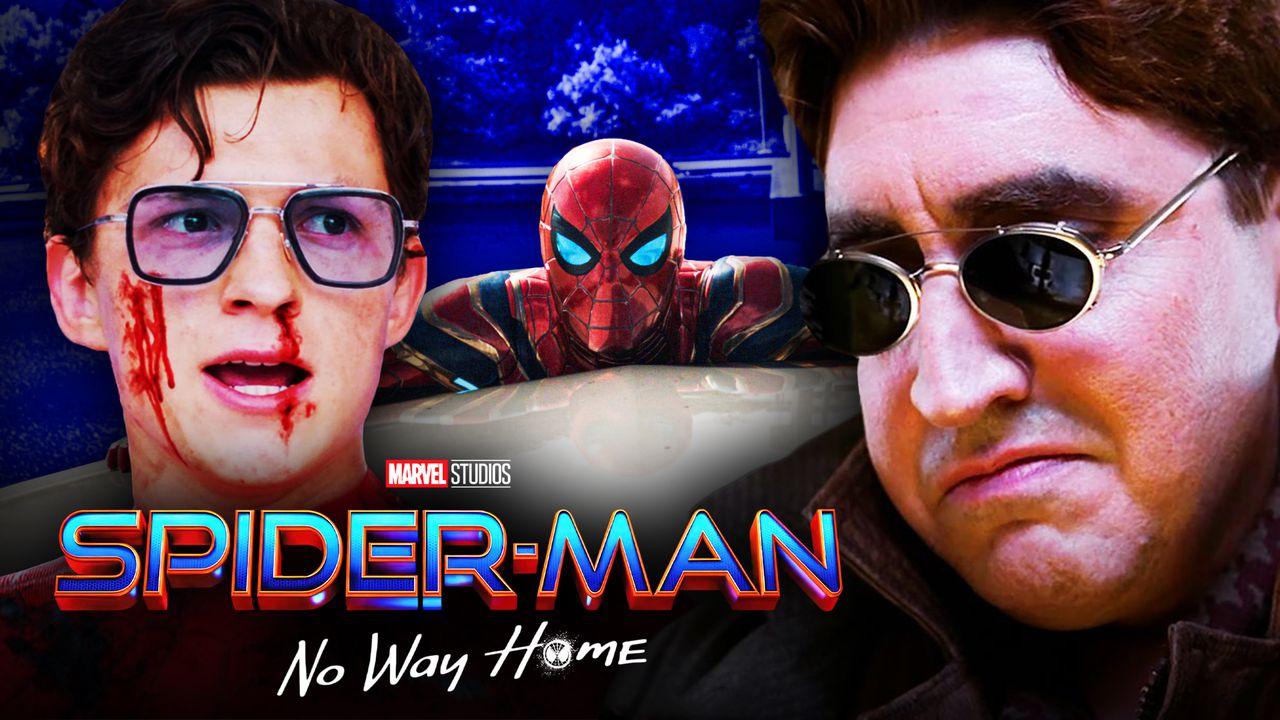 Hype for Spider-Man: No Way Home is at a fever pitch as fans anxiously await the film's second trailer amidst daily rumors, spoiler-heavy leaks, and head-scratching cast denials.
If that wasn't all, Sony's upcoming film Morbius, which is set to be the studio's next film in its own Spider-Man Universe, released a featurette ahead of its looming trailer containing even more connections to not just the MCU's Spidey but also potential characters from past Spider-Man franchises.
While it seems that questions, not answers, are all that speculators are getting ahead of this holiday season, the powers-that-be did grant fans a new look at the web-slinger in action from this franchise-crossing, multiversal flick. 
New Still From Marvel's Spider-Man No Way Home
An article from USA Today revealed a brand-new image from Spider-Man: No Way Home showing Tom Holland's Spider-Man in a precarious situation. 
The image appears to show Spider-Man in his Iron Spider suit struggling to hang on high above an action set-piece showcased in the film's first trailer where Doc Ock is first revealed saying, "Hello, Peter."
The image's caption reads as follows:
"When his secret identity is compromised, Spider-Man (Tom Holland) is left hanging on for dear life in "Spider-Man: No Way Home."
This isn't the only image from the George Washington Bridge scene that has been released for the film's promotion. In addition to the trailer, fans have also seen an additional still of Holland's Spidey running away from a pursuing Doc Ock at this same location. 
New View of No Way Home's Doc Ock Bridge Fight
This new image, along with other imagery from this scene, seems to suggest that Peter is caught off guard during this attack and struggling to survive against the iconic villain. 
What fans haven't seen is Spidey above during this scene on the George Washington Bridge; and while it's hard to tell exactly what he is holding onto, it looks like it could be the hood of a vehicle that Ock has lifted up into the air. 
In addition, the destruction on the bridge doesn't appear to be as bad as other images and footage have shown, meaning that this moment could take place early on in the conflict. 
It's also worth noting the trailer showed the Green Goblin's pumpkin bomb rolling across the pavement, but the villain himself hasn't been shown in any of the other material from this scene. While Doc Ock is no doubt a threat to Peter all on his own, an Ock and Gobby tag-team could be why Spidey is left "hanging on for dear life." 
Spider-Man: No Way Home swings into theaters on December 17, 2021.