Having already been described as "Spider-Man: Endgame," Spider-Man: No Way Home is undeniably slated to be a packed Marvel affair. With at least five returning villains and two Peter Parkers rumored to be making a comeback, the sequel has the potential to deliver Avengers-level action. 
Aside from the confirmed return of Alfred Molina as Doc Ock, current rumors have villains like Willem Dafoe's Green Goblin, Thomas Hayden Church's Sandman, Jamie Foxx's Electro, and Rhys Ifans' Lizard all showing face.
So far, Marvel Studios and Sony have kept much of the film close to the vest, as the teaser trailer primarily focused on just one of two action set pieces. Across all marketing, great influence has been placed on the highway fight which will see Tom Holland's Spidey going face-to-face with the aforementioned Spider-Man 2 villain, Doc Ock.
With so many clips and pictures out there already from the scene, The Direct predicts how the fight will play out chronologically.
Predicting No Way Home's Highway Fight
In both the first trailer and the stills included in the recent Empire Magazine spotlight for Spider-Man: No Way Home, great emphasis has been placed on the freeway fight scene between Tom Holland's Peter Parker and Alfred Molina's Doctor Otto Octavius.
As was shown in the trailer, the encounter begins with a formal-dressed Parker standing on the road for unknown reasons, at which point his Peter-tingle will seemingly indicate the imminent arrival of Doc Ock.
After sensing the incoming danger, Tom Holland's hero will stand on top of an occupied car to get a better look at who or what is coming.
Even though the battle is impromptu, Spider-Man appears to be prepared for the fight here as he quickly equips his nanite-based Iron-Spider suit, which was developed by Tony Stark.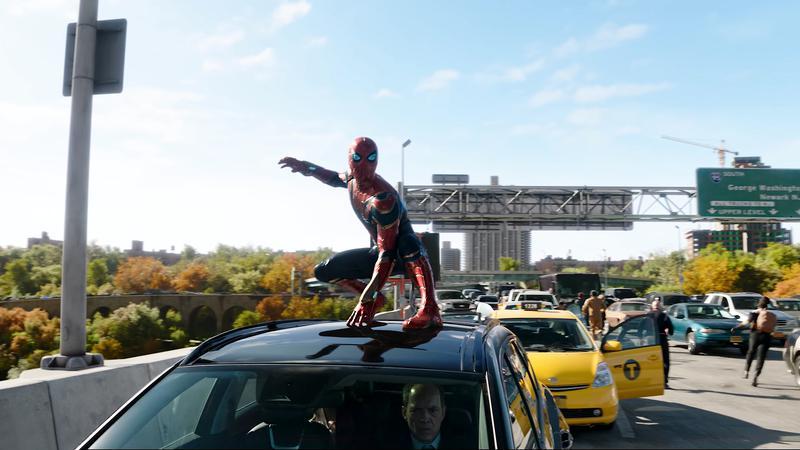 From here, Doc Ock begins his dramatic entrance, approaching Peter from through the smoke using his robotic arms.
Doc Ock's claws show a red light during this scene which, based on the events of Spider-Man 2, indicates he is being controlled by the arms.
At this point, fans will finally experience the already iconic "Hello Peter" moment from the final moments of the teaser trailer. It remains unclear if Molina's Octavius and Holland's Parker have already met at this point, if the genius villain is just going off the knowledge of his own universe, or if he is greeting a different Peter.
From this point, it becomes a little harder to figure out how the remaining shots will piece together. It appears a chase will ensue shortly after as Spider-Man flees while Doc Ock throws a car at him.
After this, it appears Peter will deploy his own robotic Iron-Spider arms to help him in combat. Within the background of this shot, a car, seemingly the one Doc Ock threw, can be seen to have crashed into a roadblock.
Another shot depicts Spider-Man clinging onto, what looks to be, the hood of a vehicle and dangling above the water. 
Just as he once was for Tobey Maguire's Spider-Man, it appears Doc Ock will be a tough fight for Holland's hero as he is seen wrapped in the villain's robotic grip.
At this point, Doc Ock's arms receive a notable change as they switch from plain silver to red and gold-plated. The change in color may come from the Iron-Spider suit itself, which Octavius may rip from Parker's body after finally getting his tentacles on him.
Doc Ock may be doing all the fighting in the trailer footage, but it doesn't look like he's the only antagonist present in this scene.
One of Green Goblin's Pumpkin Bombs can be seen rolling down this very highway. With no sign of Willem Dafoe's Norman Osborn throughout the other shots, this points to the iconic Goblin probably not arriving until the end of the fight.
While Green Goblin could arrive at any point in the freeway fight, it will clearly happen after Doc Ock throws the car at Peter, as the wreckage can be seen in a shot depicting the explosion.
As a whole, the highway fight scene appears to be a critical one in the movie.
How Will Peter Escape the Highway?
Fans have known for some time now that Alfred Molina's Doc Ock, Willem Dafoe's Green Goblin, and more classic Spider-Man villains will be returning for No Way Home​​​​​​. Despite this, specific plot details are still vague, and it remains hard to determine why the multiverse villains will be popping up in the MCU to cause trouble for Holland's Spidey.
One particular theory suggests the five returning villains may be the focus of the title as they arrive in the MCU with no way home to their own universes. Some have speculated that the villainous team may attempt to acquire Stark technology to develop their way home, a theory furthered by the red streaks on Doc Ock's robotic arms.
Goblin and Octavius may be tracking down Peter using the nanites in his Iron-Spider suit in an attempt to steal them. But with the wall-crawler clearly struggling in this fight, it's unclear how he will manage to escape Doc Ock's clutches in one piece.
With Doctor Strange set to play a key role in the sequel, it's possible he may arrive in time to save Peter as his magical power would make him more than capable of taking down the Spider-Man villains with ease.
Prior to donning his Iron-Spider suit, Peter is wearing a rather formal outfit that can also be seen in his encounter with Lizard, which appears to take place in Doctor Strange's basement, adding further credence to Strange's possible involvement in the scene.
Based on all the emphasis that's already been placed on the highway fight, it's clearly a critical piece of the movie and a fairly significant action sequence. Fans should prepare to see plenty more from the roadside action whenever the highly-anticipated second trailer eventually arrives. 
Spider-Man: No Way Home hits theaters on December 17, 2021.
---
Release Date
December 17, 2021
Platform
Theaters
Sam Hargrave is the Associate Editor at The Direct. He joined the team as a gaming writer in 2020 before later expanding into writing for all areas of The Direct and taking on further responsibilities such as editorial tasks and image creation.