Following Scream VI's successful run in theaters, Scream 7 is officially in the works. 
In 2022, the franchise returned with its fifth installment, plainly called Scream, bringing back cast members like Neve Campbell and Courteney Cox.
However, a new cast that (partially) rolled over into Scream VI, including Jack Quaid, Melissa Barrera, and Jenna Ortega, truly revitalized the iconic horror franchise.
Scream 7 Release: When Will It Come Out?
Director Christopher Landon is replacing Matt Bettinelli-Olpin and Tyler Gillett (aka Radio Silence for Scream 7, according to The Hollywood Reporter). Radio Silence worked on 2022's Scream and Scream VI.
Landon is best known for his work on Happy Death Day and Freaky and is a big fan of the franchise.
In an interview with SiriusXM's The Jess Cagle Show (via Comicbook), Landon explained that the opportunity "came out of the blue for [him]" after the previous directing duo "wanted to do something else:"
"It came out of the blue for me. My understanding is that there were conversations happening for some time. But I think it was just an opportunity that really arose because the other directors who did the last two films, Tyler and Matt, they wanted to do something else. They were ready to kind of do something different."
Following their departure, Landon's name was thrown "thrown into the hat" with other possible replacements. He expressed that he was "thrilled that I got that call" and "it felt like a thing that like was always meant to be:"
"That's when they obviously had to find someone new, and I've known Kevin Williamson, who wrote the original film, for a long, long time and he's a friend. I think he threw my name into the hat and everybody kind of said, 'Yeah, that makes sense. That seems to make sense.' And I was just thrilled that I got that call because it felt very, it felt like kismet, it felt like a thing that like was always meant to be."
While it's also possible Landon will write Scream 7, nothing is official. James Vanderbilt and Guy Busick wrote the previous two Scream films but are not confirmed to be returning.
Produced by Spyglass Media Group, Universal Pictures is expected to return as the film's distributor.
Despite the quick 15-month turnaround time between Scream and Scream VI, there is no official update on the production of Scream 7.
While many fans of the franchise may hope to see the sinister seventh Scream hit theaters in 2024, it probably won't be released until 2025.
Scream 7 Cast: Who Will Return? 
Jenna Ortega - Tara Carpenter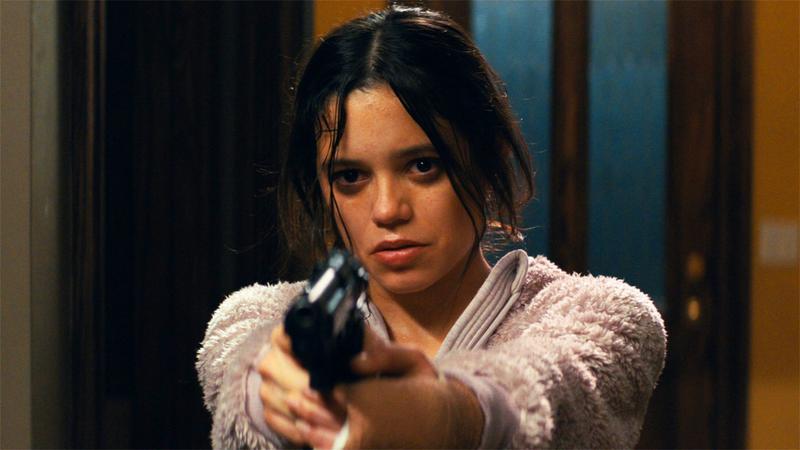 Now best known for her role in Netflix's Wednesday, Jenna Ortega was a childhood actress starring in shows like Jane the Virgin and Disney Channel's Bizaardvark.
Her journey with the Scream franchise has been a key part of her career's transition to more mature roles, specifically in horror films. Movies like The Babysitter: Killer Queen, X, and Studio 666 have also been a part of this career shift.
Nothing is guaranteed when it comes to Ortega returning for Scream 7, but it's likely that the studio wants her back. Unfortunately, for fans wanting to see Tara return, Ortega is busy with Beetlejuice 2 and Wednesday Season 2. 
Don't be surprised if this rising star skips the next Scream installment.
Melissa Barrera - Sam Carpenter
A major part of the Scream revival has been Melissa Barrera's Sam Carpenter, playing a leading role in both recent films. It'd be surprising to see Barrera not return unless the series went in a totally new direction.
When the actress was recently asked about Scream 7, she said she would "not [be] opposed to" returning:
"I think the beauty of the 'Scream' universe is that anything can happen, and anyone can come back. I'm not opposed to it!"
Barrera previously discussed the future of Sam Carpenter, sharing with Digital Spy that "there are so many places that Sam could go:"
"There are so many places that Sam could go. That's one of the reasons that, when I read the script for 'Scream 5,' I was so interested in the character. There's so much potential here of where she could go with her mental health - she's just unpredictable. I find that that darkness in her makes her that much more interesting to play and to watch."
Jasmin Savoy Brown - Mindy Meeks-Martin
A key member of the new Scream squad has been Jasmin Savoy Brown as Mindy Meeks-Martin. She's also known for her role in the ongoing Showtime psychological drama series, Yellowjackets.
Mindy is expected to return in Scream 7 if chosen to continue with most of the current characters that have survived.
Mason Gooding - Chad Meeks-Martin
Joining his twin sister is Chad Meeks-Martin played by Mason Gooding. The actor's first major film role came in 2019's Booksmart directed by Olivia Wilde.
Chad's romantic feelings toward Tara could also continue to grow in Scream 7 (if Ortega returns), solidifying Gooding's role in this franchise even more.
Courteney Cox - Gale Weathers
Mark this one down as a near certainty. Courteney Cox's Gale Weathers has appeared in every Scream film since the original.
Best known for her role on Friends, Cox continually avoids death at the hands of Ghostface.
What Will Happen in Scream 7?
There are no official plot specifics available for Scream 7. Nevertheless, fans can expect a new take on the antagonist (or antagonists) who will adopt the identity of Ghostface.
To finish off Scream VI, Detective Wayne Bailey, Quinn Bailey, and Ethan Landry were all found to be the killers, seeking revenge on those who had murdered Richie in Scream. None of them made it out alive.
In an attempt to go bigger and badder, maybe the next Scream movie will have even more Ghostfaces working in unison or revert back to more simplistic roots.
One common theory (that was teased in the latest film) is that Sam could ultimately stoop low enough to become Ghostface in Scream 7, as she is the daughter of the original villain, Billy.
Will Scream 7 Be the Final Movie of the Franchise?
Following 2011's Scream 4 failure, earning $38.2 million domestically, the 2022 sequel got the franchise back on track, grossing $81.6 million.
Both the latest Scream and Scream IV earned a 76% on Rotten Tomatoes, however, the latest film performed much better at the box office.
Scream IV earned $108.2 million during its domestic run at the box office, the most in franchise history, making the decision to greenlight a seventh film easy.
Here's a full look at the Scream franchise at the domestic box office over the years. The original film earning $103 million is sensational considering its roughly $6 million budget:
Scream VI - $108.2 million
Scream (1996) - $103 million
Scream 2 - $101.4 million
Scream 3 - $89.1 million
Scream (2022) - $81.6 million
Scream 4 - $38.2 million
If Scream 7 can keep up this trajectory and earn between $100-$115 million at the North American box office, a Scream 8 will likely be created as well.
A giant question mark around the seventh film will be whether Jenna Ortega returns, as her stardom jumped exponentially between the 2022 and 2023 films.
Considering former Scream Queen Neve Campbell left the franchise because she "felt the offer that was presented to me did not equate to the value [she had] brought to the franchise," according to Deadline, don't expect the studio to give Ortega a massive deal to return.
In a recent interview at the Happy Horror Time podcast, Scream writer Kevin showed his support for Campbell's decision to not return as Sidney Prescott in Scream VI, saying, "All I can say is pay her the money:"
"I know her well. I love and adore her, and that's what she did, and it's great for her. I love everyone involved with Scream, and all I can say is pay her the money. Yes, you heard it, everyone. That's what I would do. I would give her that."
---
Scream VI is now streaming on Paramount+.