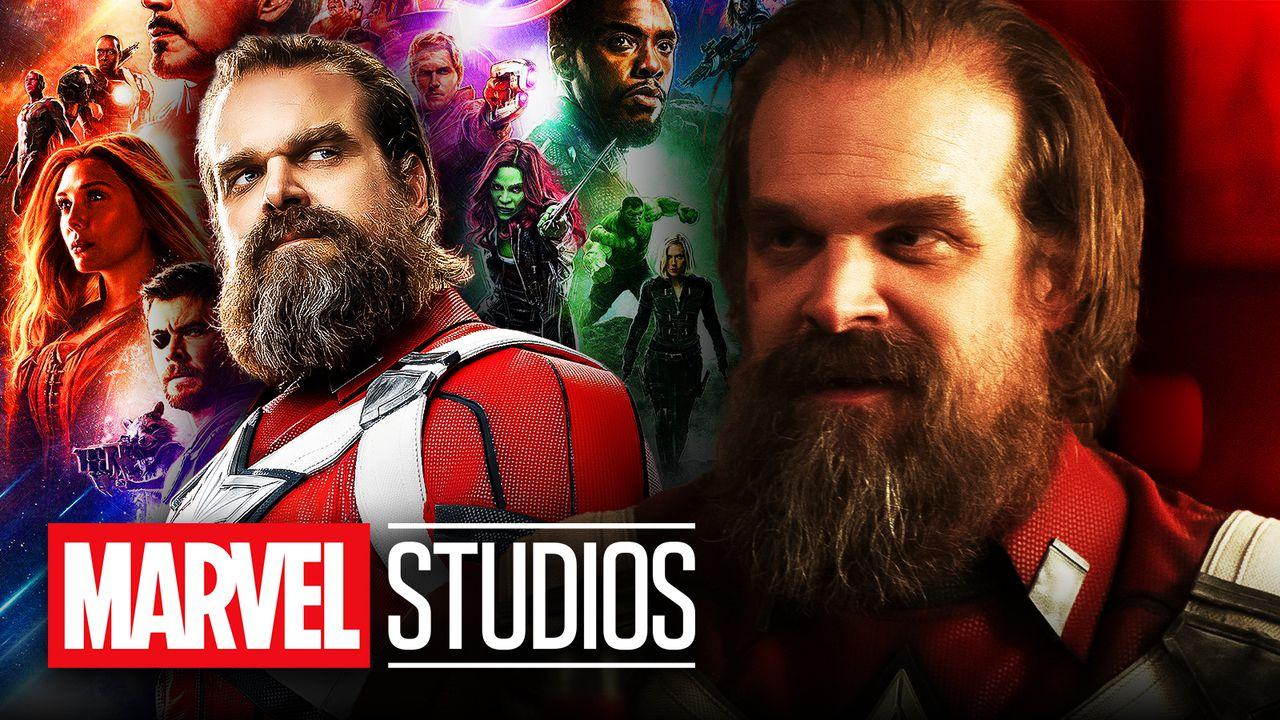 After making his MCU debut in 2021's Black Widow, Red Guardian actor David Harbour has one request for his next time out as the Russian Marvel hero. 
Harbour's Alexei Shostakov is already set to hop back into the Marvel Studios action with an appearance in the upcoming Thunderbolts film on the books. 
The Stranger Things actor teased the "chatter" around his character's future, as he joins the likes of Florence Pugh, Sebastian Stan, and Wyatt Russell in his first true Marvel ensemble film. 
According to Harbour, his return as Red Guardian is going to be "very cool," noting Thunderbolts is "going to drop a bomb" on the franchise. 
David Harbour's Marvel-Sized Request
Red Guardian actor David harbour revealed his one request for the next time he plays his MCU hero in Marvel Studios' Thunderbolts. 
In an interview with The Playlist, Harbour noted that he wants to see his character "be a little bit more of a badass" in his next MCU appearance:
"I'd like to see him be a little bit more of a badass as well. I'd like to see those fighting skills, which we see a little bit with Taskmaster, but, as messed up as he is, he does have the super serum, and he knows this Russian Sambo technique, and I think we could see a lot more color in that department in terms of his range as a fighter. And I'd like to see where he can go now that he's out of prison and he's got more hope for his life, like who he might become. There's a lot of potential and a lot of opportunity."
The Black Widow star also mentioned he cannot wait to "reconnect with Florence [Pugh]" on the set of his next Marvel film:
"It's so interesting to think about where [Red Guardian] ends up at the end of 'Black Widow' after his story is complete and what happens to him after he's out of prison. Where does he go? To reconnect with Florence [Pugh] is going to be great as well. And also, I would like to see, because he is an idiot and he is an egomaniac – all that stuff, but he does have this fire in him, and I think he could rise to certain occasions if given the chance."
As for who Harbour wants to see his Red Guardian meet on-screen, his top pick was Wyatt Russell's U.S. Agent:
"In terms of the new guys, I will say that I really love what Wyatt [Russell] did in ['The Falcon and the Winter Soldier']. And I think, just the fact of a real dark Captain America, like, what that means in terms of his relationship with Red Guardian and what that spark will be like – I think Wyatt's terrific. I think that character is terrific – this dark, patriotic character. You know, Red Guardian is just a foil to Captain America. He's obsessed with Captain America. And this guy, although [Anthony] Mackie is the real Captain America, [Wyatt] is a version of that patriotic thing that's darker. And so, I think, as Red Guardian, I'm very interested to see where that leads."
What To Expect From Red Guardian Moving Forward
After having seen some actors come and go in the MCU without much to say about their time working within the franchise, it is nice to hear someone so enthusiastic about his hero and getting to do more at Marvel Studios. 
From everything that has been revealed, audiences are in for a treat with Thunderbolts. David Harbour himself has one of this movie's biggest hype-men, talking it up whenever he gets the chance. 
His "going to drop a bomb" on the MCU comment already has fans excited, and now, he is here talking about the exciting prospect of him meeting other Captain America wannabes like Wyatt Russell's U.S. Agent. 
What will happen when his MCU hero eventually comes face-to-face with Captain America himself (either Steve Rogers or Sam Wilson)? It's an exciting prospect to think about and surely one the actor has thought through. 
As for his "badass" request, it certainly seems like Harbour is going to get his wish. Back in November, the actor talked about having "trained harder" for Thunderbolts than anything he has done before. Surely, that sort of regiment must be something that'll be put to use on-screen. 
Thunderbolts is going to be a different kind of MCU team-up movie, featuring a team of heroes that are not afraid to get their hands dirty. Harbour described the team as "the losers" of Marvel Studios' on-screen world, something that will be unique when compared to the MCU's Avengers team. 
Marvel Studios' Thunderbolts hits theatres on July 26, 2024.
---
Release Date
July 25, 2025
Platform
Theaters
Klein Felt is a Senior Editor at The Direct. Joining the website back in 2020, he helped jumpstart video game content on The Direct. Klein plays a vital role as a part of the site's content team, demonstrating expertise in all things PlayStation, Marvel, and the greater entertainment industry.