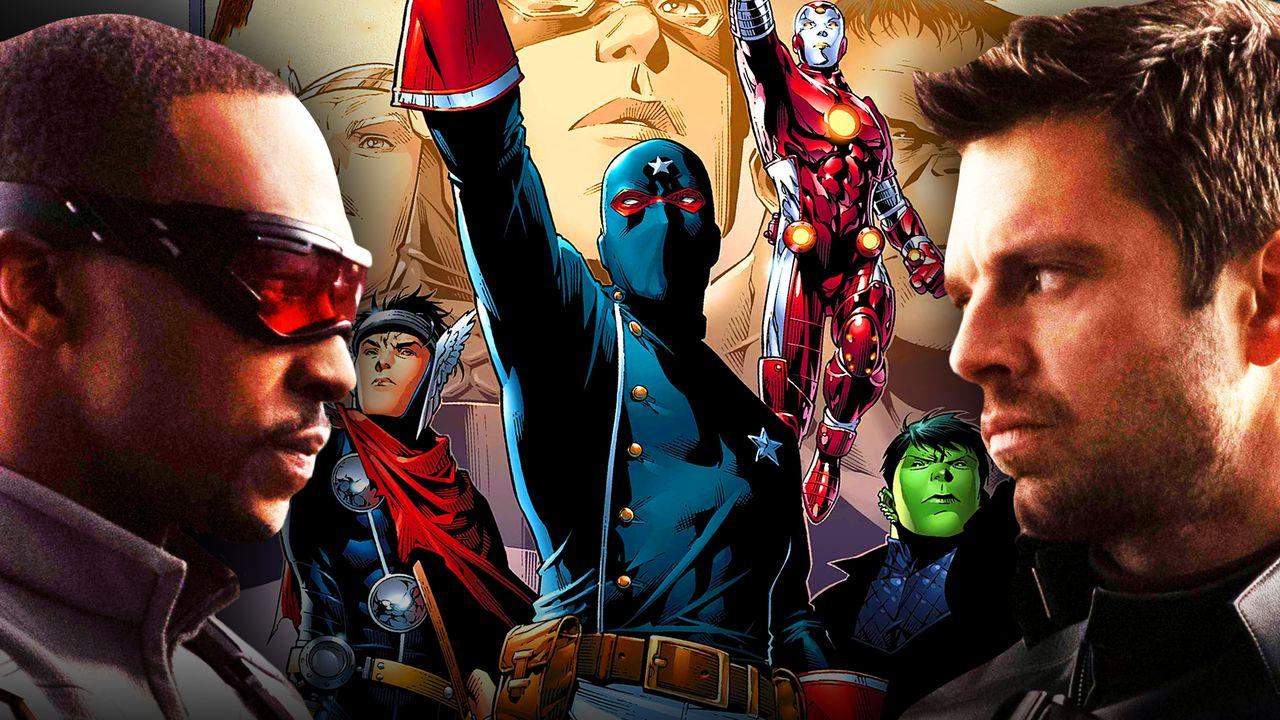 While the upcoming The Falcon and the Winter Soldier series is set to spotlight Sam Wilson's "complicated" transition to the Captain America mantle, the show will also be introducing a collection of new characters into the Marvel Cinematic Universe.
From Wyatt's Russell's U.S. Agent to the anarchist Flag Smashers , a large lot of legacy characters from Cap's comics have already been confirmed to be joining the fray. While those specific parts have been established, there are still a number of rumored roles for the streaming series' stacked cast.
RUMOR
You think you're the only Captain America in the world? Mr. Wilson, you've become part of a much bigger universe, you just don't know it yet.
According to IMDb via insider Charles Murphy of Murphy's Multiverse , Elijah Richardson has joined the cast of The Falcon and the Winter Soldier , and is rumored to be playing Eli Bradley, better known as The Patriot.
Murphy went on to say Richardson will portray Bradley in two episodes of the upcoming streaming series, and gave his vote of confidence that this rumor is in fact legitimate.
WHAT THIS MEANS
Richardson's involvement in the show is particularly intriguing due to the character he's reportedly portraying. Before we dive deep into speculation, let's catch up on who exactly Eli Bradley is.
Introduced in Young Avengers #1 , Eli Bradley was cemented as the leader of the junior Earth's Mightiest Heroes. Bradley led that group alongside original team members such as Cassie Lang and Kate Bishop, both of which promise to be big players in the MCU's Phase 4 .
Fighting with the made-up name (shoutout Spider-Man) of The Patriot, Eli is the grandson of Isaiah Bradley, a former Captain America in his own right on the page.
I promised you some speculation, so let's get to theorizing.
Isaiah Bradley has been rumored for the series for a while now, presumably being played by Carl Lumbly. In the comics, Isaiah was an unwilling test subject of the Super Soldier serum, which resulted in him taking on the Captain America role, minus the Star-Spangled celebrity status. There's one storyline that follows Isaiah being forced into solitary confinement due to a failed mission where he donned a stolen Cap suit and shield.
"The legacy of that shield is... complicated."
As Sam says in the trailer , the squeaky-clean history of the Captain America mantle might be a bit dirtier than we all expected. If Lumbly is indeed playing Isaiah Bradley, it would make sense that his grandson would factor into this series as well. If Isaiah's controversial comic history is indeed explored in this show, it's possible that the young Eli Bradley would want to carry on his family legacy and get to be the hero he knew his grandfather was.
If you'll allow me to get even more wild with this theory, let's talk about Eli's superhero origins. In the comics, Eli lies to his Young Avenger teammates about how he got his powers, saying they were the result of a blood transfusion from grandpa, when in reality, he was injecting the mutant growth hormone into his body. Set photos have revealed some of this show will take place in Madripoor, a location heavily linked to mutants, and the Ogun symbol has popped up on some biker gang leather, an emblem associated with a Wolverine antagonist.
WandaVision will likely give us our first authentic exploration into the X gene within the MCU, and based on rumblings around The Falcon and the Winter Soldier , it's only appropriate that mutant clues would creep into that show as well. Eli Bradley's rumored role only emphasizes that possibility of mutant elements making their way into Phase 4 by means of the 2021 Disney+ shows.
One final thing worth noting is the Young Avengers possibility. Based on recent castings such as Hailee Steinfeld as Kate Bishop, Kathryn Newton as Cassie Lang, and Xochitl Gomez as America Chavez , the seeds are being planted for the adolescent Earth's Mightiest Heroes to make their presence felt in a future MCU flick. Mix in Wiccan and Speed's rumored appearance in WandaVision , and you just about have yourself a full team.
The Falcon and the Winter Soldier is set to stream on Disney+ beginning March 19, 2021.