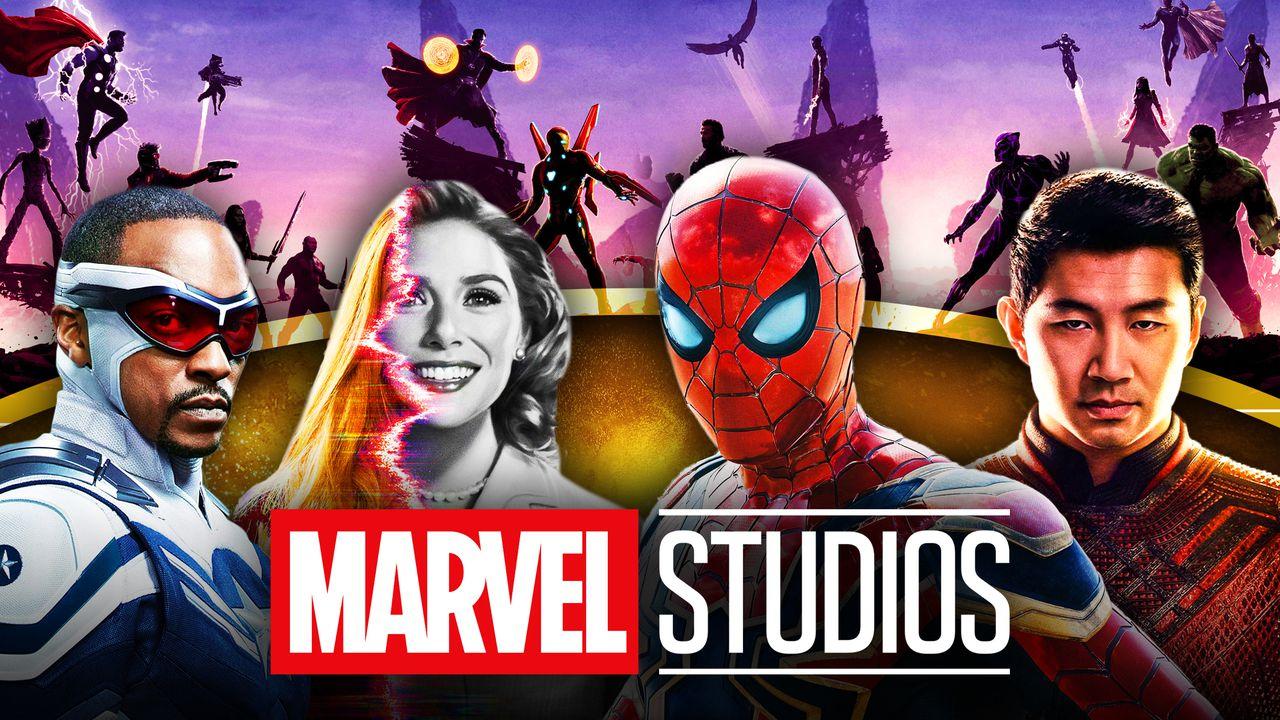 One of the Marvel Cinematic Universe's hallmarks is its grouping of films or series into phases or chapters. Beginning with 2008's Iron Man and ending with 2019's Spider-Man: Far From Home, the MCU completed three full phases of projects that are collectively referred to as the Infinity Saga. And, while fans and critics alike doubted Marvel's ability to continue its success into Phase 4, in reality, the MCU had only just begun.
Following a year without content in 2020, Phase 4 of the MCU kicked off in January 2021 with WandaVision, which was Marvel's first event series for Disney+ with ties to the franchise's theatrical films. 
By the end of 2021, Marvel Studios had released five successful series on the streaming service, in addition to four theatrical films, proving the franchise has no interest in slowing down anytime soon.
However, after a full year into the studio's current phase, Marvel fans are just now recognizing how much content they've already received and "marveling" at how much is yet to come.
Marvel Studios' Movie & Show Runtimes
When comparing the minutes of content from the first three phases of the MCU to Marvel's current Phase 4 thus far, Reddit user u/thescottula discovered that Marvel Studios has released more content in 2021 than all of Phase 3.
The runtime of the first nine releases of the MCU's Phase 4 also surpasses the runtimes of all the content released by Marvel Studios in its first nine years, which includes every Phase 1 and 2 movie as well as Phase 3's Captain America: Civil War, Doctor Strange, Guardians of the Galaxy Vol. 2, and Spider-Man: Homecoming.
Here's a breakdown of past phases by minutes of content both with and without credits:
Phase 1: (2008's Iron Man - 2012's The Avengers)
Total: 751 minutes of content; 691 without credits
Phase 2: (2013's Iron Man 3 - 2015's Ant-Man)
Total: 768 minutes of content; 707 without credits
Phase 3: (2016's Captain America: Civil War - 2019's Spider-Man: Far From Home)
Total: 1,515 minutes of content; 1,391 without credits
Phase 4 of the MCU (so far):
WandaVision
The Falcon and the Winter Soldier
Loki
Black Widow
What If...?
Shang-Chi and the Legend of the Ten Rings
Eternals
Hawkeye
Spider-Man: No Way Home
Total: 2,161 minutes of content; 1,883 without credits
While 2021 was an impressive year for content, Phase 4 of the MCU has only begun and isn't expected to conclude until at least 2023.
In this coming year alone, Marvel fans are expected to receive Moon Knight, Ms. Marvel, She-Hulk on Disney+, along with thee feature films in Doctor Strange in the Multiverse of Madness, Thor: Love and Thunder, and Black Panther: Wakanda Forever. What If...? Season 2 and Secret Invasion could potentially drop on Disney's streaming service before the year's end as well. 
With all that being considered, Reddit user u/thescottula has speculated that - based on the average length of Marvel's Phase 4 event series and its feature films - this current chapter of the franchise could surpass the entire Infinity Saga in terms of content minutes by the third episode of Ms. Marvel in mid-2022. 
Franchise Fatigue Doesn't Apply to the MCU
If 2021 taught the entertainment industry anything, it's that franchise fatigue simply doesn't apply to the Marvel Cinematic Universe. If anything, the MCU's additional Disney+ content has only created more of an appetite for the franchise while also expanding its fan base and capacity for content. It also showed that Marvel is anything but complacent and only looks to expand.
Still, while what Marvel Studios was able to churn out in a single year - amidst a pandemic at that - is remarkable, it's worth noting that without Disney+, Marvel's four 2021 feature films - minus the credits - only add up to about 530 minutes of content. 
For comparison, the six films in Phase 1 of the MCU added up to 691 minutes of content sans credits.  
Still, that's not to say that Phase 4 was ever going to be on par with prior phases in terms of its number of films. Phase 3 shattered that mold with a whopping 11 feature films, while Phase 2 only offered 6, just as Phase 1 did. 
The real question is whether Marvel Studios can do the same as it did in Phase 3 strictly from a theatrical perspective, especially in light of recent delays. 
When Marvel announced a new release schedule in October of 2021, two untitled 2023 films were removed from the schedule while a third was moved up to a November 3, 2023 slot. Unfortunately, there is a possibility that these release dates could change again, especially considering Black Panther: Wakanda Forever's production woes. 
Also, fans have yet to receive concrete information about Fantastic Four, Blade, or Deadpool 3. 
While Marvel's Phase 4 incredible watch record is secure thanks to its Disney+ slate, the franchise's feature film performance in comparison to that of its Phase 3 roster remains a bit more uncertain. 
LATEST NEWS
TRENDING