Following a recent trend of MCU-inspired variant covers, Marvel unveiled six new covers for what is quickly seeming to become a collectible set.
Recently, Marvel revealed a WandaVision-inspired variant by David Nakayama for Steve Orlando and Sara Pichelli's Scarlet Witch ongoing series. Prior to that, in 2021, mini-sets depicting moments from Phase 1 and Phase 2 were released with comics that year.
Furthermore, in December, the Phase 3 collection began with three movie-inspired covers, one for Avengers: Infinity War, one for Ant-Man and the Wasp, and one for Avengers: Endgame.
Now, the Phase 3 variant cover collection expanded to include six new movies, bringing the set of Infinity Saga-inspired covers even closer to complete.
6 New Phase 3 MCU Comic Covers
On Twitter, Marvel unveiled six new MCU-inspired variant comic covers, each based on a different Phase 3 film.
The Captain America: Civil War cover will be a variant for Captain America: Cold War Alpha #1 by Collin Kelly, Jackson Lanzing, Tochi Onyebuchi, and Carlos Magno.
The MCU variant cover is by Steve McNiven and depicts the infamous Captain America (Steve Rogers) vs Iron Man (Tony Stark) fight in Siberia from the film.
For the Doctor Strange-inspired variant cover, Steve Skroce depicts the titular sorcerer in the middle of what appears to be fairly complex magic at the New York Sanctum Sanctorum.
The cover will be a variant for Jed MacKay and Pasqual Ferry's upcoming Doctor Strange #1.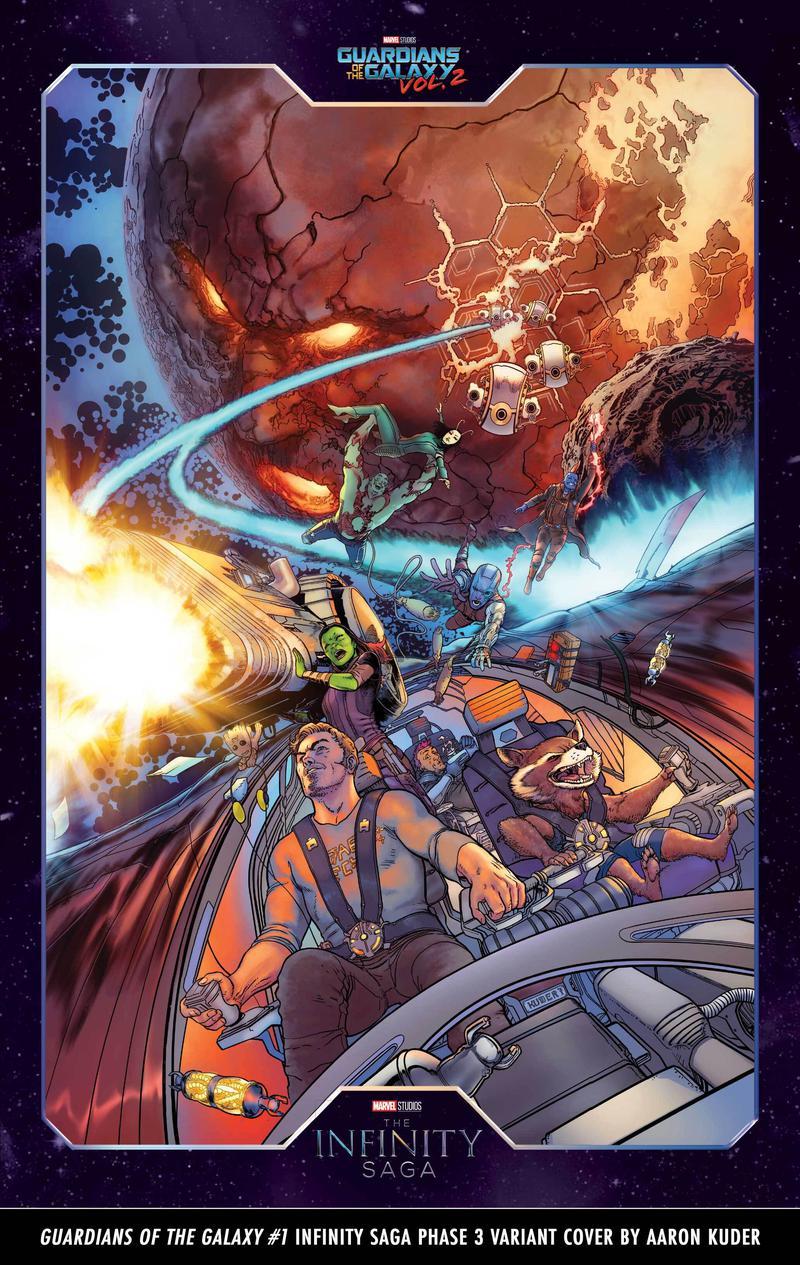 For Guardians of the Galaxy Vol. 2, the variant cover by Aaron Kuder for Guardians of the Galaxy #1 by Jackson Lanzing, Collin Kelly, and Kev Walker manages to fit in the entire Guardians roster and the movie's biggest foe.
The cover shows Ego the Living Planet chasing the Guardians — Mantis, Drax, Yondu, Baby Groot, Gamora, Nebula, Star-Lord, Kraglin, and Rocket — through space in a colorful and action-packed cover reminiscent of the movie that inspired it.
Depicting the fan-favorite scene from Thor: Ragnarok with Thor and Hulk in the arena in Sakaar, Mahmud Asrar's variant cover is for Thor #32 by Torunn Grønbekk and Nic Klein.
With vibrant colors and big, gladiator-style costumes, this cover is instantly recognizable as being inspired by the third Thor film.
The Black Panther-inspired variant cover by Ken Lashley for John Ridley and German Peralta's Black Panther #15 shows many of the most iconic characters from the film posing heroically.
Full of characters, the cover displays Shuri, Killmonger, Black Panther (T'Challa), Zuri, Nakia, Queen Ramonda, and three members of the Dora Milage, with Okoye at the front and center of the three.
Finally, the Captain Marvel MCU variant by Peach Momoko for Kelly Thompson and Sergio Fernandez Davila's Captain Marvel #47 is different from the other five covers as it is colored in what appears to be a watercolor style.
The cover depicts Captain Marvel breaking out of bonds, surrounded by the light and power she possesses. The glowing white eyes bring the scene together, reminding fans of the sheer power of Carol Danvers.
Variant Covers for All Marvel Movies?
With the six new variant covers and the three unveiled in December 2022, almost every Phase 3 project has inspired a variant cover for one of Marvel's comics.
In fact, with both Phase 1 and Phase 2 having variant covers for all of their films, only two movies from the entire Infinity Saga are missing from the collection: Spider-Man: Homecoming and Spider-Man: Far From Home.
Interestingly, in the other three covers inspired by films featuring Spider-Man, the hero is not depicted, even in large group art pieces like the Infinity War and Endgame covers.
Perhaps licensing issues with Sony prevent Spider-Man from appearing on any of these MCU-inspired variants. However, to see Tom Holland's Spider-Man drawn in comics style, fans need only pick up the companion comics for Spider-Man: Homecoming, Spider-Man: Far From Home, and Avengers: Infinity War, all available in comic shops or on Marvel Unlimited.
The Infinity Saga is available for streaming on Disney+, and all of these variant covers will be available in comic book shops when their respective issues release throughout 2023.
---
Gillian Blum has been a writer at The Direct since 2022, reporting primarily from New York City. Though she covers news from across the entertainment industry, Gillian has a particular focus on Marvel and DC, including comics, movies, and television shows. She also commonly reports on Percy Jackson, Invincible, and other similar franchises.
LATEST NEWS
TRENDING