Invincible was an unexpected success for Amazon, but with only a vague time window for the release of its second season, fans are itching to know what the future holds for the show.
Invincible was a superhero comic created by Robert Kirkman and published by Image Comics. It shocked readers with its brutal violence but was captivating by Mark Grayson's journey as a superhero. So it's no surprise that an adaptation had been in the works for years.
While the live-action movie was stuck in development, Amazon moved forward with an animated TV series to massive success in 2021, leaving audiences begging for more Invincible.
When Is Invincible Season 2 Releasing?
After its enormous success on Amazon Prime, Invincible was renewed for another two seasons, but production on the next season suddenly went radio-silent for nearly two years.
Audiences were finally given some news through an incredibly self-aware teaser trailer that confirmed the next season of Invincible would come out in "late 2023."
A few months later, Kirkman gave fans an update, saying that "it's coming along really great" and that he "can't wait for people to finally...stop asking [him] about it:"
"It's going great. I'm seeing full animation now, and we're getting music and stuff put into it, and it's coming along really great. And I can't wait for people to finally see it so that they stop asking me about it."
Was Invincible Season 2 Delayed?
At no point was the next season of Invincible delayed since it never had a release date to delay in the first place. So the real question should be why it's taken so long for the next season to come out.
Due to the delayed renewal by Amazon, production only started after Invincible released its first season and not when post-production finished. Additionally, if the animated teaser is any indication, the animation quality has massively improved, which could account for this season's longer production cycle.
As Kirkman explained, since Invincible was already renewed for a third season, fans shouldn't expect "a similar gap" of two years between seasons. He sympathized with fans, saying how "once Season 2 comes out," he hopes it'll be "smooth sailing from there on:"
"This is the pain. This area right now is the pain for Invincible fans. So once we're through this, once Season 2 comes out, hopefully, it should be smooth sailing from there on. There won't be these big, large gaps, theoretically."
Who's Cast In Invincible Season 2?
Considering both Steven Yeun and Seth Rogen returned to voice their respective characters, Mark Grayson and Allen the Alien, in the teaser trailer, they will be reprising their roles in Season 2.
While no other cast members have been officially confirmed, it can be assumed that J. K. Simmons and Sandra Oh will return to voice Mark's father, Omni-Man, and mother, Debbie.
Of course, Gillian Jacobs and Andrew Rannells will likely return as Mark's friends, Atom Eve and William Clockwell, followed by Zazie Beetz voicing Mark's girlfriend, Amber Bennett.
The two other adults in Mark's life, Art Rosenbaum and Cecil Stedman, will no doubt see the return of Mark Hamill and Walton Goggins.
The newest Guardians of the Globe will continue protecting the Earth with Zachary Quinto's Rudolph "Robot" Connors as their leader, followed by Jason Mantzoukas' Rex Splode, Malese Jow's Dupli-Kate, Kevin Michael Richardson's Monster Girl, Grey Griffin's Amanda (and Shrinking Rae), and finally, Khary Payton's Black Samson.
Of course, there's also the criminal element of Mahershala Ali's Titan and Kevin Michael Richardson's Mauler Twins. But that's only the tip of the iceberg for who could return in the second season of Invincible.
What Will Happen in Invincible Season 2?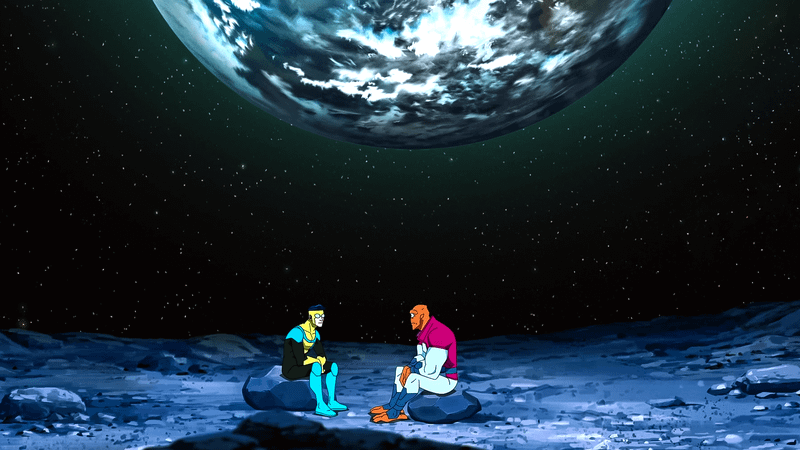 At the end of the first season, the world was left shocked at the betrayal of Omi-Man, who ended up abandoning his conquest of Earth, flying into the depths of space, and leaving Mark Garson, aka Invincible, as the world's last true defense against the Vultrimite Empire.
Of course, Mark's last conversation with Allen at the end of the season teased multiple plot points likely to be followed in the next season, such as the inevitable return of the Flaxans, the Sequids infesting Mars, and more.
Kirkman also teased the arrival of Angstrom Levy and that audiences "could kind of get a sense from watching season 1" how they plan on adapting the character:
"I will say we've teased Angstrom Levy coming in season 2, so that is something to get really excited about. There's a lot of stuff that comes from that character, and I guess you could kind of get a sense from watching season 1 [...] roughly how we're going to be adapting those things and how they would make up season 2. So that's some fun experiments you can do on your own to try and figure out exactly how season 2's gonna go... You'll be wrong!"
In the comics, Angstrom Levy was a multiversal foe who sought vengeance against Mark for disfiguring him. His powers worked similarly to America Chavez, being able to open portals to other worlds.
On top of Levy's machinations, there's also the fallout of Omi-Man's betrayal to be dealt with, Mark attending college, Robot attempting to cure Monster Girl's curse, and much more likely to happen next season.
---
Fans can expect Invincible Season 2 to release on Amazon Prime Video in late 2023.