Marvel Studios' Disney+ series Hawkeye just aired its fourth installment, and with it came the return of a newly-beloved character: Florence Pugh's Yelena Belova. After a four-way rooftop brawl between Clint Barton, Yelena, Kate Bishop, and Maya Lopez, it's revealed to the former Avenger that someone has sent a Black Widow to kill him. While it's terrible news to him, it's excellent news to audiences worldwide.
The end of Black Widow saw the new MCU star get an assignment from Julia Louis-Dreyfus' Val that led her on a path of vengeance towards Clint Barton; little does she know he's just trying to make it home in time for the holidays. Her arrival also ups the stakes for Hawkeye, as his partnership with Kate becomes endangered.
While episode four only has a brief glimpse of Yelena (counting only on-screen face time), she's promised to return in the following episodes. 
With details around her return no longer a secret, the directors of the episode sat down and discussed how wonderful the actor really is.
Florence Pugh is 'Batsh*t Crazy'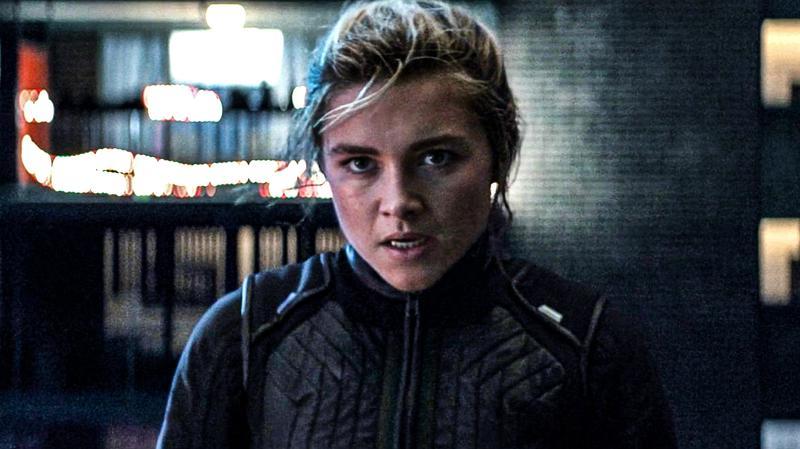 In an interview with Entertainment Online, Hawkeye director Bert and Bertie commented on Florence Pugh's arrival in the fourth episode.
Bert praised the actor, saying that "watching her decision-making... was inspiring," while admirably adding that "she's bath*t crazy:"
"Watching her decision-making and being really brave with the character not only was inspiring, but also just a lot of fun... what's great about her is she's batsh*t crazy. She's like us!" 
Bertie went on to talk about the collaborative process with her and how "[Florence Pugh] was so good at choosing things for great reasons," mainly when it came to her character Yelena:
"For instance, we'd chosen a certain outfit for her to wear, but she was like, 'I get that. But also, this is Yelena we're talking about... she was so good at choosing things for great reasons."
While talking with ScreenRant, Bert spoke about how "Florence as a person and as the character brings this lovely weirdness to it:"
" Florence as a person and as the character brings this lovely weirdness to it. We were always ones for characters that play slightly left of center and every time that there was a safe option and there was a slightly more eccentric option, she'd come out in the platforms with the flares, you know?" 
Bert continued, saying how they "love[d] that [Florence Pugh] lent into the weirdness that Yelena is:"
"She was so into Yelena's weirdness, which all comes from her upbringing and not being in the states and what would that mean? We love that she lent into the weirdness that Yelena is and we adored that. Every day on set, she'd walk on and just go, "Hello darlin!" and everyone would just kind of melt."
Yelena Belova is Close to Florence Pugh
From the directors alone, it certainly seems that Florence Pugh is in tune with Yelena Belova. Not only that, but the passion she has for her is clear as day.
Having someone embody a character in which they are just as excited about as fans—if not more—is nothing but good news. It means that fans are in for some quality content from Yelena for years to come.
When it comes to what may be next for the MCU's new Black Widow in the last two episodes of Hawkeye, it's not known how she will factor into the larger plot. One has to hope it won't end with Yelena succeeding and killing Barton; Natasha would be rolling over in her grave.
Plenty of fan theories point to Val's employer being Vincent D'Onofrio's Kingpin, meaning that Pugh's character was aimed at Clint Barton by the show's probable big bad; if that doesn't screen eventual team-up, nothing else does.
Audiences will have to wait to find out, as new episodes of Hawkeye air weekly every Wednesday.