Warning - this article contains spoilers for Episode 3 of Marvel Studios' Hawkeye.
Marvel Studios' Hawkeye is officially halfway through its first season, and its recently-released third episode set up possibly some of the most intriguing teases that fans have seen in quite some time from any MCU Disney+ show. Currently, much of the chatter has to do with former Netflix star Vincent D'Onofrio, who may have made an unexpected appearance in this episode as his highly-praised Kingpin.
Episode 3 gave fans the first full look at Alaqua Cox's Maya Lopez, flashing back to her origins and setting her Echo up as a formidable foe against Jeremy Renner's Clint Barton and Hailee Steinfeld's Kate Bishop. That flashback also showed a mysterious uncle figure in her life thanks to a large white hand softly squeezing her cheek as a child, which many believe belongs to D'Onofrio himself.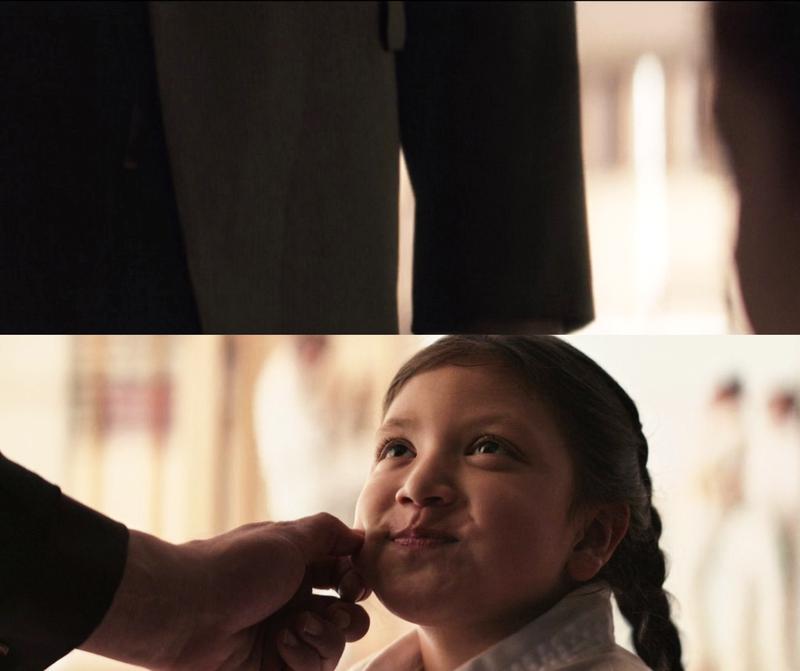 Rumors have speculated that D'Onofrio's Kingpin will officially become MCU canon due to his comic ties with Echo, yet the actor hasn't outright denied any of them, even playing along cryptically at times. Now, the man behind Wilson Fisk is at it again on social media following his possible Episode 3 appearance, and fans have their thoughts on what he shared.
Marvel Fans on New D'Onofrio Tweet
Shortly before the premiere of Episode 3 of Hawkeye on Disney+, Daredevil star Vincent D'Onofrio tweeted a selfie from one of Disney's theme parks.
The actor is standing in front of the park's Christmas tree on Main Street, leading fans to believe he's teasing the return of his Kingpin in the show, particularly with many believing he showed up subtly in Episode 3.
Specifically, fans believe that D'Onofrio's Kingpin is the uncle whose hand touched Maya Lopez' cheek in the flashback to her childhood. Fans are responding to D'Onofrio's tweets with their thoughts on his potential mysterious cameo.
Twitter user @iammikedup saw this selfie as a deeply veiled tease of Kingpin's return by connecting the Disney theme park back to the Disney+ streaming service and eventually back to the Hawkeye series:
"I like the deep level tease you made here sir … Disneyland > Disney > Disney plus > Hawkeye > *smirk emoji*"
User @ImJustTragic shared a screencap from Episode 3 of what is believed to be D'Onofrio's arm with a "shocked' emoji and a "thinking" emoji:
"Ayo hol up..."
User @Mark_Himself_ took a shorter path from D'Onofrio's picture to his rumored Hawkeye appearance, now assured that it's confirmed with a "steam from nose" emoji:
"Hmm... Christmas themed pic, so you're in Hawkeye"
User @carrasquilloc1 is certain that the uncle in Episode 3 is D'Onofrio's Kingpin, saying that fans are "losing (their) minds" over the actor possibly returning to the role:
"It's uncle Vinny lol. Hope all is well with you, and we are all losing our minds over your comeback as Kingpin. Be safe stay."
ComicBook's James Viscardi posted a "crown" emoji along with a simple message letting D'Onofrio know that fans see what's happening:
"We see you"
User @Tassiranha referenced D'Onofrio's iconic Kingpin quote from Daredevil that stated "When I was a boy..." while teasing his rumored debut in the MCU: 
"I'm hoping you'll tell us some Christmas storys from when you were a boy"
Fans Suspicious of D'Onofrio's Posting Habits
Vincent D'Onofrio was first rumored to be reprising his Wilson Fisk role from the Daredevil Netflix series in Summer 2021, which was particularly exciting considering how much fans celebrate his performance. On top of those rumors, D'Onofrio's social media activity continues raising suspicion that those rumors are true, as he regularly engages with posts teasing his return.
Even considering how short his potential appearance in Episode 3 of Hawkeye was, simply the chance that he may be involved in the show is sending fans into a frenzy. These tweets are just the tip of the iceberg in this regard as viewers speculate on how the Kingpin of Crime could fit into the ever-expanding canon MCU, and with chances of his inclusion growing, it won't stop here.
Of course, there are still three more episodes of Hawkeye to enjoy over the next three weeks, meaning Marvel Studios can stretch this character's introduction out for quite some time. This is clearly a topic that won't fade into the background in fan discussions about the show, and should D'Onofrio keep up this trend on social media, each week will only bring more hype surrounding the topic.
The first three episodes of Hawkeye are available to stream on Disney+.
LATEST NEWS
TRENDING