Fast & Furious 7 bannered a stellar and star-studded cast as it expanded the franchise's scale like never before. 
The seventh installment of the franchise served as an emotional adventure for the team as it featured the team's farewell to Brian O'Conner after Paul Walker's death. 
Alongside the bittersweet goodbye, Furious 7 was also a globetrotting adventure that pushed the team to its limit. 
Fast & Furious 7 - Every Main Actor & Character They Play
1.) Vin Diesel - Dom Toretto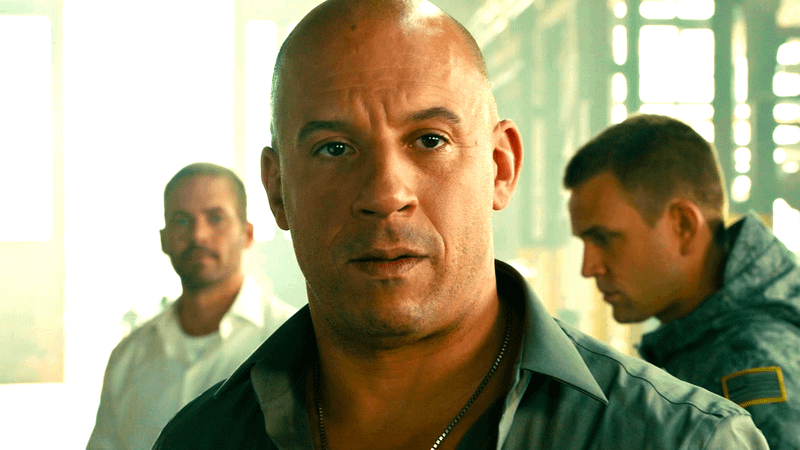 A Fast & Furious movie is not complete without its leader as Vin Diesel's Dom Toretto returned in Furious 7, pitting him against Jason Statham's Deckard Shaw. 
In the movie, Dom was recruited by Mr. Nobody to retrieve a hacking program called God's Eye while also tracking down Shaw to seek justice for the death of his friend Han Lue. 
After defeating Shaw in a classic street fight, Dom and the team had an emotional send-off to Brian on the beach, with him peacefully parting ways with his best friend after all these years. 
2.) Paul Walker - Brian O'Conner
Furious 7 served as the send-off for Paul Walker's Brian O'Conner after the actor tragically passed away.
Although Brian was present in the majority of the action sequences in the movie, the film ended with his retirement as he looked forward to spending his time with his family. 
Despite that, a proper (and emotional) goodbye between Dom and Brian was showcased at the end, which was a fitting end of an era sequence for the pair. 
3.) Dwayne Johnson - Luke Hobbs
After a memorable debut in Fast Five, Dwayne Johnson's Luke Hobbs returned in Fast & Furious 7 to help the team against Deckard Shaw. 
While Hobbs initially prevented Dom and the team from tracking down Shaw, learning about Han's death and the attack against Dom's family prompted him to join the fight. 
At the end of the film, Hobbs sent Shaw to a maximum security prison after the latter's defeat at Dom and the team's hands.
4.) Michelle Rodriguez - Letty Ortiz-Toretto
Michelle Rodriguez returned as Letty Ortiz-Toretto, with a good chunk of Furious 7 focused on restoring her memories. 
After initially leaving to "find herself," Letty returned to help the team defeat Deckard Shaw. Upon fully remembering everything, Letty got married to Dom at the end of the film before saying goodbye to Brian and his family.
5.) Tyrese Gibson - Roman Pearce
As expected, Tyrese Gibson returned in Furious 7 as Roman Pearce, one of Dom's loyal allies. 
While Roman wasn't a fan of Mr. Nobody's plan to try and obtain God's Eye, Furious 7 showed that he wasn't quite prepared yet to take the leadership role when Dom offered to lead the team. 
Roman played a pivotal role in the movie as he was the one who saved Letty from Mose Jakande in the climactic fight sequence. 
6.) Chris "Ludacris" Bridges - Tej Parker
Ludacris' Tej Parker, a notable member of Dom's team, also returned to help even the odds against Deckard Shaw in Furious 7. 
Mr. Nobody's team recruited Tej to rescue Ramsey, a brilliant hacker. Serving as the team's tech expert, Tej managed to work together with Ramsey to gain control of God's Eye. 
7.) Jordana Brewster - Mia Toretto
Jordana Brewster's Mia Toretto's big reveal during the opening sequence of the movie was the fact that she was pregnant with Brian's baby, with Dom encouraging her to tell him about the important news. 
Mia was mostly sidelined in the movie due to her pregnancy, but she did have a memorable ending sequence where she was seen playing with Brian and Jack at the beach, cementing her retirement (for now).
8.) Jason Statham - Deckard Shaw
Seeking revenge against Dom and his team for putting his brother in a coma, Jason Statham's Deckard Shaw made an impactful debut in Furious 7. From killing off Han to pushing Dom's team to the brink, Deckard was one tough cookie to crack. 
However, Dom ultimately defeated Deckard in an all-out street fight, leading to Deckard being taken to a maximum-security prison.
9.) Djimon Hounsou - Mose Jakande
Djimon Hounsou's Mose Jakande was the other antagonist in Furious 7, a dangerous terrorist and mercenary who aligned himself with Deckard Shaw in order to obtain God's Eye. 
In the movie, Jakande was the initial target that Mr. Nobody wanted Dom to track down due to his pursuit of God's Eye. 
Jakande was eventually defeated when Dom hooked Shaw's bag of grenades at the bottom of his helicopter before Hobbs fires on it to blow the villain up. 
10.) Tony Jaa - Moses Kiet
Tony Jaa played Moses Kiet in Furious 7, serving as Jakande's right-hand man. The character is a skilled martial artist and is the one who managed to shoot Mr. Nobody twice. 
In the movie, Brian was the one who defeated Kiet, with the character falling to his death in an elevator shaft.
11.) Kurt Russell - Mr. Nobody
Kurt Russell portrayed Mr. Nobody, a government agent who served as head of The Agency while assigning Dom's crew to several missions. In Furious 7, that mission is to retrieve God's Eye.
Mr. Nobody had a prominent role in Furious 7, helping Dom and Brian in the crew's pursuit of Deckard while also liberating Ramsey. Although he was shot by Kiet, Mr. Nobody told Dom and Brian to leave him and finish the mission. 
Future Fast movies confirmed that he did survive. 
12.) Nathalie Emmanuel - Ramsey
Nathalie Emmanuel's Ramsey is at the center of the conflict in Furious 7 since she is the creator of God's Eye. The character was rescued by Dom's crew several times in the movie, and her master hacking skills were put to the test in its climactic battle sequence. 
Ultimately, Ramsey was able to regain control of God's Eye, defeating Jakande and joining Dom's crew at the end of the movie.
13.) Ronda Rousey - Kara
UFC Legend and WWE star Ronda Rousey portrayed Kara in Fast & Furious 7, the leader of an all-female bodyguard team for a Jordanian prince in Abu Dhabi.
In the movie, Kara clashed with Letty in an intense battle, with the latter ultimately winning that fight.
14.) Luke Evans - Owen Shaw
Luke Evans appeared as Owen Shaw at the beginning of the movie in a comatose state and on life support while being visited by his brother, Deckard. 
15.) Sung Kang - Han Lue
Sung Kang's Han Lue appeared via archival footage in Furious 7, setting in motion Deckard Shaw's revenge plan after seemingly killing him in Tokyo, Japan. 
16.) Gal Gadot - Gisele Yashar
Similar to Han, Gal Gadot's Gisele Yashar also appeared in Furious 7 through archival footage. 
17.) John Brotherton - Sheppard
John Brotherton played Sheppard, Mr. Nobody's right-hand man, in Furious 7. 
In the movie, Sheppard is part of the mission in Abu Dhabi to capture Deckard Shaw, using God's Eye to locate the villain in the abandoned warehouse. However, the character was killed during a shootout with Jakande.
18.) Lucas Black - Sean Boswell
Lucas Black briefly appeared as Sean Boswell in Fast & Furious 7, giving Dom everything that they could recover from the wreckage of Han's car. This included a picture of Gisele Yashar and Dominic's cross necklace.
19.) Elsa Pataky - Elena Neves
Elsa Pataky returned in Furious 7 as Elena Neves, a loyal ally of Luke Hobbs who is a former patrol officer and Diplomatic Security Service agent. 
Elena was featured during the early moments of the movie when Hobbs engages in a fight against Deckward Shaw. After Hobbs was injured during the clash, Elena looked after his daughter, Samantha. 
20.) Noel Gugliemi - Hector
Noel Gugliemi appeared as Hector during Dom and Letty's return to Race Wars. Hector was the one who Letty punched after feeling uncomfortable and experiencing a surge of her memories. 
21.) Ali Fazal - Safar
Ali Fazal portrayed Safar, a mechanic and resident of Abu Dhabi who is the contact of Ramsey who took care of God's Eye. 
22.) Romeo Santos - Mando
Romeo Santos played Mando, a loyal associate of Dom. In the movie, Dom asked him to keep Mia and her son, Jack, safe in another country. The pair remained in his home until it was safe to return to the United States. 
23.) Klement Tinaj - Racer
Klement Tinaj made a brief appearance as one of the races in Furious 7.
24.) Iggy Azalea - Racer
Singer/rapper Iggy Azalea also appeared in Furious 7 as the Head of the Monster Truck Crew. 
25.) T-Pain - Himself
Faheem Najm, who is also known as T-Pain, appeared in a cameo in Furious 7. The rapper played one of the DJs. 
---
Fast & Furious 7 is available to purchase on all major digital platforms.