As the Shazam! Fury of the Gods release date inches closer, star Zachary Levi addressed rumors of a Black Adam cameo in the film. 
Dwayne Johnson's DCU hero has been a hot topic of conversation since his DC debut hit the big screen late last year. With Teth-Adam's close connection to Shazam on the comic page, many have wondered if the two would ever go head-to-head in one of Warner Bros.'s super-powered blockbusters. 
Johnson has been adamant about keeping the two heroes "separate," as the actor reportedly has a certain "disdain" for the tone of the Shazam! films. 
While Johnson's future at DC is not looking all that great, there is still the chance that he could possibly show up in the Shazam! sequel. 
Zachary Levi and a Black Adam Crossover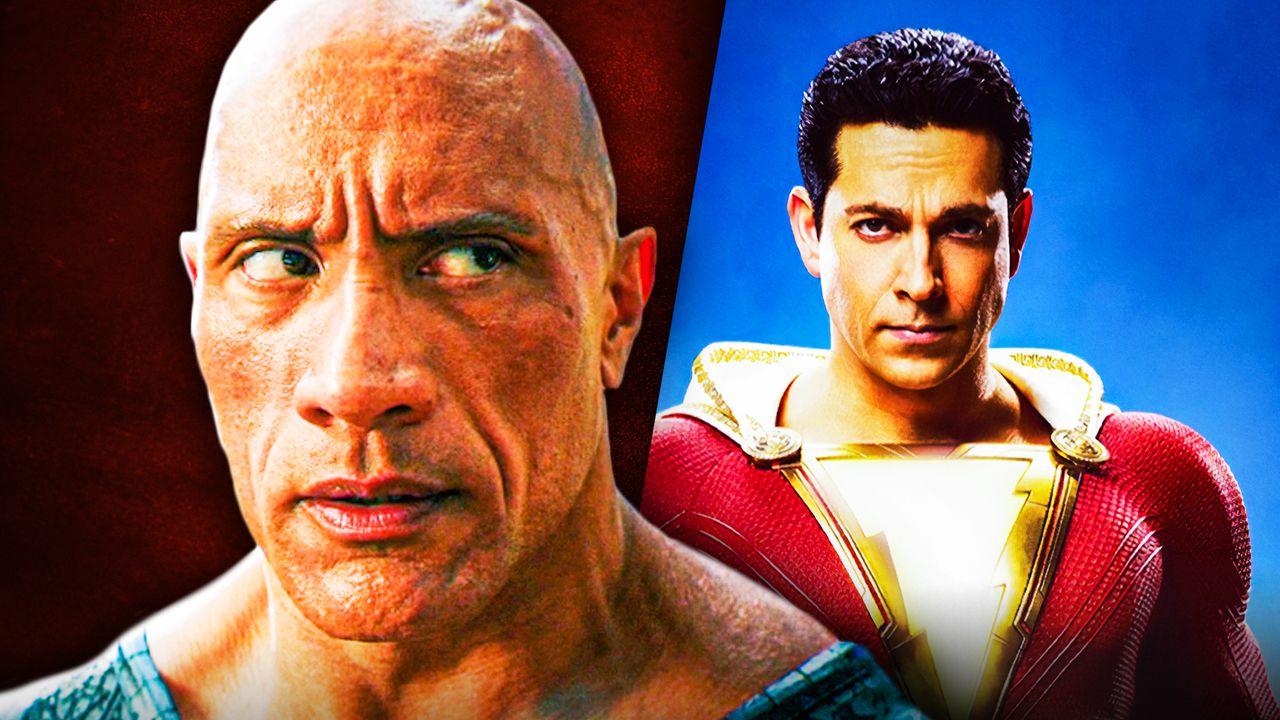 Speaking in a new interview Shazam! Fury of the Gods star Zachary Levi laid out his thoughts on a potential Black Adam/Shazam crossover on the big screen.
When prodded on the subject, Zachary Levi told Jake Hamilton from Jakes Takes that he "was totally open to that:"
 Hamilton: "There were some rumors that an attempt was going to be made to try to bring The Rock's Black Adam in at some point. I'm just sort of curious like how far that got along, what you knew about that."

Levi: "That's all so far above my pay grade. I have no idea. I know that in the comics, and even in some animation, there's been some really cool, epic battles between Shazam and Black Adam… Shazam, Superman and Black Adam. I know a lot of fans wanted that. I know I was totally open to that, but that's all I know."
Rumors of Zachary Levi's DC hero coming face-to-face with Dwayne Johnson's Black Adam began to swirl last Fall, in the lead-up to Warner Bros.'s (WB) Black Adam film. 
Previous reports have noted that Johnson had a "thinly veiled disdain for Shazam," but at the time, it was assumed that DC Studios co-CEO Peter Safarn would be able to talk Johnson into making something happen. 
The Black Adam actor even seemingly "passed on doing a cameo in Shazam 2 when he was asked." 
Johnson continued to push to keep the two characters separate, saying himself that there were a lot of "just put them both together because they're both connected" conversations at DC. However, he believed "[they] have to respect Shazam and [Black Adam's] origin story," before a crossover could ever happen:
"It was just a mosh of 'just put them both together because they're both connected.' So that's when I said 'you can't do it like this, we have to respect Shazam and his origin story, that has to be its own movie. Respect Black Adam, this has to be its own movie. Build them up, and then you can do this.'"
Will a Big-Screen Shazam/Black Adam Crossover Happen?
Given the history of Shazam and Black Adam, one would have thought the pair would be a natural fit to crossover on the big screen, but that has not been the case, and likely will continue to be that way for quite some time. 
The best opportunity for Dwayne Johnson and Zachary Levi's heroes to go toe-to-toe has seemingly already passed. If it wasn't going to happen in Black Adam or Shazam! 2, then it probably will not happen.
With the DCU heading in a new direction on the backs of James Gunn and Peter Safran, the futures of both Black Adam and Shazam are now up in the air, making the idea of a super-powered crossover even more of a pipedream. 
It is evident that Johnson is done with the franchise (at least for now), and Levi's prospects likely hinge on "the success of the second movie."
So, the Shazam actor might be back in the DCU, but his dreams of "punch[ing] the Rock [on-screen]" are most likely for naught. 
Shazam! Fury of the Gods hits theaters on Friday, March 17.