Alfred Molina's Doctor Octopus almost looked extremely different for his return in Spider-Man: No Way Home.
The actor first portrayed Doc Ock in Sam Raimi's Spider-Man 2 nearly twenty years ago in 2004. When he returned, the big bad hadn't missed a beat.
Despite it being decades later and an entirely different universe, Otto Octavius basically looked the same. It turns out he could have ended up looking just as different to audiences as the MCU's Peter Parker did to him.
A Scruffier Doctor Octopus Almost Made It On-Screen
The Spider-Man: No Way Home - The Art of the Movie book just released, and in it, new designs reveal that Alfred Molina's Doctor Octavius almost looked quite different.
Instead of being clean and well put together the MCU threequel, Molina's Doc Ock almost had a far scruffier look that included long hair and an unkempt beard.
Visual Development Supervisor Rodney Fuentebella shared that this design process is "done simultaneously with the script:"
"When we are creating these pieces, it is something that's done simultaneously with the script... We concept and create some ideas to see if they work and if they vibe well with the story that they're creating at the same time. Our job is to inspire."
The artist shared how he was "ecstatic" to work on the character, with many of these alternate designs looking to make the character "more advanced" and "more scruffy."
The harness to his robotic arms was also toyed with, some as full-on chest pieces, and others, like the one below, featuring three different metal straps.
Fuentebella admitted that at the end of the day, the team decided "to stick with what the original character was:"
"Initially, the ideas were about bringing that character into the Marvel Cinematic Universe and kind of reimagining him... [sometimes] a little more debonair... [The team ultimately decided] to stick with what the original character was—what people know and love about that character–rather than updating it. There are things that, internally, we questioned about the original design–like, why is he wearing two trench coats?–but they're iconic."
Along with a far different visual look for the character, his tentacles also almost got a major upgrade.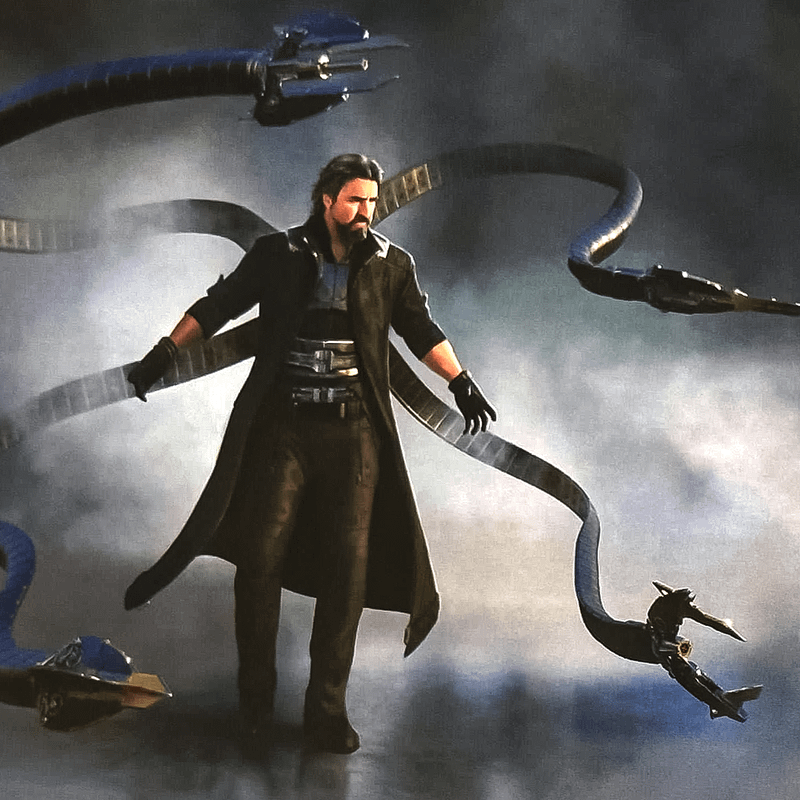 These sleeker metal arms are pretty jarring, and a far cry from the large intimidating ones seen in 2004's Spider-Man 2.
No Way Home Almost Had an Insanely Different Doc Ock
With how drastically different these designs were, one can't help but wonder if the creative team behind Spider-Man: No Way Home was considering making these returning villains entirely new Variants instead of basically the same ones from their previous appearances.
Keeping these baddies relatively close to their original looks (all except Electro, really) was the right choice. A lot of that nostalgic flare would have been lost.
Though, fans are probably catching themselves thinking about what it would've been like seeing this alternate version of Doc Ock - especially with Alfred Molina behind the tentacles - on screen.
Perhaps those concepts could carry over into the character's appearance when (and if) he gets a proper MCU adaptation. After all, a gruffier, more unkempt Doc Ock is not the usual look for the character, so it's got that unique factor.
Maybe that hypothetical version of the villain is a former scientist who is down on his luck after having been cast out of his field for some reason or another—maybe it was even the webhead's fault.
Spider-Man: No Way Home is now available to buy digitally.