The upcoming Goosebumps reboot series on Disney+ just gave its first look to fans.
The 10-episode first season will see Rob Letterman, who directed the latest two Goosebumps movies from Sony Pictures, return to write alongside Nicholas Stoller. Letterman will also helm the very first episode.
The series stars Justin Long, Ana Yi Puig, Miles McKenna, Will Price, Zack Morris, Isa Briones, and Rachel Harris.
This adaptation seems to be following closely in the footsteps of Jack Black's two big-screen adventures, as it sees a group of five teenagers accidentally unleash supernatural forces. In working to recapture them all, they also start discovering secrets from their parent's past.
First Look at Disney+'s Goosebumps
A first look at promotion for Disney+'s upcoming Goosebumps Disney+ reboot was revealed as a part of Disney's San Diego Comic-Con festivities.
The franchise's iconic logo is in dark blue and sits overtop a picture of a house in black and white. It's hard to identify who the woman on the right is, but it could be Michelle Mao, who is listed as part of the show's cast on IMDB.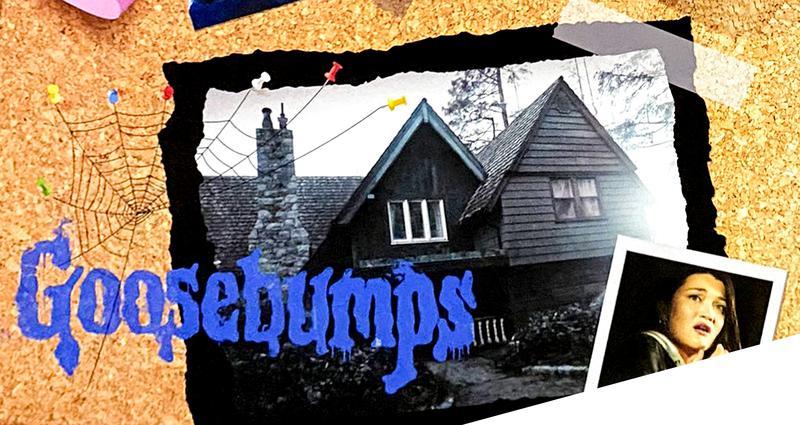 While it doesn't seem like much, the picture might actually be the iconic Dead House from the very first Goosebumps book. Is this confirmation of its role in the upcoming series?
Welcome to Dead House was first published in July 1992 and followed the Benson family as they arrived at their new house in Dark Falls. It doesn't take long before things start to go wrong, including artificial darkness cloaking the town, that odd feeling of constantly being watched, and accidentally befriending the dead.
What Will This New Goosebump Series Bring to the Table?
The latest Goosebumps movies garnered a lukewarm reception. The 2015 outing received a 78% critic approval rating on Rotten Tomatoes, while the 2018 sequel dipped to a 47%.
With that in mind, some fans might be slightly bummed the new reboot is taking some pages (pun intended) from their book. Many feel the series could really benefit from a proper anthology reboot in the same vein as the original classic show.
Either way, it's a television series, which already sets it up differently. After all, it has 10 hours to weave its tale—and plenty of opportunities to bring classic Goosebumps horrors to life.
Maybe this new cast of characters can swing by HorrorLand this time around, or Camp Nightmare, or take a murderous piano lesson. Perhaps the creatives will really take a swing and bring audiences the egg monsters from Mars.
One thing is for sure, though: the iconic ventriloquist dummy Slappy will undoubtedly return at some point.
Goosebumps does not currently have an estimated release window.