A new HBO series, Lanterns, centered around the Green Lanterns, is set to be pushed into the forefront in the DCU's first chapter, and here is everything fans should know about the project. 
Per Variety, DC Studios co-CEOs James Gunn and Peter Safran officially announced Lanterns, a new HBO series that the latter described as "a huge HBO-quality event" and is "very much in the vein of True Detective."
Safran continued by sharing that Lanterns is a "very important show for us," indicating that it serves as a large part of the DCU's world-building.
Per The Hollywood Reporter, the DC boss also mentioned that Lanterns "plays a really big role in leading into the [DCU's] main story" they are telling across film and TV. 
Which Green Lanterns Will Lanterns Focus On?
Lanterns is set to focus on two famous members of the Green Lanterns corps from the comics: Hal Jordan and John Stewart. 
In DC Comics, Hal Jordan is a former test pilot and a founding member of the Justice League. Meanwhile, John Stewart is an ex-marine who ultimately becomes a Green Lantern and a member of its Honor Guard. 
The pair already had many run-ins in the comics, notably during Green Lantern #29 by Geoff Johns and Ivan Reis. During this storyline, Hal and John clashed when the former punched a Marine being rough with a woman, leading to the pair slugging it out at the bar. 
That commotion between the future Green Lanterns teased the type of cosmic officers they would be in the Space Corps, with Hal diving headfirst into the mission while John defended his team members valiantly. 
What Is the Story of DCU's Lanterns?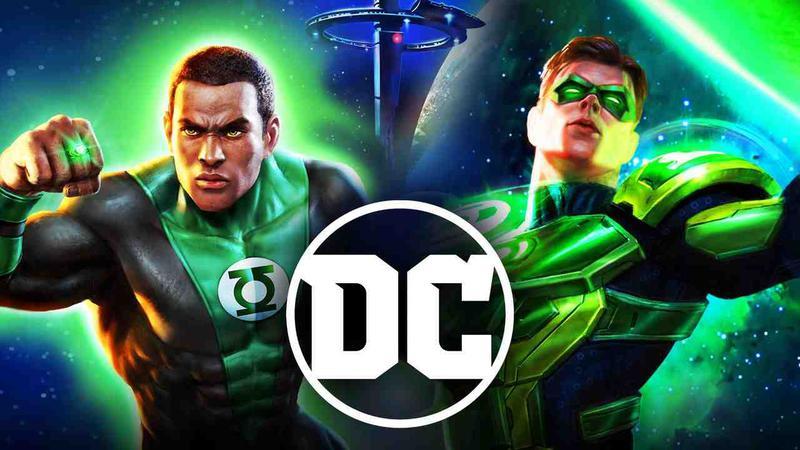 Lanterns will revolve around Hal Jordan and John Stewart investigating a mystery that Safran described as a "terrestrial-based" one that ties into the DCU's overall story. 
Safran, via Collider,  continued by teasing that the plot will involve "this Ancient Horror on Earth," meaning that Hal and John will have their work cut out for them in their investigation:
"These guys are basically, you know, super cops on precinct Earth."
As to how Lanterns will weave into the different films and shows under the DC umbrella, Safran used Peacemaker as a "good" example, noting how the spin-off includes characters that have appeared in films like The Suicide Squad:
"The story is going to weave back and forth between the films and the television shows. Peacemaker is a good example of, of how that works. And that's what we're going to do with this big overarching story that we're telling."
James Gunn, via DC, also described Lanterns' story as "complicated," indicating why it is "more suited for television:"
"It's all story-based. To us, storytelling is 100% king. So, if it's a story that's more complicated, like the Lanterns or Waller story, or has more of an independent TV vibe, like Booster Gold, then that's more suited for television. It has to do with tone, storytelling and if it's something that we can tell in two hours and ten minutes. Or is it something that we need seven, eight or nine hours for?"
Is Lanterns Connected to Greg Berlanti's Green Lantern Show?
Lanterns is confirmed to be separate from Greg Berlanti's Green Lantern series for HBO Max, which is no longer moving forward. 
Safran explained, via The Hollywood Reporter, that Berlanti's vision was "more of a space opera," which is different from Lanterns' vibe of being akin to True Detective: 
"Our vision is more True Detective, more of a terrestrial-based investigation story. We all agreed to part ways."
Berlanti's Green Lantern show initially focused on several Lanterns, namely Alan Scott, the original hero from the 1930s, Guy Gardner in the modern era, and a future hero named Sojourner Mullein. 
However, it was scaled back into a version that only focused on both Scott and Gardner. Seth Grahame-Smith was supposed to be the showrunner, with Finn Witrock and Jeremy Irvine being tapped as its lead stars. 
When Will Lanterns Release?
James Gunn and Peter Safran's DCU slate announcement didn't include release dates for most of its projects except for Superman: Legacy, which is confirmed to release on July 11, 2025. 
Given the scale of Lanterns' story and world-building potential, it's possible that the upcoming HBO Max series will further be released down the line, with it potentially eyeing a 2027 or 2028 premiere date. 
Why Lanterns Is Important to the DCU
Lanterns allows the DCU's story to expand on the cosmic side while still exploring Hal and John's responsibility of protecting Earth aka Sector 2814. 
Considering that the show has a True Detective vibe and a potentially long first season (Peacemaker has eight episodes in Season 1), Lanterns is also poised to show more of the interesting bond (and sometimes, clash) between the two titular heroes that could carry over into crossover projects, like Justice League. 
Moreover, Gunn and Safran's confirmation that the mystery that Lanterns is trying to uncover ties into the DCU's overarching story means that Hal and John will be used as a narrative launchpad for future crossover projects. These two will likel be the ones to explain the ramifications of their case to characters like Superman and Batman. 
LATEST NEWS
TRENDING