Kicking off a major year of new content for Lucasfilm's Star Wars story is The Book of Boba Fett, which is approaching the final episode in its first season on Disney+. Not only does it come as a direct spin-off from Season 2 of The Mandalorian, but it's also diving deep into events from that series and other past Star Wars entries while pushing the narrative forward for Temuera Morrison's bounty hunter.
"Chapter 6" had quite a difficult task ahead of it as Season 1 approaches its explosive end. Following the previous episode's trend of touching on other plotlines from The Mandalorian, this new entry added even more to the mix with nods to the Skywalker Saga and more exploration of Lucasfilm's animated series in the process.
Warning - The rest of this article contains spoilers for "Chapter 6" of The Book of Boba Fett.
In a story that featured an exciting comeback for Mark Hamill's Luke Skywalker and the first live-action sighting of Cad Bane from The Clone Wars and Rebels, this new entry was jam-packed with action. Part of that action came in a dramatic fashion when the Pyke Syndicate bombed the Sanctuary on Tatooine, killing everybody inside, including fan-favorite Twi'lek Garsa Fwip.
Following that explosive new entry, the actress who's brought Garsa to life all season touched on her reactions to finding out her fate in the Disney+ series.
Jennifer Beals on Boba Fett's Sixth Episode
Speaking with The Hollywood Reporter, The Book of Boba Fett star Jennifer Beals shared her thoughts on finding out about her character's death in "Chapter 6."
Beals revealed that she learned of Garsa Fwip's fate early in production since the team gave her the entire story for her character at once. Although the events at the Sanctuary seem to end Garsa's story, Beals still expressed gratitude for being able to join the Star Wars universe in any capacity:
"They gave me all of my episodes at the same time, so I could read where I started and where I ended. And I was OK. Of course, I would have loved to go on and on, but there is the moment of acceptance in that this is the story. I feel very fortunate to have stepped, for even a brief amount of time, into the Star Wars universe."
When asked if there was any chance at all that Garsa survived, Beals pleaded the fifth and admitted that it was a question for director Dave Filoni and executive producer Jon Favreau to answer:
"You'd have to talk to Dave and Jon about that. We know she's a survivor, so who knows."
Beals also touched on how fun it was to shoot the episode, which used a real-life set for the Sanctuary instead of it being created with CGI. This set went beyond any of her expectations, and she praised the "creative and technical excellence" that went into sets like that one:
"I thought I was going to have a green screen the whole time. And I walk into the Sanctuary, and I don't have to imagine anything in terms of my environment. The creative and technical excellence is unparalleled on that set."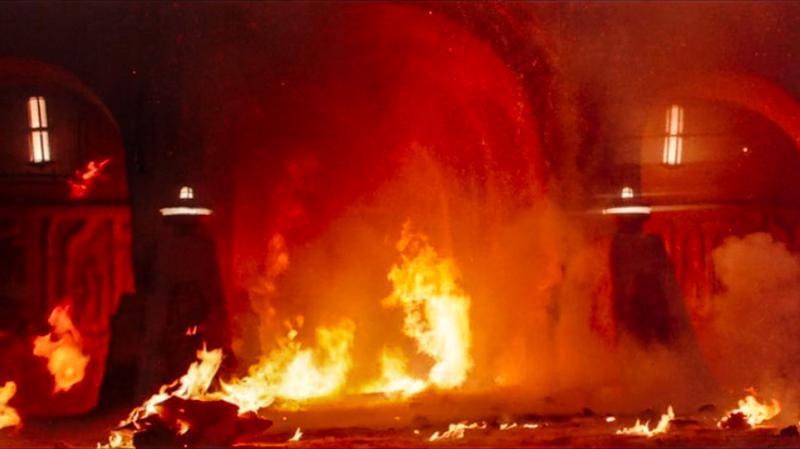 Chapter 6 Changing the Game for Boba Fett
Just as Lucasfilm has done since the company first started its Disney+ endeavor, The Book of Boba Fett is putting forth its best effort to put new Star Wars players into positions to be fan-favorites. This became the case almost instantly for Jennifer Beals' Garsa Fwip, which made her untimely death in "Chapter 6" have that much more of an impact as the Sanctuary was destroyed.
Beals is also part of a new group of Star Wars actors that simply loves this universe, having taken multiple opportunities to share how big of a fan she is of everything in the galaxy far, far away. This comes as yet another way that Disney and Lucasfilm are successfully continuing the narrative, particularly when it comes to the various streaming shows on Disney+.
Seeing the Twi'leks come into the spotlight in live-action has been a thrill for viewers, even though this new entry took a turn for the worst with Garsa and the others in Sanctuary.
As Star Wars projects over the last few years have proven, there's always a chance that Beals could return for more action and live to fight another day. The answer to whether she will do that is still some time away, although her passing helps set the stage for even more madness to come in the Season 1 finale.
The first six chapters of The Book of Boba Fett are available to stream on Disney+. "Chapter 7" will debut on Wednesday, February 9, 2022.
---