DC has faced an uphill battle in trying to build its own cinematic universe, one it has been fighting for decades now. The comic publisher has a long-standing history of its biggest films spending years in development hell, such as Shazam! which took over ten years to see the light of day, and The Flash, which currently sits at eight years and counting. Black Adam is DC's latest offender in this area, a role Dwayne Johnson was cast for in 2007 but will finally take to the big screen this October.
At the time when Johnson was cast in the villainous role, Black Adam was intended to serve as the villain for the Shazam movie in the works at the time. Since then, DC's plans for the popular anti-hero have evolved greatly, and he will now lead his own solo blockbuster alongside several members of the Justice Society of America.
The film has an all-star JSA cast that includes Hawkman (Aldis Hodge), Doctor Fate (Pierce Brosnan), Atom-Smasher (Noah Centineo), and Cyclone (Quintessa Swindell). Plot details remain vague, but the brand-new team is expected to play a starring role as they all make their big-screen debut.
As DC prepares to introduce a suite of new heroes to audiences, the popular publisher is now set to prepare fans with a series of prequel comic stories.
DC Unveils Black Adam Prequel Comic
The Beat exclusively revealed DC will release a series of Black Adam one-shot comics in the run-up to the October release of the Dwayne Johnson flick, with each spotlighting a member of the Justice Society of America (JSA).
Hawkman - played in the film by Aldis Hodge - will star in the 48-page Black Adam–The Justice Society Files: Hawkman, which is due for release digitally and in comic stores on July 5. The one-shot issue will be written by Cavan Scott, penciled by Scot Eaton, and inked by Norm Rapmund, with a cover by Kaare Andrews.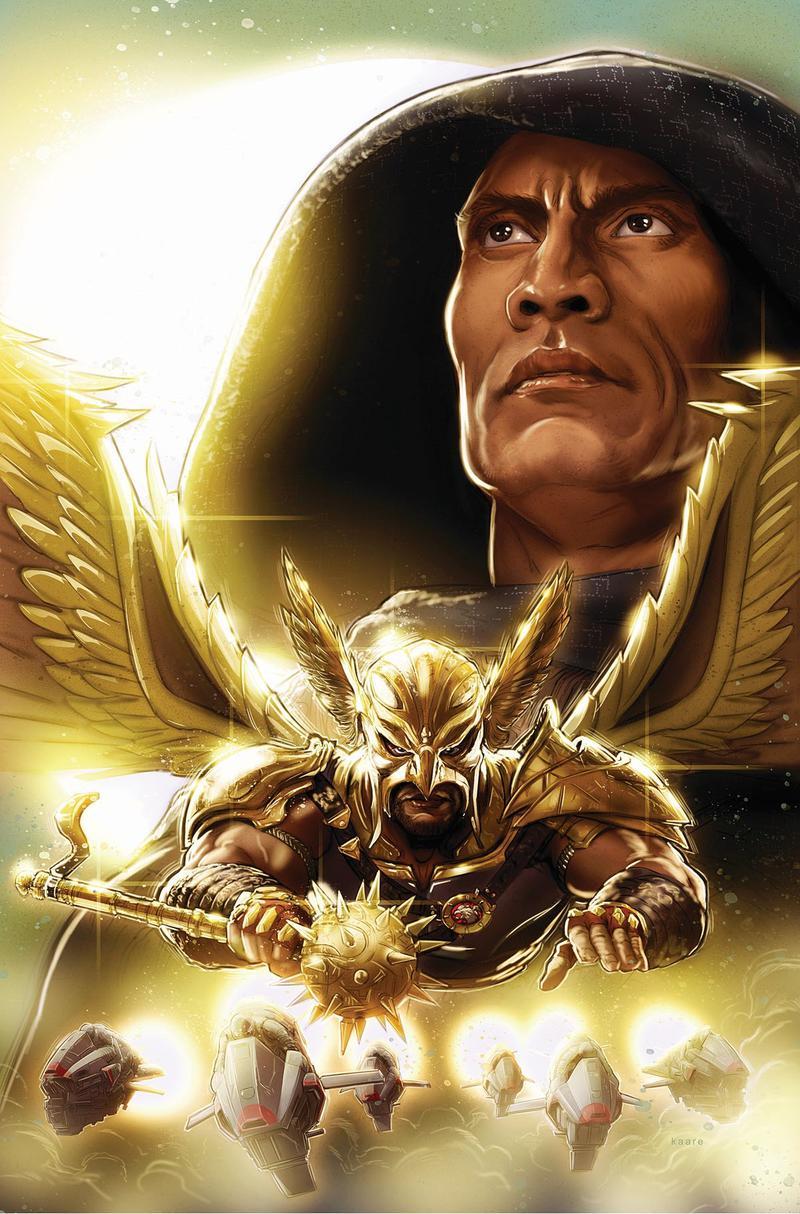 The prequel comic will also include a back-up feature - a second story after the main event - starring Sarah Shahi's Adrianna Tomaz, aka Isis. The secondary feature will be written by Bryan Q. Miller with art by Marco Santucci.
The official solicit text for Black Adam–The Justice Society Files: Hawkman #1 reveals details of both stories included in the issue:
"Long ago, Hawkman was the leader of the Justice Society, but what is he now? Still a hero, or another relic in a museum? Everything changes when he finds himself haunted by not only the past, but also the vengeful spirit of a wayward thief. Will this Gentleman Ghost be the death of Hawkman, or will he deliver a warning from beyond the grave? The road to Black Adam begins here.

Also in this issue: As a pivotal moment in the life of Teth-Adam and his son Hurut begins to unfold in ancient Kahndaq, modern-day Kahndaq meets a new hero—antiquities professor by day, "cultural recovery specialist" by night, Adrianna Tomaz. And unfortunately for Adrianna, she's about to "liberate" a sacred totem from the wrong interested party—Intergang!"
DC Kickstarts the Black AdamVerse
With Hollywood icon Dwayne Johnson leading the charge of Black Adam, DC's latest blockbuster will almost certainly be a hit with audiences and at the box office. Johnson was initially cast in the role fifteen years ago, back in 2007. So, the road to Black Adam has been a long one, and it's only right to finish it in style with this prequel comic series.
Black Adam's JSA will include five members: Aldis Hodge's Hawkman, Pierce Brosnan's Doctor Fate, Noah Centineo's Atom-Smasher, and Quintessa Swindell's Cyclone. Comic readers should expect three more prequel issues to follow in August, September, and October, featuring one-shot stories with each of the remaining members.
When Black Adam is inevitably a massive success for DC, Warner Bros. may look to expand the universe into HBO Max spin-off series, just as it soon will with The Batman. If James Gunn's Peacemaker has proven anything, DC will happily turn even the most obscure characters into a streaming star, meaning any JSA member could get a spin-off.
Fans will get their first peek into Black Adam's corner of the DCEU when The Justice Society Files: Hawkman releases on July 5. Dwayne Johnson's DC debut will follow just a few short months later on October 21.
---