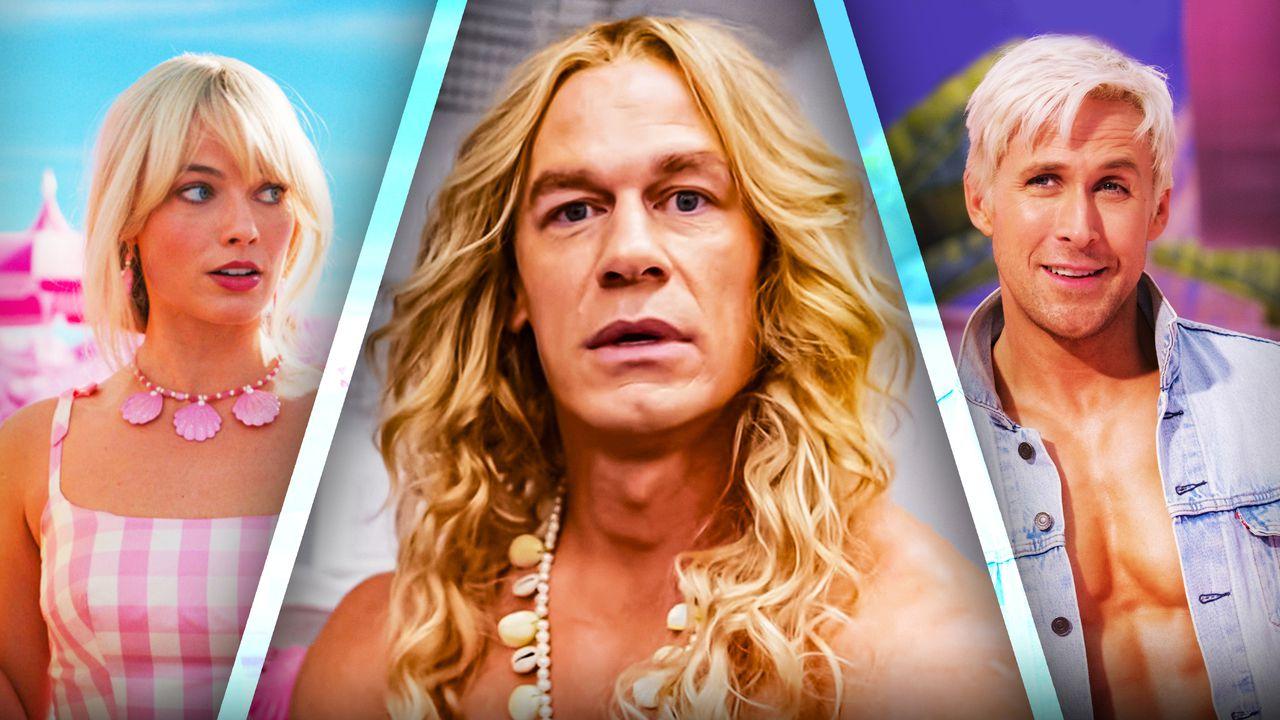 Fans finally have their first look at John Cena's Merman character set to appear in the upcoming Barbie movie. 
Greta Gerwig's Barbie is set to hit theaters in just a matter of days on the back of an absolutely stacked cast.
Headlined by names like Margot Robbie and Ryan Gosling, this big-screen take on Mattel's iconic toy line, will also feature the talents of megastars like Simu Liu and Helen Mirren.
One name however, who had been shrouded in mystery when it came to the movie was former wrestler John Cena. Cena was said to be in the film and was recently revealed to be playing Merman Ken.
John Cena's Barbie Role Revealed
In a new promotional video for Barbie, John Cena's role in the film was finally revealed, with a first glimpse at the former WWE superstar's Merman look being made public.
The IHollywoodTV behind-the-scenes special ends with Cena's blonde-haired Merman, as the actor describe what excites him about the project. 
Cena's character sports no shirt, bleach-blonde hair, and a blue shell necklace around his neck. 
According to the Barbie star, he was "blown away with the concept," hoping the movie will "[evoke] conversation:"
"I was blown away with the concept. I think it's going to be a movie that all audiences enjoy. I think it's going to be a movie that evokes conversation. And I think it's going to be beautifully visually appealing."
He added that he thinks Barbie will be a film that "the audience will walk away with like a mixed bag of opinions," a quality of what he called "the greatest form of entertainment:"
"And I think ideas behind it - I think the audience will walk away with like a mixed bag of opinions, which I think is the greatest form of entertainment. When you don't have just one universal feel about a project, it's not that it's bad, but I think that people can get into a fiery debate about something, that's good. I like that versatility, I guess."
Who Is John Cena's Barbie Character?
John Cena is just one of the many actors set to play a version of Ken in Barbie, but what makes him special is that he is an Atlantean. 
Undersea King Ken (or Merman Ken) has been a mainstay in the Barbie lineup for years, so, of course, the aquatic variant will make its way into the franchise's first big-screen adventure. 
The WWE superstar-turned-actor was apparently convinced to join the film after a lunch with his former The Suicide Squad co-star Margot Robbie and then was given the Merman role from there.
Cena's role in the film has been described as a cameo, one that will almost surely come alongside pop star Dua Lipa who is set to play Mermaid Barbie in Greta Gerwig's upcoming blockbuster. 
With Dua Lipa contributing to the film's soundtrack, as well as her acting duties, perhaps Cena will show off some of his musical prowess in one of the bespoke song and dance numbers that seem to be at least a small part of the film. 
The Peacemaker star's take on Merman Ken can be seen in Barbie when it hits theaters on Friday, July 21.