2019's Avengers: Endgame provided fans with a slew of iconic MCU moments to add to the books. From Captain America wielding Mjolnir to Tony Stark's snap to save it all, the conclusion to the Infinity Saga (apart from Spider-Man: Far From Home serving as the sort of epilogue) lived up to the occasion.
Another stand-out shot from Endgame came in the form of a long-awaited team-up: every female hero present during the final struggle with Thanos came together to help Carol Danvers (Captain Marvel) deliver the Infinity Gauntlet to the other side of the battlefield. It featured Captain Marvel herself, Gamora, Nebula, Hope van Dyne (The Wasp), Scarlet Witch, Pepper Potts (donning her Rescue suit), Okoye, Mantis, Valkyrie, and Shuri. It served as a sort of celebration of the MCU's all-star female line-up (apart from the female hero who started it all, Black Widow, who sacrificed herself earlier in the film).
This scene is now being celebrated in a new 2021 calendar that just opened for pre-order...
NEWS
A new pre-order from Previews World shows a 2021 MCU calendar that features the likes of Captain Marvel, Gamora, and Scarlet Witch on the cover: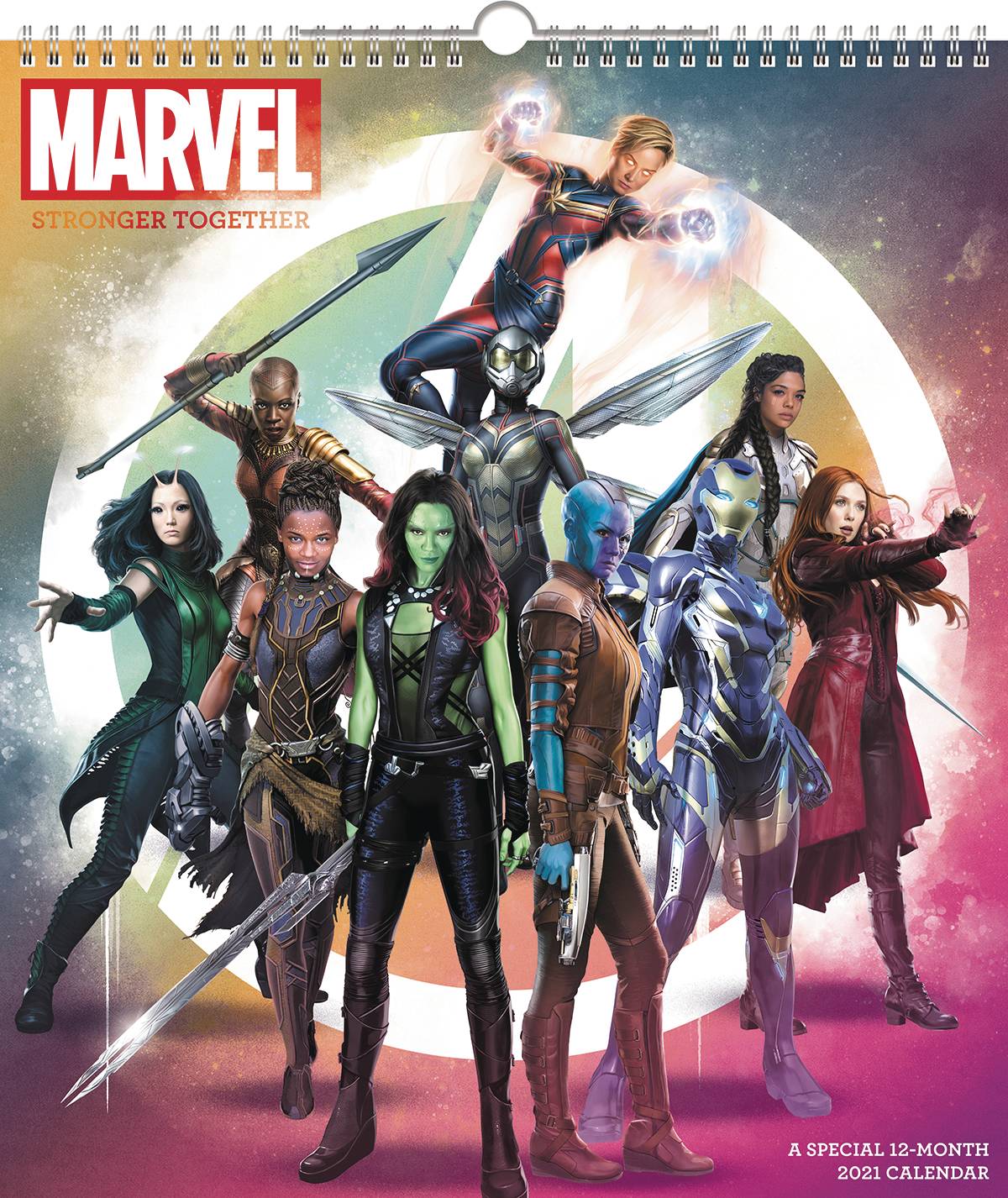 The calendar is set to release July 29, 2020 .
All of the heroes shown on this cover were present in that pivotal team-up scene in Endgame , which some have rightfully dubbed as the 'A-Force Scene.' A-Force was a comic-book series penned by Marvel in 2015 that featured the franchise's first all-female line-up of Avengers. It seemed unlikely that this would have translated over to the MCU as, arguably, male superheroes have been more predominantly featured (2018's Ant-Man and The Wasp was the first instance of a female MCU hero being featured in the movie title, and 2019's Captain Marvel was the first female-led MCU film). However, for a brief moment, fans were able to witness the power that the MCU's female heroes could bring to the table when united.
Still, the 'A-Force Scene' was originally intended to play out differently , with the other female Avengers having a much more protective role over Danvers (and, perhaps to some fans, not feeling as forced as it did). Nonetheless, this scene could pave the way for more female-dominated scenes, and even films, in the MCU's future. After all, Black Widow is set to release this November. Depending on that film's success, Marvel Studios might feel more confident in pursuing other female-led films. They've already given the green light to Ms. Marvel and She-Hulk Disney+ series , too.
Either way, the future looks bright for female empowerment in the MCU.
---