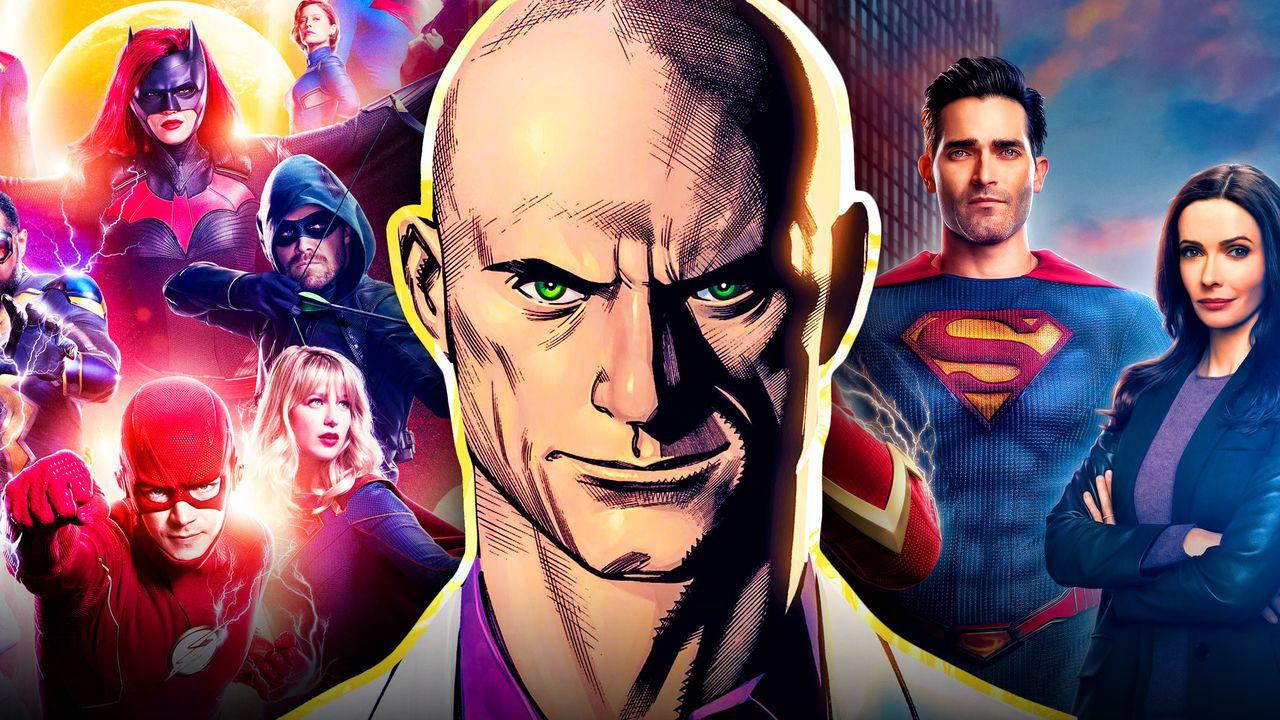 After confirming that Superman & Lois is set on a different Earth from the Arrowverse's Multiverse, the first look at the spin-off's new Lex Luthor was unveiled. 
Jon Cryer delivered an incredible performance as Lex Luthor in The CW's Supergirl, with him even playing an important role in the Arrowverse's Crisis On Infinite Earths crossover. 
However, as the shared universe is set to come to an end with The Flash Season 9, a new iteration of Superman's greatest villain will arrive. 
Superman & Lois Unveils New Lex Luthor 
Entertainment Weekly (EW) shared the first look at Michael Cudlitz's Lex Luthor in his debut in Superman & Lois Season 3: 
Cudlitz is best known for his role as Abraham in The Walking Dead. 
Alongside the image, EW shared new details about this version of Lex Luthor, with the character being described as "the visionary billionaire behind LexCorp."
However, the criminal underworld knows that Lex is a "brutal psychopath who terrorizes anyone he crosses paths with." 
In Superman & Lois, it has been years since he went off the grid, but Season 3 will showcase his re-emerging to enact revenge on the Arrowverse's spin-off's titular characters. 
Cudlitz opened up about portraying the iconic DC villain in Superman & Lois, telling EW that he "always felt Lex was just misunderstood:"
"This whole experience so far has been amazing. From the collaboration with our showrunners Todd [Helbing] and Brent [Fletcher] to the incredibly warm welcome I received from Tyler [Hoechlin] and Elizabeth [Tulloch] and the entire cast and crew. I cannot wait to share with the fans how much fun we've been having. Personally, I've always felt Lex was just misunderstood."
But when exactly fans can expect to see Cudlitz's debut as Lex in Season 3? Superman & Lois showrunner Brent Fletcher teased that it will be a "slow burn" before he shows up:
"Lex Luthor doesn't show up where you'd expect him — it sneaks up on you. The whole point of it was this is different than anything that you've seen in live-action for Lex. It's a slow burn before Lex shows up, so it's earned, but his whole point of view in the world is different."
Fletcher then hyped up this version of Lex as the "greatest oppositional force" to the titular heroes: 
"His demeanor, his tone is different, and he is going to be the greatest oppositional force to Superman and Lois that they're ever going to face."
Moreover, Superman & Lois showrunner Todd Helbing praised Jon Cryer's work as Lex Luthor in Supergirl, but he pointed out that they wanted to do their "own stamp" in the spin-off: 
"We love Jon Cryer, we think his work on Supergirl was amazing. But we wanted to do our own stamp [on that character]. I'm excited for everybody to finally meet Lex."
How Will Lex Luthor Seek Revenge Against Superman? (Theory)
In every universe, Lex Luthor is a methodological psychopath who plans his every move, and this version is poised to do anything that he can in order to seek revenge against Tyler Hoechlin's Superman. 
Brent Fletcher's comment about the show's slow-burn approach to integrating Michael Cudlitz's Lex Luthor indicated that the villain has a solid plan to get back at Superman and Lois Lane. 
Although Season 3 will introduce Chad L. Coleman's Bruno Mannheim as the main villain, it's possible that Lex is still the one pulling the strings, using the Intergang leader as a distraction to pull off his revenge plot. 
Based on the image, it looks like Lex is in prison, which is a perfect place to enact his plans since he is out of the public eye. Lex may have already controlled the prison from the inside, with him easily accessing resources and his henchmen to do his bidding. 
Season 3's trailer indicated that Lois is missing, potentially hinting that this could be part of Lex's plan to destroy Superman and his family. 
It is unknown what Lex's grand plan is, but it seems poised to push the Kent family to its limits.
Superman & Lois Season 3 is set to premiere on The CW on Wednesday, March 15.